Andrew McGregor
January 31, 2014
As South Sudan teeters on the brink of another civil war less than two years after gaining independence, most of the focus has been on the young nation's former vice-president, Riek Machar Teny. The 61-year-old is a veteran rebel who spent years collaborating with the Khartoum government even as he led a movement ostensibly fighting for the separation of southern Sudan from the central government in Khartoum. Today, Machar is at the head of a loosely organized force drawn largely from Machar's own Nuer tribe (South Sudan's second largest) that opposes the increasingly authoritarian rule of President Salva Kiir Mayardit, a member of the Rek Dinka (the Dinka are South Sudan's largest and most powerful tribe).
Early Life
Riek Machar was born in 1953 as the 26th son of a chief of the Dok Nuer in the oil-rich Unity State of southern Sudan. After studying mechanical engineering at the University of Khartoum, Riek went abroad to pursue a Ph.D. in philosophy and strategic planning at the University of Bradford, graduating in 1984. On his return to Sudan, he joined the rebel forces of the Sudanese People's Liberation Movement/Army (SPLM/A) under the command of Colonel John Garang, a Twic Dinka. The SPLA had launched a new rebellion against Khartoum in 1983, which was to be the beginning of a 20 year conflict.
As a young, foreign educated Nuer, Machar became part of a new social class of uninitiated Nuers known as tuut dhoali ("man-boys"), who had failed to achieve full adult male status in their society by the absence of the gar (facial scarification given during initiation), membership in an initiation-determined age-set and failure to receive the mut, or lineage-spear, from his father at the time of initiation. [1] Machar would later make an unsuccessful effort to ban tribal scarification, a deeply ingrained tradition in South Sudan.
Machar carried out diplomatic missions for the SPLA rebels as well as acting as a field commander. By 1990, however, Machar was unhappy with his role in the rebel movement and, with Shilluk SPLA commander Lam Akol , began plotting the overthrow of John Garang as movement leader.
Machar Splits the SPLM/A
With Colonel Garang unwilling to abandon his political vision of a "New Sudan" that recognized Sudan's many peoples within a federal system, Riek Machar forced a split in the SPLA/M in August 1991. However, not all the separatists within the SPLA/M (which included Commander Salva Kiir) joined Machar's new faction, which the latter liked to present as the "real" SPLA/M. The split occurred largely along tribal lines as many Dinka separatists threw their lot in with the Garang loyalists. Even some prominent Nuer separatists, such as then-Major James Hoth Mai remained with Garang, viewing Machar's decision as a divisive blow to the Southern movement. With the split in place, John Garang's group became known as SPLM/A Torit (or Mainstream) and Riek Machar's group became known as SPLM/A Nasir (or United). The Nasir faction was at first composed mainly of Nuer and Shilluk, though many Nuer remained loyal to Garang, resulting in numerous clashes between Nuer troops of varying loyalties over the next decade.
It was a critical time for the SPLA. It had just lost its principal backer with the fall of the Mengistu regime in Ethiopia, but Garang's forces were about to make a decisive march on the southern capital of Juba that might have meant victory in the campaign against Khartoum. However, the coup against Garang was poorly planned and poorly received by many field commanders. In the end, most of the fighters that rallied to Machar's SPLM/A-Nasir faction were Lou Nuer and Bul Nuer already under his command, while Lam Akol had great difficulty persuading Shilluk fighters to join the new separatist movement. [2] The two were joined at the head of the new faction by Gordon Kong Chuol, a Jikany Nuer SPLA commander. The Nasir faction was later joined by two other groups from the government-sponsored Anyanya II militia; Lou Nuer fighters under Paulino Matip Nhial and Bul Nuer fighters under Yohannes Yual.
In a review of South Sudan's political history, Machar characterized the SPLM/A of the time as a repressive force preventing South Sudanese independence:
Since 1983, the Sudan People's Liberation Movement/Army (SPLM/A) has been fighting South Sudanese groups that called for the right of self-determination for the people of South Sudan. This was epitomized in the bitter wars the SPLM/A waged against the Anyanya II "separatists" from 1983 to 1991 and against the Nasir faction of the SPLM/A since 1991. [3]
Though the split was, at its core, ideological rather than tribal, tribalism in its ugliest form did not take long to surface. On November 15, 1991, largely Nuer SPLA/M-Nasir troops under Machar's command joined the Nuer White Army militia in massacring over 2,000 Dinka civilians in Bor, the capital of Jonglei Province (Sudan Tribune, April 4, 2012). Many thousands more died of starvation after the attackers destroyed crops and stole all the livestock.
Such activities did little to persuade other elements of the SPLA that the Nasir faction was indeed a pro-reform, pro-democracy movement, as it claimed. With military pressure growing from Garang's Torit-faction, Machar and his allies made a deal with Khartoum. Soon the Sudanese military was airlifting arms and supplies to the southern secessionists. Khartoum ignored the long-term goals of their new proxies, seeing in Machar and his colleagues an opportunity to create a deadly internal conflict within the SPLM/A that would result in the eventual defeat and elimination of all South Sudanese armed groups not loyal to Khartoum.
Machar still found time in 1991 to marry a British aid worker, Emma McCune, who was later killed while pregnant in a 1993 car accident in Nairobi. The story of their relationship was documented in a 2003 book entitled Emma's War. [4] The marriage was partly a strategic exercise by Machar, as his British wife succeeded in persuading Western journalists covering the conflict that reports of atrocities and collaboration with Khartoum were false. [5] It was during this time that Machar began developing his media skills, providing journalists and aid representatives with a smiling and receptive representative of the southern movement despite Khartoum's growing input into his decision-making. Machar is now married to Angelina Teny, a leading politician in the South Sudan and a former State Minister for Energy and Mining in the transitional GoSS (2005-2010).
Machar's movement gained a somewhat broader tribal base when it was joined by the mercurial Kerubino Kuanyin Bol, a Twic Dinka SPLA commander fresh from a spell of imprisonment in an SPLA base. Kerubino brought his troops with him and was made deputy commander of the Nasir faction. Kenyan and American efforts to reconcile the two SPLA factions in late 1993 were a failure.
The Riek Machar SPLM/A United faction was renamed the Southern Sudan Independence Movement/Army (SSIM/A) in September, 1994 (dismissed by Riek Machar in February 1994, Lam Akol claimed the title of SPLM/A United for his group in West Central Upper Nile in October 1994). Machar expelled Kerubino Kuanyin and Nuer commander William Nyuon Bany (a favorite of Khartoum, later made a major-general in the Sudan Armed Forces [SAF]) from the SSIM in 1995 after learning they had signed separate deals with Khartoum.
Machar's relations with Khartoum became somewhat more transparent when he signed an agreement with Khartoum in 1997 calling for centralized federalism in Sudan, which helped establish Machar's new Khartoum-backed United Democratic Salvation Front/South Sudan Defense Force (UDSF/SSDF), based mainly in the eastern Upper Nile. Machar, the professed separatist, was made a special advisor to Sudanese president Omar al-Bashir and placed in command of the newly formed pro-Khartoum South Sudan Defense Force (SSDF).
In 2000, Machar abandoned the SSDF and formed yet another Khartoum-sponsored militia, the Sudan People's Defense Forces/Democratic Front (SPDF). Having fallen into disfavor with his own Dok Nuer for his failure to prevent their displacement from the Unity State oil-fields by Paulino Matip's pro-Khartoum militia during clashes in 1998-99, Machar moved his base of operations to Jikany Nuer territory. Finding himself shunted back onto the political sidelines, Machar began talks with Garang's SPLA that led to the integration of the SPDF into the SPLA in 2002. After a decade of brutal combat and human rights violations by all sides that left hundreds of thousands dead, Machar was once more under Garang's command. It was not the end of the fighting, however, as many militias, both from the Nuer and other tribes, were still in the field, often using arms supplied by Khartoum to pursue both Khartoum's aims and their own local agendas.
After the Comprehensive Peace Agreement
Under the terms of the Comprehensive Peace Agreement (CPA) of January 9, 2005 that ended the Second Sudanese Civil War, all armed groups in the South Sudan, regardless of political viewpoint, were to be absorbed into the SPLA, thus creating a massive army and officer corps in which there was little unanimity of purpose. Recalcitrant gunmen and militias were forcibly disarmed in an SPLA campaign that began in December 2005 and ended in May, 2006. The SSDF was absorbed into the SPLA after the Juba Declaration of January 8, 2006. Machar attempted to also dissolve the White Army, but his orders were ignored and the militia was destroyed (temporarily at least) in the SPLA's disarmament campaign. [6] In July 2005, Machar was made vice-president of the Government of South Sudan (GoSS), a role he kept when he became vice-president of the new Republic of South Sudan in July 2011.
During this period, Machar was also involved in negotiations with Joseph Kony's Lord's Resistance Army (LRA) to end that group's depredations in South Sudan and elsewhere in the region. However, after Machar invested several years in the effort, Kony failed to show up for the signing of a peace agreement, keeping Machar, dignitaries and observers waiting for days in a bush clearing in Western Equatoria (see Terrorism Monitor, April 16, 2008).
Machar's status as an uninitiated tuut dhoali arose in 2009, when the sacred dang (rod) of the 19th century Nuer prophet Ngundeng was returned to the South Sudan after being taken as loot by a British officer during an Egyptian Army operation in 1927. A group of Ngundeng's descendants, led by an SPLA colonel, condemned Machar for conducting traditional cattle sacrifices during the ceremonies to welcome the return of the dang, noting that he did not bear the long horizontal forehead scars of initiated Nuer men. However, Machar was defended by several older descendants of the prophet, who insisted the rules for sacrifice applied only in Ngundeng's "holy city" of Wec Deang, not Juba (Sudan Tribune, April 22, 2009; May 21, 2009). Though the dang was intended to be returned to Wec Deang, it never left Machar's hands thereafter and there are suspicions Machar may have taken it with him when he fled Juba, believing that possession of the dang would give him great respect amongst the Nuer (Reuters, December 23, 2013).
Several months before South Sudan's independence was declared in July 2011, a pro-government Khartoum newspaper carried a story alleging that unidentified persons were plotting to assassinate Riek Machar and several senior SPLA commanders, including Paulino Matip Nhial (Bul Nuer), Thomas Cirilo Swaka (Equatorian) and Ismail Kony (Murle) (al-Rayaam [Khartoum], March 30, 2011; Sudan Tribune, March 31, 2011). No arrests were made and it was possible the story was an attempt by Khartoum to spread dissension in the GoSS.
In 2012, Machar made a surprise admission of responsibility and apology for the Bor Massacre during a meeting held at the home of John Garang's widow, Rebecca Nyandeng (London Evening Post, August 16, 2011). With Machar at the head of an increasingly vocal number of critics within the SPLM in the last year, the president began to make provocative and highly undiplomatic public references to his vice-president's role in the Bor Massacre (VOA, January 9, 2014).
Coup or No Coup?
The current crisis might be said to have its immediate origins in President Kiir's July 2013 decision to dismiss Vice-President Machar and the entire GoSS cabinet in what many observers saw as a demonstration of the president's increasing authoritarianism.
With tensions simmering and rumors of coups flying about in Juba since the cabinet was dismissed last July, it was perhaps not surprising that a small clash between Nuer and Dinka members of the Presidential Bodyguard on December 15 could erupt into a major crisis. President Kiir took to national TV in full uniform to proclaim a Machar-led coup had been foiled even as the vice-president headed for the bush. Machar's Juba home was not spared an attack by Dinka elements of the presidential bodyguard that destroyed much of the property and may have killed several of Machar's bodyguards and relatives (Sudan Tribune, January 18, 2014). Machar insists there was no coup attempt and claims he is being "used as a scapegoat" in the president's purge of rivals within the SPLM (al-Jazeera, January 5, 2014).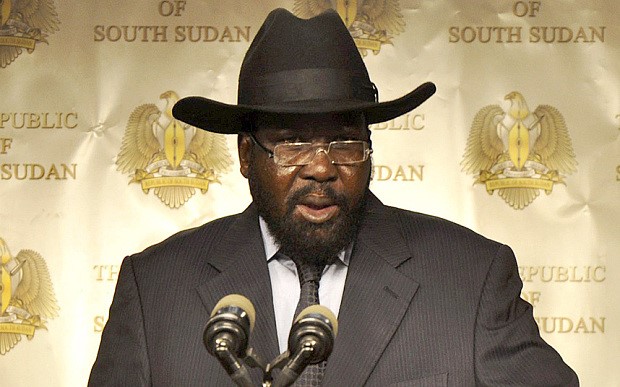 South Sudan President Salva Kiir Mayardit
Shortly after clashes broke out in Juba, 13 senior members of the SPLM were arrested on charges of plotting a coup against the GoSS. Not all the 13 detainees were Nuer and two of the 13 were subsequently freed). Machar insisted the 11 remaining prisoners be released, but the U.S. government urged Machar to abandon his demand for the release of all 11 senior SPLM detainees as a precondition for negotiations (al-Sharq al-Awsat, January 11).
Ugandan president Yoweri Museveni has committed Ugandan troops to South Sudan to protect Ugandan interests and citizens, but it is widely believed (especially by the Nuer opposition) that the Ugandans are providing some forms of military assistance as well (Sudan Tribune, January 1, 2014). Machar has claimed his followers were attacked by both Ugandan helicopters and jet-fighters (Sudan Tribune, December 27, 2013).Museveni promised to lead a military effort by member states of the regional Inter-Governmental Authority on Development (IGAD) against Machar's forces, but did made it clear whether he had received commitments for military contributions from IGAD members (including Sudan) (Reuters, December 30, 2014). Museveni is widely viewed as a strong supporter of GoSS president Salva Kiir.
By the end of December, Machar maintained that his forces were "marching on Juba" (Telegraph, December 31, 2013). A few days later Machar backed away from the claim, saying he was "being restrained by the international community" (Telegraph, January 3, 2014). The former VP pledged to send a negotiating team to talks hosted by Addis Ababa, but said he would not attend himself.
Machar has received support from a surprising quarter – his former rival John Garang's widow, Rebecca Nyandeng, a political force in her own right, and their outspoken son, Mabior John Garang. The latter has charged Salva Kiir with arbitrary rule, false accusations and possible corruption. According to Mabior, "Salva Kiir wanted to foment tribal violence by sacking the vice president. Any lay person in South Sudan would have known that if you sack this person you would foment tribal violence" (New Vision [Kampala], December 26).
Machar's revolt failed to gain the support of Nuer General James Hoth Mai, the SPLA chief-of-staff. Despite being a separatist, the general was a loyal member of Colonel Garang's inner circle who refused to join Machar in his split from the SPLA in 1991. General James Hoth Mai has consistently directed the SPLA under his command to avoid interfering in South Sudan's political rivalries. This stance has led to a dispute with President Kiir, who earlier sought guarantees from the army that it would support the head-of-state should he feel compelled to take action against his political rivals (Sudan Tribune, September 16, 2013).
In Machar's view, the political crisis in South Sudan is entirely the work of President Kiir:
If we had intentions of toppling the regime, which is under the umbrella of the SPLM and the Sudan People's Liberation Army (SPLA), we would have opposed the ruling party. On the contrary, Kiir is the one who turned against the SPLM and the country's constitution though his security crackdown… My group and I, who belong to the southern tribes, are against tribalism, but Kiir is the one who wants to provoke a tribal war. Kiir carried out tribal massacres in Juba on December 15, and the days that followed, until today (al-Sharq al-Awsat, January 2, 2014).
Conclusion
Machar's opposition forces and the GoSS signed a ceasefire agreement mediated by IGAD in Addis Ababa on January 23, 2014. Since then, there have been numerous reports of ceasefire violations. Though the agreement did not address the question of the 11 SPLM detainees, it was reported to call for an immediate cessation of hostilities, an end to media/propaganda campaigns targeting the other party, access for humanitarian agencies and a withdrawal of foreign troops (i.e. Ugandan forces) from South Sudan (Radio Dabanga, January 18, 2014; Sudan Tribune, January 28, 2014).
However, in a recent interview, Machar described the Addis Ababa agreement as only "ink on paper" without the release of the 11 SPLM detainees, while promising that his forces would give the "invaders" from Uganda "a lesson" (New Yorker, January 23, 2014).
At the moment there are few indications that the ceasefire will hold, but there are hopes that cooler heads will prevail and yet another devastating civil war will be avoided in a young nation that is unlikely to survive such a catastrophe. Though Machar does not speak for all the Nuer opposition, it is essential that he be engaged in negotiations for a political settlement before he once again turns for support to his former patrons in Khartoum, who would welcome the return of their one-time proxy as a means of applying pressure on the GoSS, which Khartoum believes is arming and funding guerrilla movements in Sudan's South Kordofan and Blue Nile regions.
Notes:
1. Dereje Feyissa, Playing Different Games: The Paradox of Anywaa and Nuer Identification Strategies in the Gambella Region, Ethiopia, Berghahn Books, 2013, p. 170.
2. Douglas H. Johnson: The Root Causes of Sudan's Civil Wars, International African Institute, James Currey, Oxford, 2003, p.97.
3. Riek Machar Teny-Dhurgon, "South Sudan: A History of Political Domination – A Case of Self-Determination," University of Pennsylvania – African Studies Center, n.d., http://www.africa.upenn.edu/Hornet/sd_machar.html
4. Deborah Scroggins, Emma's War, Harper Collins, New York, 2003.
5/ Douglas H. Johnson: op cit, p.99, fn.10.
6. John Young: "The White Army: An Introduction and Overview," Small Arms Survey, Graduate Institute of International Studies, Geneva, June 2007, http://www.smallarmssurveysudan.org/fileadmin/docs/working-papers/HSBA-WP-05-White-Army.pdf
This article first appeared in the January 2014 issue of the Jamestown Foundation's Militant Leadership Monitor.