Andrew McGregor
April 28, 2011
While the Saharan wing of al-Qaeda in the Islamic Maghreb (AQIM) has dominated regional headlines in the last year, the larger core wing of AQIM operating in the northern forests and mountains of the Kabylia region has recently stepped up its activities, killing dozens of soldiers, gendarmes and civilians in a series of attacks this month.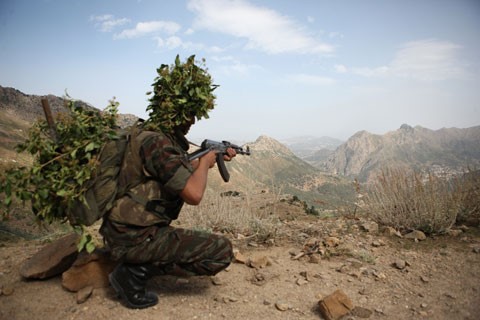 Algerian Soldier in Tizi Ouzou
A major AQIM raid targeted a guard post of the Armée Nationale Populaire (ANP) near the town of Azazga in Tizi Ouzou province on the evening of April 14/15. Local residents say the attack began at 8PM with a series of mortar explosions, followed by bursts of automatic rifle fire. Soon after the assault began, government helicopters arrived and delivered heavy fire against a nearby forest to which the assailants had fled. Other helicopters evacuated the dead and wounded to a military hospital in Algiers (Le Temps d'Algérie, April 17).
An AQIM communiqué released on April 20 claimed responsibility for the attack, saying that one mujahid was killed during the raid: "We will never forget the blood of our martyrs and we will reply to all those among us who have been killed by the evil apostates [i.e. the Algerian military]" (Ennahar [Algiers], April 20). Official sources said the militants had suffered heavy losses in the attack (Le Temps d'Algérie, April 27).
Militants have begun using roadside bombs along the RN 24 highway in Kabylia, recently re-opened after being closed for security reasons for 20 years (al-Watan [Algiers], April 13; La Tribune [Algiers], April 7). Two gendarmes were killed in Kabylia by a roadside bomb on April 27 (Reuters, April 27).
In the town of Lakhdaria, surrounded by the mountains of Kabylia, a remote-controlled bomb planted in a restaurant killed one gendarme and injured another. It was believed the bomb was meant to target Chinese nationals who frequented the restaurant, but the arrival of the gendarmes led the terrorists to detonate the device early (L'Expression [Algiers], April 18).
Algerian security forces are engaged in constant operations to eliminate the elusive cells of AQIM. Four AQIM fighters were killed on April 24 in a large military operation carried out in the Khenafou mountains of Tizi Ouzu province. Authorities said intensive intelligence work had led to the arrest of the guide of a column of roughly 20 AQIM militants. The guide was about a day and a half ahead of the rest of the group and his information allowed security forces to prepare and ambush for his comrades (Tour sur l'Algérie, April 26). Algerian authorities had earlier reported the death of eight AQIM militants in Tizi Ouzu and neighboring Boumerdès province on April 15 (L'Expression, April 18).
Algerian troops and fighter jets are also monitoring the southern Saharan region for AQIM militants crossing to and from Libya. Seven militants were reported to have been killed by border guards with shoot-to-kill orders on April 20, three of them while trying to enter Libya (al-Khabar [Algiers], April 20).
This article first appeared in the April 28, 2011 issue of the Jamestown Foundation's Terrorism Monitor