Andrew McGregor
March 28, 2013
As oil theft in southern Nigeria's Niger Delta region reaches up to an unprecedented 250,000 barrels per day, there are signs that al-Haji Mujahid Dokubo-Asari, the man who helped found the militant movements of the Delta and perfected the practice of "bunkering" (as tapping the pipelines is known locally), may return from his current "sabbatical" to lead a new rebellion against the government of President Goodluck Jonathan.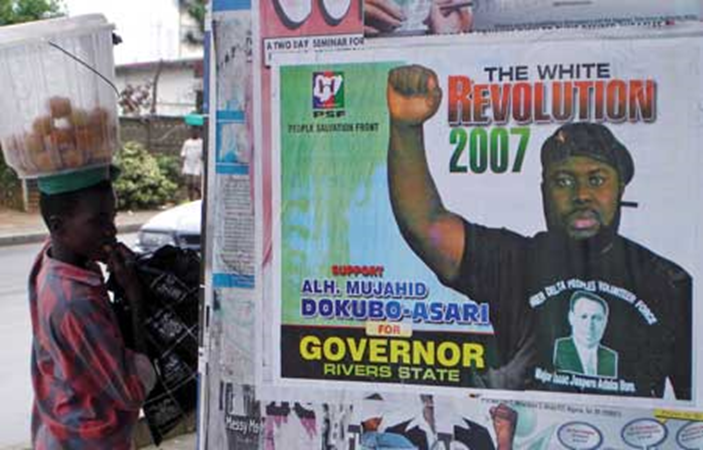 Background: The Ijaw
Born the son of a High Court judge in Port Harcourt in 1964, Melford Dokubo Goodhead Jr., converted to Islam in his youth and subsequently adopted his new name. The future militant dropped out of the University of Calabar in 1990 due to conflicts with school authorities. He resumed studies at Rivers State University of Science and Technology in Port Harcourt but again dropped out to pursue ethnic nationalism and political activism in his native Ijaw tribal community.
The Ijaw speak nine related languages of the Niger-Congo tree, the most important of which are Izon (in the western delta) and Kalabari (in the eastern Delta). Though Dokubo-Asari is a convert to Islam, some 95% of Ijaw are Christians and many blend earlier pre-Christian beliefs and practices into their faith. The struggle over the oil industry has had two main outcomes in Ijaw territory – the development of militancy and the growth of a large Ijaw diaspora abroad, as those who can afford it leave Nigeria for greater opportunities in the Western world. Though the Ijaw once made substantial profits by facilitating the slave trade along the West African coast, their traditional occupations focus on fishing and agriculture. There are now an estimated 15 million Ijaw, located mostly in the Niger Delta, with a smaller community in neighboring Benin.
There is a significant tribal element to Dokubo-Asari's struggle; according to the militant leader:
I have always said that I'm fighting for the independence of my people, the Ijaw people. I don't have any feeling [other] than the feeling of an Ijaw man. That is the truth. And the feelings of the wellbeing of Niger Delta and Igbo people, because I share blood with Igbo. I'm an Ijaw, an Igbo and a Niger Deltan. I don't have any feeling with any other people (Rariya [Abuja], February 8).
Dokubo-Asari often represents himself as an Ijaw sovereigntist who is less interested in resource control than the creation of an independent Ijaw state: "It is an undeniable right of our people to fight for the independence of our country." For Dokubo-Asari, the very foundations of the Nigerian state are illegitimate: "The 1914 amalgamation of Nigeria is illegal, null and void. So also the declaration of independence in 1960 and also the declaration of Nigeria in 1966 as a republic are also illegal" (Rariya [Abuja], February 8). Dokubo-Asari opposes the traditional Hausa-Fulani elite of the north as having a "born-to-rule" philosophy.
Dokubo-Asari speaks in a blend of metaphors, Ijaw folk-sayings, local patois and allusions to biblical texts. Contradictions do not seem to worry him – typically, Dokubo-Asari may deny having oil-protection contracts in one breath and then warn what will happen if his oil-protection contracts are cancelled in the next. The Ijaw militant draws his inspiration as an ethno-nationalist from the late Major Isaac Boro, the founder of the Niger Delta Volunteer Force (NDVF). An early Ijaw militant leader, Boro proclaimed the short-lived Niger Delta Republic in 1966 before being arrested for treason. Boro was freed to lead Federal forces during the Nigerian Civil War (1967-1970) against Biafran forces in the Delta region, where he died in action in 1968.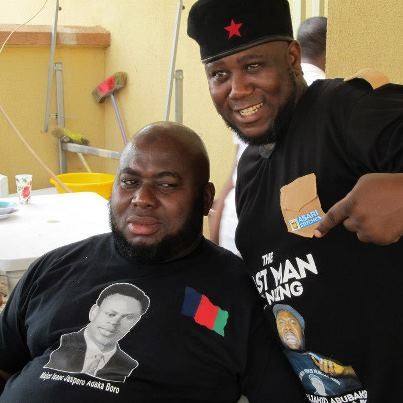 Dokubo-Asarai (left), wearing a Major Isaac Boro T-Shirt
Political Career
Dokubo-Asari claims to have received military training in Libya in the early 1990s before visiting a number of countries. After his return to Nigeria, Dokubo-Asari's early political career was marked by successive failures as a candidate for the Rivers State House of Assembly in 1992 and as a candidate for the post of Chairman of the Asari-Toru region local government in 1998. Dokubo-Asari became the first vice-president of the Ijaw Youth Council (IYC) in 1998, just prior to the release of the IYC's Kaiama Declaration of December 11, 1998. The declaration noted that the "Ijaw Nation" was forcibly incorporated into the Nigerian state by the British and had since been "Balkanized" through its division into six states. Despite the energy resources of the Ijaw region providing over 80% of the national GDP and 95% of the federal budget, the Ijaw had been rewarded only with ecological devastation and military repression. In consequence, the declaration asserts that "all land and natural resources within the Ijaw territory belong to Ijaw communities," demands the withdrawal of all Nigerian military forces from the region and a halt to all exploration activities in the Ijaw area and asserts the principle of peaceful coexistence "despite the provocative and divisive actions of the Nigerian state" [1]
Dokubo-Asari became president of the IYC in 2001, allegedly with the help of the Rivers State governor, who wanted to split the IYC leadership and was willing to overlook Dokubo-Asari's oil theft in return for his help (Daily Independent [Lagos], June 21, 2007). Under his leadership, the group's slogan became "Resource Control and Self Determination by Every Means Necessary."
Turning to Insurgency
Dissatisfied with the IYC's moderate stance, Dokubo-Asari launched the Niger Delta People's Volunteer Force (NDPVF) in 2003 after a dispute with Rivers State Governor Peter Odili. The NDVPF launched their armed resistance to the government and the oil firms in 2004, which quickly produced a dramatic decline in oil production and a halt to oil exploration in the Ijaw territory. Dokubo-Asari has described his first attack on the Delta's oil infrastructure, the dismantling of the Buguma Creek Flow Station:
That is my family land. I didn't bother talking; I just took newsmen from Australia there and dismantled the flow station. Shell has been struggling to go back and I have dared them to come back… I uprooted all the pipes, all the buildings, I dismantled them. I called Igbo people to come and buy the pipes. You wouldn't even know that there was a flow station there (The News [Lagos], January 18).
According to a confession he is reported to have given to Nigerian security services, Dokubo-Asari began buying large quantities of arms in 2003 from Movement for the Emancipation of the Niger Delta (MEND) militant Henry Okah (sentenced to life in prison in South Africa in January on terrorism charges). Dokubo—Asari claimed that when he learned in 2005 that Okah was recruiting Ijaw youths for a planned coup in oil-rich Equatorial Guinea, he immediately reported the matter to the Nigerian State Security Service (SSS), allowing the Nigerian navy to intercept the first ship full of recruits (Newswatch [Abuja], April 9, 2008). Other weapons were obtained from oil tankers lying offshore in exchange for oil shipments obtained by "bunkering" (IRIN, July 16, 2004).
Dokubo-Asari's NDPVF became a training ground for future Delta warlords, including Victor-Ben Ebikabowei (a.k.a. BoyLoaf) and Farah Dagogo. The NDPVF was funded through oil theft and its activities rapidly caused a spike in oil prices. However, there was little unity amongst the Delta militants, and Dokube-Asiri's group fought other gangs in the Delta like the Icelanders, Soboma George (now leader of "the Outlaws") and Ateke Tom's largely Ijaw Niger Delta Vigilantes (NDV).
Arrest and Release
After the failure of talks with Nigerian president Olusegun Obasanjo, Dokubo-Asari was arrested on charges of treason on September 20, 2005 by order of the president. The arrest only aggravated the security situation in the Delta, as now leaderless NDPVF senior commanders like BoyLoaf, Alali Horfsal and Farah Dagogo split off to form their own gangs and militias. When Dokubo-Asari finally came to trial in February, 2007, he is reported to have gone "berserk" and threatened to kill a judge and his entire family (Daily Trust [Abuja], February 6, 2007).
While awaiting trial in an SSS underground prison, Dokubo-Asari claims to have met several imprisoned Boko Haram leaders and to have occupied the cell just vacated by the late Boko Haram leader Muhammad Yusuf (Rariya [Abuja], February 8). Dokubo-Asari always maintained that was as close as he had ever come to the Boko Haram leader, until August, 2012, when he learned some of his opponents had been writing to the president's office to allege that Dokubo-Asari had kept close contact with Boko Haram leaders until the present. The letters were preceded by an "advertorial" placed in Nigerian newspapers accusing Dokubo-Asari of being financed by Islamist extremists while president of the Ijaw Youth Council and further accused him of bringing northern Muslim youths south to fight under his command.  The advertorial was placed by the previously unknown "Council of Ijaw Yourth for the Unity of the Federal Republic of Nigeria" and its accusations were described by Dokubo-Asari as "Satanic intrigues" (The Neighborhood [Port Harcourt], December 21, 2011; Sahara Reporters, August 23, 2012).
As part of a long and rambling letter to the president, Dokubo-Asari denied having any ties to Islamist militant movements in northern Nigeria, financial or otherwise, but did admit meeting Muhammad Yusuf at Maiduguri's Indimi Mosque in 1995-96 while studying Islam. Dokubo-Asari insisted that it was clear his accusers "want to link me to the so-called Boko Haram sect, as their founder, financier and sponsor… to give a reason for the government of the Nigerian state to arrest me and throw me back into detention…" (Sahara Reporters, August 23, 2012).
Dokubo-Asari was eventually released on June 14, 2007 as part of a larger effort to bring stability to the southern region, though Dokubo-Asari's release was described as coming about as a consequence of the militant leader's hypertension and diabetes (AFP, June 14, 2007). After his release, Dokubo-Asari did not return to the creeks of the south, but instead lived in Abuja, where he was reported to have acted as a mediator with other Delta militant groups while enjoying a "flamboyant lifestyle" and "all kinds of flashy cars" (Vanguard [Lagos], July 20, 2007; Newswatch [Lagos], August 27, 2008).
A general amnesty for Niger delta militants was issued by President Umaru Yar 'Adua in 2007, but Dokubo-Asari rejected the offer and instead challenged its legality in court. Dokubo-Asari continues to oppose the amnesty on the grounds that the militants were never tried and convicted and consequently cannot be amnestied. On the other hand, he maintains that the amnesty offered to southern rebels should also be extended to the Boko Haram militants of northern Nigeria (This Day [Lagos], March 11). Dokubo-Asari was a bitter enemy of President Yar'Adua, a northerner that the militant leader described as "the number one enemy of the Niger Delta and the South" (Daily Trust [Abuja], July 12, 2009).
Dokubo-Asari was again arrested on his return from medical treatment in Germany on June 23, 2009, though President Umaru Yar'Adua ordered his release the next day. The arrest appears to have been mistimed and not coordinated with the government, which was holding a meeting on the 24th with Delta militants to present a long-awaited amnesty offer (AFP, June, 24, 2009).
Bunkering
Dokubo-Asari recently denounced the practice of tapping oil pipelines in the Delta, describing its adverse effects on residents of the Delta and calling for immediate action, including military intervention, to bring an end to widespread oil theft: "Illegal bunkering is criminal; it kills the environment, it kills aquaculture; it does not just degrade the environment, it kills it" (This Day [Lagos], March 11). These remarks stand in contradiction to earlier comments in 2009:
I don't see anybody involved in bunkering as a criminal because the oil belongs to him and he has the right to take it… Ninety-nine percent of bunkerers are not from the Niger Delta. The people who bring in these vessels are from the North and Yoruba land… Ninety percent of the people are either retired military officers or prominent people from the north. Before you can engage in bunkering, you must have the permission of the Chief of Naval Staff, the SSS must be involved so that when they see you, they go the other way. The ships and vessels that convey the bunkered oil are 20 times bigger than this house, how come the security operatives don't see them? But the Navy does not see them. The SSS does not see them (Daily Trust [Abuja], July 12, 2009).
Thousands of illegal refineries have been destroyed by Nigerian security forces in the last two years. While much of the massive daily oil theft (about 10% of total daily production) finds its way to offshore tankers for resale abroad, the rest is cooked in crude refining operations that cause fires and pollute the creeks of the Delta before being sold at local filling stations (Bloomberg, March 6). The cheap petrol manufactured in these primitive refineries is locally known as "Asari," after the NDPVF leader.
Self-Exile and the Dispute with President Jonathan
Dokubo-Asari had originally been a strong supporter of Nigeria's current president, Goodluck Jonathan, a fellow Ijaw. When the Nigerian House of Representatives threatened to impeach the president in 2012 over his poor implementation of the budget, the NDPVF warned it was preparing "for action" in the event Jonathan was tossed from office (Niger Delta Standard [Port Harcourt], August 3, 2012).
A month after Jonathan won the 2010 election, Dokubo-Asari told reporters that the NDPVF was "on sabbatical," adding "We are giving Goodluck a chance to make a difference to bring about change… Goodluck does not have four years; he has one year" (Telegraph [Port Harcourt], May 18, 2011).
The relationship soon soured, however, and the Ijaw activist now maintains that the president has allowed himself to be surrounded by corrupt and greedy advisors, leaving Dokubo-Asari no alternative but to come out publicly against the president. Dokubo-Asari has described his relationship with the president, his former benefactor:
If we don't talk and we continue to brush it aside, tomorrow we will be blamed and people will say: Mujahid Asari-Dokubo was around when Goodluck Jonathan was president, and he didn't talk; then I will be an accomplice and accessory after the fact. I have benefited immensely from Goodluck Jonathan with my stake, but benefit alone is not enough to make me to keep quiet when the period is very challenging for our people (The Sun [Abuja], December 29, 2012).
Dokubo-Asari was given further ammunition for use against the president when a member of the National Assembly revealed that over 80% of the oil blocs in Nigeria are owned by Northerners. Dokubo-Asari demanded that the licenses be immediately revoked or "we shall take our destiny [into] our own hands….Can you now see what we have been fighting for? We own the oil and we are suffering for it. Is it a curse to have oil in our land?" (Osun Defender, March 9; Telegraph [Port Harcourt], March 11). With relations with the government deteriorating and the threat from rival commanders in the Delta still outstanding, Dokubo-Asari decided it was a good time to relocate to Cotonou, the economic capital of Benin.
Nonetheless, Dokubo-Asari's differences with the Jonathan government appear to have less to do with legal niceties than with the government's decision to cancel on grounds of non-performance several lucrative contracts that Dokubo-Asari had received for training amnestied ex-militants and for "protecting" pipelines of the Nigerian National Petroleum Corporation (NNPC) in the Delta region. "If Jonathan takes my pipeline contract from which I am making Naira 14 million [US $88,500] every month, then I become destitute… [and] I will fight him" (Vanguard [Lagos], January 26; Nigerian Tribune, January 27).  Dokubo-Asari constantly reminds reporters that he has many mouths to feed in his compound, including four wives, 18 children and 82 adult relatives and their 111 children (The News [Lagos], January 18).
In his incessant criticism of President Jonathan, Dokubo-Asari appears to have fallen afoul of many traditional Ijaw leaders who have tried, unsuccessfully, to persuade the ex-militant to temper his words for fear they might affect Jonathan's chances of re-election against a northern candidate (The Neighborhood [Port Harcour], January 1). However, Dokubo-Asari is not worried about power returning to the hands of a northerner – in February, 2012 he told politicians from northern Nigeria that they could forget about winning the presidency in 2015 as Boko Haram would prevent a large turnout in the north and power would remain with the south and the middle belt of Nigeria for some time (Niger Delta Standard [Port Harcourt], February 20, 2012; Premium Times [Abuja], February 8). According to Dokubo-Asari: "God is angry with the north. Let them cry to Allah for forgiveness" (Rariya [Abuja], February 8).
Nigeria's revenue-sharing formula, which directs 13% of revenues to the local governments of oil or mineral producing states, has become a main point of contention in the Delta. Ijaw leaders have called for the direct payment of the 13% derivation to oil-producing communities in Nigeria instead of state governments (Telegraph [Port Harcourt], November 5, 2012). According to Joshua Benamaisia, the president of the Ijaw National Congress, "The fact is that 99 percent of the oil communities are not developed. They don't even have roads. The money does not get to them. It gets to the state and ends with the state" (Punch [Lagos], January 6).
Dokubo-Asari finds the payment insufficient: "Thirteen percent derivation is 87 percent deprivation. As far as I am concerned, nothing has been done and it is wicked and criminal for somebody to take my property and dictate what he will give to me, it is not acceptable… People like us are saying don't listen to Goodluck Jonathan, don't listen to [Ijaw chief] Edwin Clark. What we want is 100 percent" (The News [Lagos], January 18).
Conclusion
Despite his history of militancy and his warnings that he is only "on sabbatical," Dokubo-Asari now poses as a businessman dedicated to the furtherance of the Ijaw community: "I am not a militant. I don't know the meaning of militant… I am an Ijaw nationalist" (The News [Lagos], January 18). Nevertheless, he warns that Shell will meet a hot reception if its workers return to Ijaw territory: "I will go and meet them and ask who gave them authority to enter my land. I am training my children in martial arts and everything so that when the time comes, if I am not around, my children will take over" (The News [Lagos], January 18). Though based in Benin, Dokubo-Asari still has the potential to unleash a new wave of violence and criminality justified by ethnic nationalism but fuelled by what Dokubo-Asari and many Ijaw perceive as the inequitable distribution of resource revenues in the Niger Delta.
Note
Ijaw Youths of the Niger Delta, "The Kaiama Declaration," December 11, 1998, http://www.dawodu.net/kaiama.htm
This article first appeared in two parts in the March and April 2013 issues of the Militant Leadership Monitor