Andrew McGregor
August 31, 2016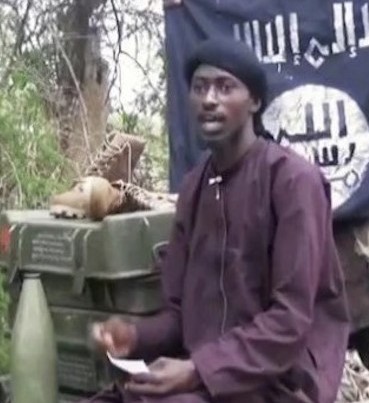 Abu Musab al-Barnawi (Breaking Times)
Though it might be difficult to conceive, there are apparently limits to the degree of barbarity the Islamic State organization is willing to tolerate in its regional leaders. On August 2, the Islamic State took the unusual step of intervening in the leadership of Nigeria's Boko Haram to remove its long-time leader, Abu Bakr Shekau, who fell foul with the movement through his erratic behavior, military failures and willingness to slaughter the same Muslim civilians the Islamic State is trying to win over. The appointment of his successor, a relatively unknown 25-year-old named Abu Musab Habib bin Muhammad bin Yusuf al-Barnawi (a.k.a. Habib Yusuf), has been challenged by Shekau, though he has yet to break publicly with the Islamic State.
Prospects of a clash between what is now two factions of Boko Haram were diminished on August 23, when Nigeria's military announced it had made a massive airstrike on Boko Haram positions in the Sambisi Forest on August 19, killing 300 fighters (an unlikely figure) and "fatally wounding" Abu Bakr Shekau (Sahara Reporters, August 23). While no confirmation of the strike or Boko Haram losses was available, it is the fourth time Nigerian authorities claimed to have killed Shekau.
Early Career of Abu Musab al-Barnawi
Abu Musab is allegedly the first or second son of Boko Haram founder Muhammad Yusuf, who was killed while in police detention in 2009 (UPI, August 5). Daily Trust [Abuja], August 6, CNN, August 4 (SaharaReporters.com, August 3). The fatherless youth was tutored in militancy by Shekau and Boko Haram third-in-command Mamman Nur and is alleged to have a solid background in Islamic scriptural interpretation and jurisprudence (Daily Trust [Lagos], August 6). However, differences between Shekau and Nur led to the latter leaving the movement to join a group with similar goals but different methods, Ansaru. [1] Abu Musab stayed with Shekau until the Boko Haram leader joined forces once again with Nur in the West African wilayat (province) of the Islamic State's caliphate, formed on March 5, 2015 as the intended successor to the Boko Haram group. This process brought Shekau under someone else's authority for the first time, though the Boko Haram leader evidently believed distance and remoteness from Islamic State "caliph" Abu Bakr al-Baghdadi and his cadres would allow him to carry on in the ways familiar to him.
Abu Musab means "Father of Musab," and refers to the new Boko Haram leader's seven-year-old son (Daily Trust [Lagos], August 6). "Al-Barnawi" is simply a nisba, indicating the geographical origin of an individual or his family. In this case it refers either to the Kanuri-majority state of Borno in north-western Nigeria, or to the historical Kanem-Bornu Empire (c.700 – 1893), which includes not only north-eastern Nigeria, but parts of Chad, Niger, Cameroon. This equates roughly to the operational zone of Boko Haram.
Abu Musab is an ethnic Kanuri, as is most of the Boko Haram membership. His appointment is clearly designed to draw on his legitimacy and religious authority as the son of Muhammad Yusuf. However, enquiries by local journalists in Maiduguri (the home town of Muhammad Yusuf) and other parts of Borno were unsuccessful in finding anyone who had heard of Abu Musab al-Barnawi before his emergence in 2015 (Nigerian News Headlines, August 6).
Abu Musab remained virtually unknown until the release of his first video as Boko Haram spokesman in January 2015. Three months later, Shekau announced Boko Haram's new alignment as part of the Islamic State organization on March 7, 2015. Since then, an already unstable Shekau has become increasingly erratic, even releasing a video in March 2016 in which he appeared to acknowledge his personal defeat: "For me, end has come" (Mail & Guardian [Johannesburg], March 24).
One source indicated that the leadership was offered to veteran jihadi Mamman Nur, who declined in deference to Abu Musab (Daily Trust [Lagos], August 6). Nur, who was traditionally aligned with al-Qaeda in the Islamic Maghreb (AQIM) is the former third-in-command of Boko Haram and its temporary leader in 2009 while Shekau recovered from injuries. There can be little doubt that operational decisions will be taken by Nur, while Abu Musab will assume the role of a figurehead providing religious justification for the movement's actions while offering a more palatable alternative to Shekau's bombast and viciousness.
Emergence as Boko Haram Leader
The surprise announcement of Abu Musab's new role as wali (governor) of the Islamic State's West African wilayah came via an interview with Abu Musab in the 41st issue of the Islamic State's e-weekly, al-Naba, released on August 2. In his interview with the Islamic State publication, Abu Musab rejects the use of "Boko Haram" as the common name for the movement, but admits that its use may be partly due to the difficulty of using the movement's lengthy Arabic official name (al-Naba 41, August 2). He ascribes "Islamic servility" to the fall of the Caliphate centuries ago; supporting the caliphate of Abu Bakr al-Baghdadi is the path to a new era of Muslim glory. Abu Musab insists that, under the new leadership, targeting of mosques or markets full of innocent Muslims will cease in favor of a tighter focus on blowing up churches and killing every Christian they can find. Abu Musab insists that Western NGOs are exploiting Nigeria's internally displaced Muslims (most of whom have actually been displaced by Boko Haram activities) by enticing them with food and shelter before converting their children to Christianity (al-Naba 41, August 2).
Abu Musab claims that he and seven other leading members of the group (possibly including Mamman Nur) left their women and goods behind to leave Shekau's Sambisi Forest camp and reject the Boko Haram leader's personal interpretations of jihad:
We will fight for the cause of Allah and work against personalizing Jihad and against unjustifiable killings and shedding of blood… Just like Allah gave us power to kill infidels, there are those he said we shouldn't kill without reason. In the Quran, Allah forbade Muslims from killing one another…and he also taught against killing in secret. If it is serious punishment, it must be public for people to know and witness it. But once you see killings in secret, there is something fishy and this is what we noticed with Shekau. What he is doing is not Islam… He is always boasting that he will kill, he will kill. Okay, continue to kill, you will also be killed (Premium Times [Lagos], August 5). [2]
What isn't clear is how many fighters joined the Abu Musab and Mamman Nur-led exodus from Shekau's Sambisi-forest base. Shekau's current state of mind suggests that further defections will be difficult, with the jilted Boko Haram leader watchful for any signs of dissent amongst his fighters. Shekau still commands large numbers of fighters and continues to hold the kidnapped Chibok schoolgirls abducted in April 2014, though Abu Musab is reported to hold some of the girls (Daily Trust [Lagos], August 6).
Shekau, who had not been heard from for months, wasted little time in challenging the news of Abu Musab's appointment, which he claimed he had only learned about from media sources. In an August 3 audiotape, Shekau claimed Abu Musab was in ignorance of "all holy books and teachings," stating: "Today I woke up to see one who is an infidel whom they want me to follow. No, I won't…" Shekau proclaimed his loyalty to al-Baghdadi, "the Caliph of the Muslims," but complained the Islamic State leader had not responded to his messages, that his written explanation of his ideology had been rejected, and that he had ultimately been deceived (NewsNigeria.com, August 5).
Abu Musab similarly replied quickly to Shekau's message, though much of his criticism of the Boko Haram leader has the perspective and attitude of a much more senior member of the movement, possibly that of Mamman Nur. Nonetheless, the criticisms of Shekau's leadership were specific [3]:
Shekau believes Muslim refugees fleeing to non-Muslim ("infidel") nations from violence in their homeland are also infidels and should be killed. Shekau justifies this approach by claiming the Quran demands Muslims must make public their opposition and anger to the "infidel" hosts who provide them with the necessities of life.
Shekau increasingly relies on a very personal interpretation of Islam and tolerates no dissenting opinions – "Islam is not his creation."
Shekau is reluctant to distribute arms to his fighters, leading to territorial losses.
The Boko Haram leader tolerates looting and encourages the killing of Muslims, including women and children – "We don't know this brand of Jihad… We should be looking for infidels and not our own people. How can we be killing people in the mosques when there are churches and barracks?"
Shekau has ordered amputations and even executions on false grounds or as the result of snap decisions that did not consider evidence. Instances cited included the execution of a leader because of a dream, a highly useful gun-maker killed for gossiping and an order to kill the former husbands of women Shekau had taken as wives.
Many of these executions have taken place in secret – "In Islam, there is nothing like secret killings, even of an infidel."
Shekau is accused of callousness when told that many of his fighters and their families were dying of hunger; at this point Abu Musab plays an audio recording of Shekau's response: "Who told you my duty is to look after babies? Who told you my duty is to look after fighters? If this is what you are talking about, then it is you that should look after me."
In a video message released on August 8 with text read by one of Shekau's aides, the Shekau faction of Boko Haram pledged its continued loyalty to Shekau and to the Islamic State "caliph" while warning the movement's leadership has made an uninformed decision in making Abu Musab the new leader of the West African wilayah: "We will not entertain any middle man to come between us and the Khalifa al-Baghdadi until we meet face-to-face with the Khalifa or get a video or audio message from him, then we will reveal to him core secrets about those they are building their trust on" (Premium Times [Lagos], August 8). Meanwhile, Abu Musab claims to have agents hidden among Shekau's corps of bodyguards who will "crush him" if he attempts to take action against him: "That is how Allah works like a miracle" (Vanguard [Lagos], August 15).
Conclusion
There is little doubt that Nigerian authorities would be pleased to see an internal struggle for the leadership of Boko Haram, though it is possible that a triumph of the Abu Musab/Nur faction could lead to the consolidation of a more efficient and united organization capable of revitalizing the West African wilayat with the support of the Islamic State organization. Unless Shekau is indeed "fatally wounded," as claimed, deposing Shekau in reality rather than in name will prove difficult, especially given Shekau's continued support by large numbers of the movement.
The current war of words is an effort by both sides to consolidate support without destroying the movement from within, but maintaining such a standoff is ultimately unsustainable. By claiming his heritage from Muhammad Yusuf, Abu Musab is appealing to a largely Nigerian and Kanuri base at the same time he (and Nur) seek to place the movement within the context of a larger international caliphate.
As Shekau has found, fighting a successful guerrilla war without the support of the local population is an uphill task, though his extremism may appeal to certain foreign fighters who believe the mercurial Shekau provides the path to glory or martyrdom. On the other hand, Abu Musab's declared intention to kill every Christian he can get his hands on may appeal to the Islamic State leadership, but still places his movement well outside the parameters established by northern Nigeria's traditional Muslim leaders, who reject Christian proselytization but insist on the necessity of peaceful co-existence with Nigeria's Christian community, roughly half the Nigerian nation.
Notes
The full title of the Ansaru organization is Jama'atu Ansaril Muslimina fi Bilad al-Sudan – Vanguard for the Protection of Muslims in Black Lands. Ansaru emerged in 2012 as an attempt to create a more focused version of Boko Haram less concerned with massacres of civilians in favor of more targeted attacks and kidnappings. Most of the Ansaru leadership were trained by or had operational experience with al-Qaeda in the Islamic Maghreb (AQIM).
Abu Musab's audio in Hausa and Arabic can be heard here: https://soundcloud.com/saharareporters/2016-08-04-audio-00000003-1
Al-Naba 41, August 2, 2016, available at Jihadology:
https://azelin.files.wordpress.com/2016/08/the-islamic-state-e2809cal-nabacc84_-newsletter-4122.pdf
This article first appeared in the August 2016 issue of the Jamestown Foundation's Militant Leadership Monitor.