Farhan Zahid
The number of terrorist acts in settled districts of Pakistan has taken a nose dive in the last few months. It appears that an ongoing military operation (Operation Zarb-e-Azb) has taken its toll on terrorists based primarily in North Waziristan and more generally in the whole of the tribal areas of Pakistan. The operation may have an impact on the diminishing number of terrorist acts, but the real reason seems to be the split of Tehrik-e-Taliban Pakistan (TTP) into two major factions.
The emergence of Jamaat ul-Ahrar is the latest development in the factional infighting inside the TTP. Key TTP commanders who have joined hands with Jamaat ul-Ahrar and become part of its shura (consultative council) are Qari Shakil Haqqani from Charsadda, Maulana Yasin from Swat, Mufti Mishbah from Peshawar districts of Khyber-Pakhtunkhawa province, Qari Ismail from Khyber district, Maulana Abdullah from Bajaur district, and Maulana Haider and Mansoor Nazim from the Orakzai district of the Federally Administered Tribal Areas (FATA) (Dawn [Karachi], August 26, 2014).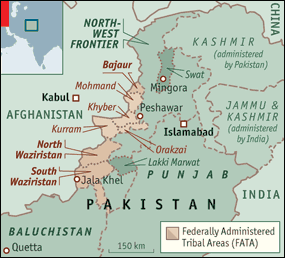 A Battle for Leadership
The split was overdue as key commanders had developed major differences over getting control of the tribal districts. Fierce clashes erupted between militants loyal to Khalid Mehsud (a.k.a. Sajna) and Sheryar Mehsud over control of South Waziristan. TTP Amir Maulana Fazlullah was impatient to prove his iron grip over the TTP and immediately sacked Khalid Mehsud before appointing Khalid Haqqani as the new commander of South Waziristan district. The TTP shura refused to endorse Fazlullah's decision, leading to fragmentation (The News [Islamabad], May 29, 2014).
In fact, the TTP started to fragment right after the death of its former Emir, Hakimullah Mehsud, in a drone attack in South Waziristan last December. The TTP's supreme shura council met several times to decide on a new Emir. Shura members reluctantly agreed on the name of Fazlullah, the notorious head of the TTP-affiliated Tehrik-e-Nizam Shariat-e-Mohammadi. Supreme leader of the Afghan Taliban Mullah Omar is believed to have put his weight behind Fazlullah, leading to his selection as the new Emir of the TTP. Unlike previous TTP Emirs (namely Baitullah Mehsud and Hakimullah Mehsud), Fazlullah belongs to the Mingora district of Pakistan's Khyber-Pakhtunkhawa province.
Since the TTP is an agglomerate of 27 to 40 Taliban groups based in the tribal areas of Pakistan and the Emir is traditionally from the tribal areas, the selection of Fazlullah became a bone of contention from the very beginning among other group leaders vying for the slot. The TTP was founded by Mehsudi tribesmen in August 2007 with Baitullah Mehsud as its first Emir. As the TTP is still Mehsud and Wazir dominated, it was difficult for both Mehsud and Wazir tribesmen to appoint a non-Mehsud and non-Wazir Emir who is not even from the tribal areas. It was more or less like a non-Arab commanding al-Qaeda Central.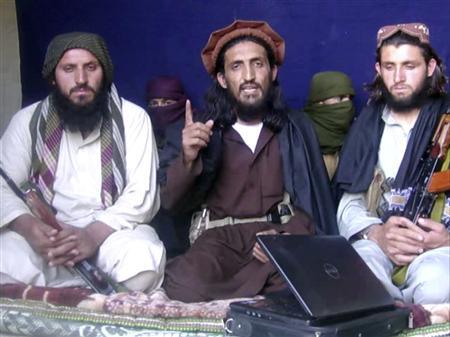 Omar Khalid Khorasani
Another important issue surfaced with the formation of Jamaat ul-Ahrar by the TTP commander of Mohmand district, Omar Khalid Khorasani (a.k.a. Abdul Wali). Khorasani belongs to the Safi tribe of Mohmand district. During his long tenure as TTP commander of the district and in the absence of a strong TTP Emir in Waziristan, Khorasani announced his own faction, Jamaat ul-Ahrar, in September 2014. Khorasani accused Fazlullah and his allied commanders of deviating from the TTP ideology. Fazlullah, who was in Afghanistan and missed the shura council's meetings, slammed Khorasani's decision and called him a traitor and deviator. He said Khorasani was "conspiring against the Emirates of Afghanistan Emir Mullah Muhammad Omar, and [had] links to shadowy militant organizations." All Taliban groups in Pakistan and Afghanistan regard Mullah Omar as the ceremonial head of the Taliban and pledge allegiance to his authority, though virtually all act independently (Dawn [Karachi], September 7, 2014). Khorasani managed to lure both the newly emerged Punjabi Taliban branch Ahara ul-Hind, involved in the Islamabad Court Complex attack in June 2014 and led by Qasim Khorasani, and Junad-e-Hafza, another shadowy organization based in Punjab. Ahrar ul-Hind has now merged with Jamaat ul-Ahrar (Newsweek Pakistan, September 2014).
The split has had a major impact on the conduct of terrorist operations in settled districts of Pakistan. TTP commanders in Khyber-Pakhtunkhawa province, Punjab province and the southern port city of Karachi have had to decide whether to side with the TTP Fazlullah faction or with the Khorasani-led Jamaat ul-Ahrar.
Khorasani has strong links with al-Qaeda and is believed to have sheltered hundreds of Arab, Uzbeks and Chinese Uyghurs in areas under his control. There is a strong possibility that al-Qaeda may favor Khorasani with his local franchise rather than Fazalullah, who may already be weighing his option to pledge allegiance to Caliph of the Islamic State Abu Bakr al-Baghdadi. Jamaatul Ahrar spokesman Ehsanullah Ehsan has already welcomed the creation of al-Qaeda in Indian Subcontinent by Ayman al-Zawahiri (Dawn, September 5, 2014). On the other hand, TTP-Fazalullah spokesman Shahidullah Shahid appeared to have leaning towards the Islamic State:
From the very beginning, when the Islamic State did not exist, we are helping and supporting the Mujahideen of Iraq and Syria. Our group [TTP] had sent between 1,000 and 1,500 fighters to the (Middle Eastern) region so far. We are with you in these hard times and will help you as much as possible. We advise you to be patient and determined at such a hard time and stay united, as your enemies stand united against you (The News, October 6, 2014).
Apart from this development, the TTP has distributed pamphlets and did wall chalking in Peshawar, the capital of Khyber-Pakhtunkhawa province, leaving messages encouraging Muslims to join hands with Abu Bakr al-Baghdadi and the Islamic State. The wall chalking and pamphlets are clear efforts to gear up support for the Islamic State in Pakistan, where an on-going Islamist insurgency could provide thousands of potential recruits for Islamic State's endeavors in Syria and Iraq. According to Pakistani terrorism analyst Amir Mir: "The rise and success of the Islamic State could play an inspirational role in Pakistan where 100-plus al-Qaeda and Taliban-linked Jihadi groups are currently operating" (The News, October 6, 2014).
Ideology and Links
The Khorasani faction of the TTP is known to have hard-core Islamist beliefs. Khorasani has always opposed peace talks with government. The group staunchly believes in creating an Islamic Caliphate in Pakistan governed in a Wahhabi/Salafist style. Khorasani has shown his hatred for the present constitution and has at times vowed to replace it with Shari'a (The News, September 27, 2013). Jamaat ul-Ahrar's spokesman Ehsanullah Ehsan condemned the Nobel Award committee for choosing Malala Yousafzai for the 2014 Nobel Peace Prize, calling her "an agent of non-believers" (Indian Express, October 11, 2014). The Khorasani group also condemned democracy and all parties inclined towards establishing strong democratic institutions in Pakistan (Dawn [Karachi], August 26, 2014)
The Mohmand TTP, which has traditionally been headed by Omar Khalid Khorasani, is one of the strongest of the TTP-affiliated groups based in tribal areas. During his rise to power in Mohmand district, Khorasani had to face the Shah Khalid group, a formidable enemy whom he successfully defeated after fierce battles in 2008. Afterwards Khorasani became the undisputed warlord of Mohmand district.
Khorasani managed to hold back successive military operations against his group in 2010. Operation Brekhna (Thunder) was launched by the Pakistani Army and Frontier Corp to flush out Khorasni's group in Mohmand. Khorasani, aided by his right hand Qari Shakeel, successfully held back the military onslaught and at a later stage took refuge in Afghanistan, salvaging his forces. The Khorsani forces regained all control after the withdrawal of the military from tactical strongholds. In one brutal assault, the Khorasani-led militants kidnapped and beheaded 23 personnel of the Frontier Corps in 2010. Khorasani was also the first of Pakistan's jihadists to denounce the Lal Masjid operation (Red Mosque military operation in 2007, a.k.a. Operation Silence) and vowed to take revenge.
The Khorasani faction has spread tentacles in settled districts as far as Karachi. The most recent terrorist attack launched in January by Khorasani-affiliated militants in Karachi was the assassination of Superintendent of Police Mohammad Aslam Khan in a suicide bombing. Several earlier attempts on the life of Khan by other Taliban factions were unsuccessful, including one that completely destroyed his house and resulted in the death of six police officers. Khan was known for his anti-TTP stance and conducted scores of operations against TTP strongholds in peripheral areas of Karachi in the last five years. At least 40 TTP leaders and rank and file were killed in Khan-led operations in Karachi.
Now heading his own faction, Khorasani will attempt to appeal to more TTP factions based in Karachi's Pashtun-dominated suburbs, as the cosmopolitan city offers more opportunities for extortion from traders and businessmen than the tribal areas and other parts of Pakistan. Khorasani also has a base in Islamabad's slums, where many of the militants relocated during military operations in 2010. The Khan-koh suburb of Islamabad is now home to hundreds of TTP militants involved in extortion and kidnappings in Islamabad and the neighboring Rawalpindi district.
Conclusion
With the announcement of the Islamic State in areas the militant Islamist group has carved out of the war-torn Iraq and Syrian states, the jihadi global perspective is about to shift to a new paradigm. The surfacing of Jamaat ul-Ahrar from the TTP's wings showcases the change of course by Pakistani Islamist militants. Al-Qaeda, which used to define the course of action for Pakistani militant groups, now appears to be losing ground to the Islamic State. Al-Qaeda ideologues now have to compete with their own splinter group (IS, formerly al-Qaeda in Iraq) in obtaining the confidence of Islamist groups in Pakistan. It seems that al-Qaeda is already on course to accept the Islamic State's challenge. The establishment of a new al-Qaeda branch, al-Qaeda in the Indian Subcontinent, is one step in reasserting the group's desire to dominate the Pakistani jihad scene. Jamaat ul-Ahrar, composed of seasoned jihadis like Omar Khalid Khorasani, would definitely weigh their options before joining hands with al-Qaeda or the Islamic State. At the moment, the possibility of joining the Islamic State appears to be less significant as al-Qaeda already has a developed network in Pakistan. Joining the Islamic State would provide more coverage in terms of media attention; on the other hand al-Qaeda will have to reinvigorate itself for staying on course.
The Author
Farhan Zahid earned his Ph.D. in Counter Terrorism Studies from the University of Brussels, Belgium. Dr. Zahid has authored more than 20 research papers and articles. He writes on counter-terrorism, al-Qaeda, Pakistani al- Qaeda-linked groups, Islamist violent non-state actors in Pakistan, jihadi Ideologies and the Afghan Taliban.
The preceding is a guest contribution to Aberfoyle International Security (AIS) and does not necessarily reflect the views or opinions of AIS.