Andrew McGregor
AIS Special Report on Ukraine no. 8

December 2, 2022
Over the last year, growing military ties between Russia and Algeria seemed to be at odds with Algeria's traditionally non-aligned approach to international affairs. Algeria's leadership seems intent, however, on continuing to pursue a policy of deriving maximum benefit from both the West and Russia, generating enormous revenues from providing gas to a desperate Europe while entering a military dalliance with Russia that requires little commitment from Algiers but promises access to modern weapons that could support Algeria's determination to be regarded as a "regional power" by the international community.
"Exercise Desert Shield," a mysterious two-week joint Russian-Algerian military exercise in the isolated Hammaguir region of Béchar in the Algerian desert suggests that Russia may be experiencing difficulty in providing both the arms and troops necessary to project Russian power and influence abroad as a result of its war on Ukraine.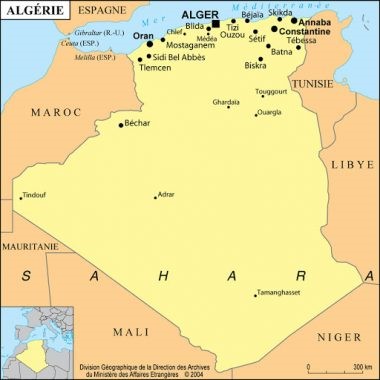 Map of Algeria showing Béchar beside the Moroccan border.
On the evening of November 28, the day the exercise was to conclude, the Algerian Ministry of Defense used national television to make the surprising announcement that no such deployment had taken place: "This joint military exercise was scheduled as part of cooperation with the Russian army within the framework of counter-terrorism. However, it did not take place" (Observalgerie.com, November 29, 2022; Atalyar [Madrid], November 29, 2022).
The Ministry further suggested that such an exercise had never reached the organizational stage, but with detailed reports of such organization (including timing, numbers, location, scope, etc.) appearing in international media for nearly a year without refutation, the timing of the Ministry's denial seems extremely late and exceedingly odd. At the time of publication, the Kremlin had not issued a comment on the affair.
Official Russian news source Sputnik reported on November 15 that the counter-terrorist exercise would begin the next day (Sputnik [Moscow], November 15, 2022). The announcement was strange, given that by November 15, the Russian Ministry of Defense would likely have been aware the exercise had either been cancelled or had never been approved by Algiers in the first place. Did Algiers cancel the exercise at the last minute under pressure from Europe and the United States, or were highly-trained members of the hard-pressed Russian military simply unavailable at the last minute? The former seems likelier, as the latter would indicate an almost unimaginable loss-of-face for the Russian military, especially as Defense Ministry agents and Wagner Group operatives seek to convince restless African states that Russia can be a reliable and professional ally in place of Western nations like France or the United States.
Diplomatic and International Consequences
Algeria's growing ties to Russia, its status as the world's third-largest purchaser of Russian arms and its refusal to condemn the Russian invasion of Ukraine led 17 Members of the European Parliament to call for a reassessment of EU relations with Algeria on November 17 (Euractiv.com, November 17, 2022). The sale of Russian arms provides badly-needed revenues Moscow needs to continue its war on Ukraine, but the catch is that Moscow's battlefield needs must take precedence over military exports.
Well armed by Russia and other sources, Algeria's 130,000-man military is both large and politically influential. An oil-revenue-powered willingness to deploy modern military weaponry helps ensure its sovereignty and secures its substantial energy reserves.  Algeria, Africa's largest exporter of natural gas, has been able to take advantage of Europe's misguided energy "green shift" to fill its foreign exchange coffers at a time when Russia seeks to apply pressure on Western Europe by restricting oil and gas exports. Italy has been at the front of the European queue for Algerian gas, signing a deal in July to import billions of additional cubic metres via an undersea pipeline from the North African coast.  The resulting windfall has helped Algeria double its military budget.
Morocco Reacts to Russians on its Borders
Moscow has been mildly supportive of Algeria in its diplomatic cold war with Morocco over the disputed status of the Western Sahara. Algeria's arms buildup and military cooperation with Russia naturally alarms its western neighbor, though it is not without its own resources and contacts. Algeria and Morocco severed ties in August 2021 and Algeria's plan to assume the largest military budget in Africa by increasing its defense budget by 130% in 2023 is of great concern in Rabat. To draw NATO's attention to the matter, Moroccan media has tried to portray Russian military activities in Algeria as a threat to southern Europe.
While Algerian troops were supposed to be receiving Russian training, Moroccan paratroopers from the 2e Brigade d'Infanterie Parachutiste joined a company of Britain's Parachute Regiment for "Exercise Jebel Sahara," three weeks of training in November that included a six-day war game with live fire exercises. Morocco's 2e Brigade's operational history includes a confrontation with Algerian forces during the 1963 "Sand War." Morocco also conducted a 25-day joint exercise with French forces in March 2022 in a new military zone along the border with Algeria.
Despite experiencing major differences since both nations achieved independence, Algeria and Morocco have avoided an all-out war, preferring to fight through proxies in the Western Sahara while using national media to snipe at the allegedly perfidious behavior of the other side.
Increased Algerian-Russian Military Cooperation
The first joint exercise involving Russia and Algeria occurred in October 2021, when Algerian forces joined counter-terrorist exercises conducted in North Ossetia. Less than a year later, one hundred Algerian troops were part of the September 2022 Vostok ("East") combined arms exercise held in the Russian Far East. Algeria was the only African nation invited to participate, joining 50,000 troops, 140 warplanes and 60 ships from Russia, China, India, Belarus, Central Asian states, and several other Asian nations.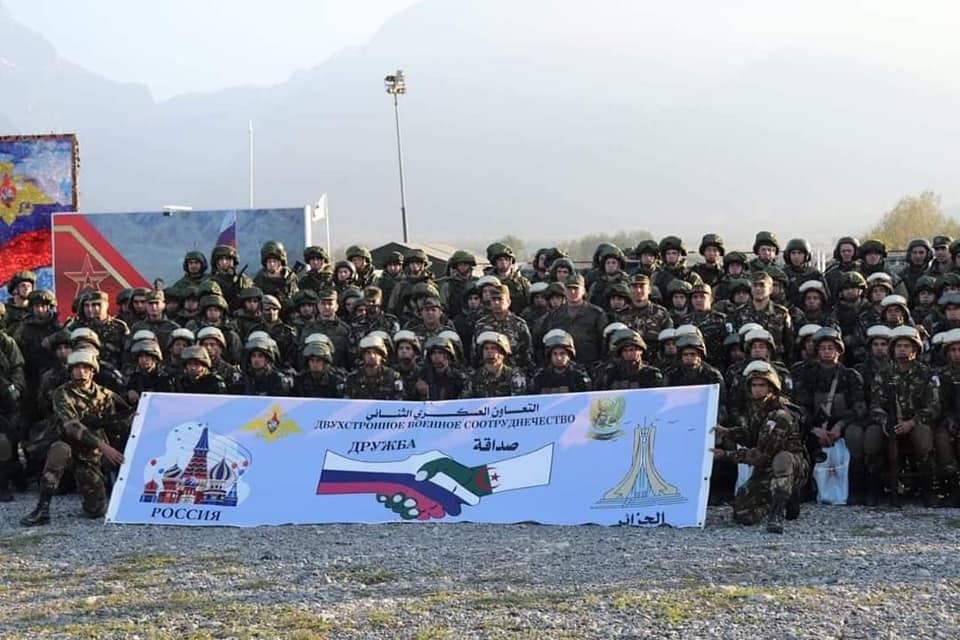 Russian and Algerian Troops in North Ossetia, October 2021 (Algeria Press Service)
This Russian-sponsored recognition of Algeria's military helped promote pro-Russian attitudes in parts of the Algerian officer corps. The exercises were observed in person by Vladimir Putin, turning them into a kind of show of support for Russia's campaign in Ukraine. In Algiers, participation was confirmation that Algeria was now recognized as a "regional power."
Though the French government expressed little interest in Algeria's participation in the exercise, it alarmed former French foreign intelligence chief Alain Juillet, who expressed concern: "Very close to us, on the other side of the Mediterranean, there is a country that ultimately works with the Russians and that obviously does not agree with what is happening in Europe" (VA+, November 6, 2022).
Algerian-Russian Naval Exercises
Algeria's Navy has also intensified cooperation with Russian naval forces in the Mediterranean. Joint tactical exercises in November 2021 were followed by a three-day visit to Algiers in July 2022 from two ships of the Russian Black Sea Fleet, the hydrographic/intelligence ship Kildin and the oil-tanker Vice Admiral Paromov. In September 2022, there were reports of a Russian Navy minesweeper participating in joint exercises with the Algerian navy out of the small port of Jijel. Still trying to perfect a balancing act between the West and East, the modern commercial port of Djen Djen (10 km from Jijel) hosted the American Arleigh Burke-class guided-missile destroyer USS Farragut on September 19 for a short training exercise with the Algerian navy.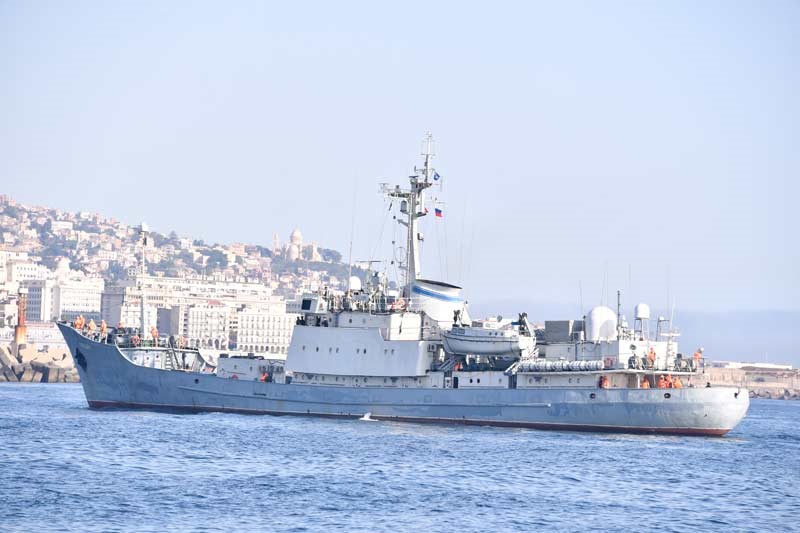 Russian Intelligence Ship Kildin, Algiers (Ministry of National Defense-Algeria)
In October a four-day Russian/Algerian exercise in the Mediterranean involved the Stoikiy (545) and the Soobrazitelny (531), both Stereguschchiy-class corvettes of Russia's Baltic Fleet (TASS, October 21, 2022). Algeria is still awaiting delivery of several corvettes of this class from Russian shipyards, though under current conditions, delivery may occur well in the future, if at all.
Algeria has also expressed interest in acquiring four Russian Project 22160 patrol ships. However, the poor performance of these ships in the Ukraine conflict has forced the Russian Navy to abandon plans to build more ships of this class.
The Exercise that Never Was
Exercise Desert Shield was supposed to be the first time Russian troops have operated on Algerian soil, with some 80 to 100 Russian Special Forces members joining a similar number of Algerian troops. The exercise in Béchar was to focus on detecting and eliminating terrorist formations in desert conditions.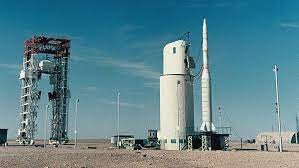 The French Rocket Facility in Colomb-Béchar
Only 50 kilometers from the tense border with regional rival Morocco, Béchar (known as Colomb-Béchar in colonial times) was home to a Foreign Legion post before it became the first home of France's space and ballistic missile program in 1947. The base remained in the hands of the French Air Force until 1967 (five years after Algerian independence), when it was finally transferred to Algerian control under the terms of the 1962 Evian Accords. Most of France's space program relocated to French Guiana.
According to reports, the exercise was to include training on the tactical use of Russian-made BMP infantry fighting vehicles (Atalayar [Madrid], November 15, 2022). Algeria is interested in purchasing the latest variant of the BMP, but enthusiasm may be dampened by the vehicle's performance in Ukraine, where some 200 have been destroyed, abandoned or captured. Replacing these vehicles may cause a delay of several years before the manufacture of export versions can resume.
Political Influence May Follow Ammunition Supply
While Algeria would assert its foreign policy is strictly non-aligned, it is commonly viewed in the West as receptive to the influence of Russia and China. This, in consequence, determines the degree of cooperation and engagement Algeria experiences in its relations with the West.
A key question is how long Algiers is prepared to be seen as a possible or potential ally of a Russian nation that is unable or unwilling to extricate itself from a conflict that has had enormous costs in material, lives and reputation. Security partnerships are customarily sought with states with a proven history of military success. The failure so far of Russia's armies, training and equipment to overcome a former Soviet republic does not increase its attractiveness in this regard.
Trade is in decline between Russia and Algeria while the US remains the largest source of foreign direct investment in Algeria. China is a rival to Russia's wooing of Algeria, convincing Algiers to sign on to its "Belt and Road Initiative" (a.k.a. the New Silk Road) as well as agreeing to a $7 billion phosphate extraction scheme. Both Algeria and Morocco are major consumers of Chinese arms; Algeria's navy operates three Chinese-built Adhafer-class frigates and is awaiting delivery of six Chinese Type 056-class corvettes. Morocco and Algeria have also both purchased Chinese-made military drones.
Last year's deal enabling an Algerian purchase of $7 billion worth of Russian arms, including advanced fifth-generation Su-57 multi-role fighter-jets, alarmed many members of the US Congress. An October 2022 letter to Secretary of State Anthony Blinken from a bipartisan group of US congressmen called for sanctions against Algeria under the Countering America's Adversaries Through Sanctions Act (CAATSA) on the grounds that such arms sales would help finance the Russian war in Ukraine:
It is critical that President Biden and his administration prepare to sanction those who attempt to fund the Russian government, and its war machine, through the purchase of military equipment (al-Arabiya, September 29, 2022).
Some sources suggest the $7 billion deal may soon be supplanted by a $12 to $17 billion agreement that would see Russia provide military supplies to Algeria for ten years (Asharq al-Awsat, November 2, 2022).
The new model Su-57 multi-role fighters would augment Algeria's existing stock of Russian-made MiG-29 and Su-30 fighter-jets, though sanctions affecting the availability of electronic and other parts are making it difficult for Russia to meet its own needs. Russia's stocks of arms, armored vehicles, warplanes, missiles and ammunition are greatly depleted at the moment. The training and maintenance personnel that normally accompany large transfers of arms will also likely be unavailable for some time. Russian efforts to make up its battlefield losses are already hindered by manpower shortages in the defense industry. There is every chance Russia will not be able to meet its commitments under the existing deal with Algeria, much less expand it going forward.
Export revenues for Russian arms are already well off this year. It will take years for Russia to rebuild its military regardless of the success or failure of its war on Ukraine. In the meantime, Algeria might turn to China or Turkey to make up the arms deficit without having to deal with the human rights complications that might be involved in dealing with Western nations (Middle East Eye, September 1, 2022). Otherwise, there will be intense competition with other African and Middle Eastern nations reliant on the Russian arms industry for weapons, parts and ammunition. If Russia is unable to supply its clients, there may be lasting damage to the Russian arms industry. Based on tactics being used in the Ukraine war, there may be a new global emphasis on purchasing drone technology rather than conventional weapons systems, and it will be Turkey's Bayraktar drones that will be in the highest demand based on their performance in Ukraine.
In the meantime, the war has threatened Algeria's heavily subsidized food supply and forced a local ban on exports of many categories of food earlier this year, depriving Algeria of revenues. It is yet another collateral consequence of Russia's war on Ukraine.
Forecast
Algeria will undoubtedly continue to act cautiously when formulating its foreign relations – alignment with Russia and/or China could easily turn into an unwanted political and strategic liability. In this respect, Algiers appears determined to keep its options open; despite lingering bitterness in Algeria over the conduct of French forces during Algeria's War of Independence (1954-1962), high-ranking French authorities have made visits to Algiers in recent weeks, including Prime Minister Élisabeth Borne and President Macron.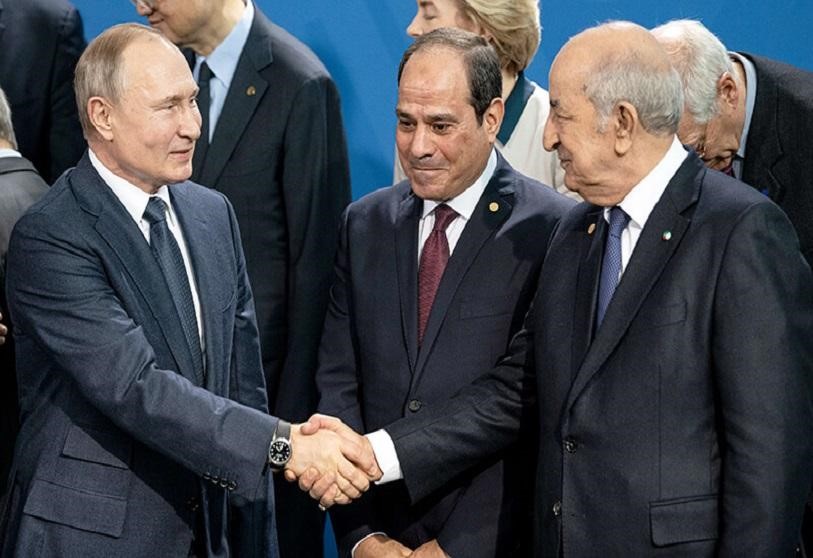 Putin meets Tebboune in January 2020 as Egypt's al-Sisi looks on (Fabian Sommer)
Algerian president Abdelmajid Tebboune is scheduled to visit Moscow this month to sign an agreement concerning a Russian-Algerian strategic partnership (Al-Monitor, November 15, 2022; al-Mayadeen [Beirut], November 30, 2022). The threat of Western sanctions in the event of an Algerian alliance with Russia appears to have caught the attention of Algeria's government. Even if implementation of such sanctions is unlikely with the prospect of parts of Europe facing a long, cold winter without Algerian gas deliveries, the threat alone may at least make Algiers think twice about intensifying cooperation with Moscow.