Andrew McGregor
Jamestown Foundation Hot Issue, September 23, 2013
Expelled from their main sources of financing, consumed by internal disputes and under constant pressure from African Union troops in the field, Somalia's al-Shabaab movement and its leader Abdi Godane "Abu Zubayr" have rolled the dice with a massive attack on civilians in Nairobi with the future of the Shabaab movement as the stakes.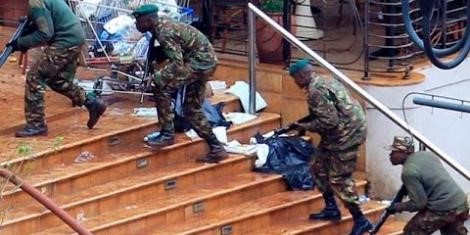 Kenyan Security Forces Try to Secure the Westgate Mall

Having already lost vital revenues provided by the movement's control of the markets of Mogadishu and the port of Kismayo, Kenya's support for a new, autonomous administration in southern Somalia threatens to deprive Shabaab of operational mobility in one of its last strongholds. Unable to confront Kenyan troops in the field, al-Shabaab's strategic response was the formulation of a devastating strike at a soft target in the heart of Kenya – Nairobi's upscale Westgate Mall, a gathering place for foreign expatriates and well-to-do Kenyans alike. The result was over 60 civilians killed and 200 wounded. At least three Kenyan servicemen have died, with another eight wounded (Nairobi Standard, September 24).
Al-Shabaab spokesman Shaykh Ali Mahmud Raage (a.k.a. Ali Dheere) insisted the movement was in communication with the fighters in the mall while making the reason for the attack clear: "We have several times told the Kenya government to withdraw its forces from the Muslim land of Somalia but they gave no attention to our warnings" (Raxanreeb.com, September 31). The movement has had a communications strategy in place throughout the attack, giving progress reports on the "mujahideen" inside the mall that at times have been more in tune with reality than the optimistic reports issued by the Kenyan government. The movement at all times stated its disinterest in any type of negotiation, confirming the attack's punitive nature. Promises have been made by al-Shabaab via Twitter to release statements recorded in the Westgate Mall by individuals involved in the attack, all of whom "spoke comfortably and praised Allah to have been chosen for such an operation." [1]
Independent press coverage of the situation was hampered by government requests for live transmissions from the site to cease and for people outside the mall to stop efforts to communicate to people still believed to be within the building (Nairobi Star, September 21).
The assault on the mall consisted of a two-pronged attack by heavily armed gunmen carrying AK-47assault rifles and ammunition belts. Many of the attackers appeared to be ethnic-Somali, thought it is unknown yet whether the attackers were Kenyan nationals from largely ethnic-Somali northeast Kenya or Somali nationals. Chief of the Kenyan Defense Forces General Julius Karangi maintains that the gunmen were of different nationalities, including ethnic-Somalis with dual nationality (AFP, September 24). There is a cross-border traffic in ethnic-Somali militants in the poorly regulated border Kenyan-Somali frontier – five Kenyan nationals who had traveled to Kismayo without documents to join al-Shabaab were arrested shortly after the Westgate Mall attack (Xinhua, September 22). There continue to be rumors of American and other foreign nationals taking part in the attack, but nothing has been confirmed as of yet.
There are some accounts of gunmen changing their clothes and leaving the mall in the midst of fleeing shoppers (AFP, September 21). While unconfirmed, they raise the possibility that parts of the operational cell may have survived to carry out further attacks. If none of the attackers still holding out in the Westgate mall are taken alive, Kenyan authorities will have lost a key source of intelligence in their investigations. Wary of booby-traps, well-concentrated fire and the danger to remaining hostages, Kenyan security forces have been forced to proceed slowly in securing the interior of the mall and ending the stand-off. Kenyan Special Forces were reported to have received military support from Israel, former colonial power Great Britain and the United States. [2]
Mogadishu Attacks Part of al-Shabaab's Regional Strategy
Only two hours before the Westgate Mall attack began, at least two people were killed and four others injured (including two Yemeni nationals) when attackers believed to be al-Shabaab operatives threw a hand-grenade in the foreign exchange part of Mogadishu's Bakara market, once an important revenue source for al-Shabaab before it was expelled in 2011 by a joint AMISOM-Somali Army operation (Shabelle Media Network [Mogadishu], September 21; Garowe Online, September 21). This latest attack in Mogadishu followed closely a coordinated car-bombing/suicide bombing attack on a Mogadishu restaurant that killed at least 15 people on September 7 (al-Jazeera, September 7). Even Somali president Hasan Shaykh Mohamud narrowly avoided being killed on September 3 when his motorcade was ambushed by al-Shabaab gunmen (Shabelle Media Network [Mogadishu], September 3). Such attacks are part of al-Shabaab's decision to revert to a guerrilla/terrorist campaign in its currently weakened state, which largely precludes more conventional military operations of any size.
The damaging attacks at home and in Kenya come at a time when Somalia has finally gathered sufficient international support to move forward with efforts to achieve a national restoration. In return for funding pledges of over $2 billion, the Somali federal government has agreed to improve security, implement a new constitution and hold general elections in 2016 (al-Jazeera, September 17). Meanwhile, Godane loyalists within al-Shabaab have lately been engaged in a purge of his opponents within al-Shabaab, including American jihadi Omar Hammami al-Amriki and a lack of funds or battlefield success has made recruitment difficult.
The Crisis in Kismayo
Understanding the assault on the Westgate Mall requires an understanding of events in the southern Somali port town of Kismayo, center of a lucrative trade in charcoal that ensures the wealth of whoever controls this strategic town. Al-Shabaab took control of Kismayo from a local militia in August, 2008 and made the port city an important base through smuggling activities and control of the substantial charcoal trade to the Middle East. However, a severe drought and al-Shabaab's decision to terminate all international aid to the region brought starvation and the exodus of much of the region's population to massive refugee camps in northern Kenya, camps that Nairobi views as a security threat and would like to see closed by restoring sufficient security to southern Somalia to enable the return of the refugees. 
After a number of kidnappings and other disturbances along the Kenyan-Somali border, the Kenya Defense Forces (KDF) crossed into southern Somalia to eliminate the Shabaab presence there on October 16, 2011. Al-Shabaab's occupation of Kismayo and the surrounding region was eventually terminated in September 2012 by a combined ground, air and sea operation involving Somali troops, the Kenya Defense Force and the local Ras Kamboni militia (once an al-Shabaab ally). Unfortunately, Operation Linda Nchi did not restore stability, as the Ras Kamboni militia soon became embroiled in deadly clashes with local rivals (especially those of former warlord federal Defense Minister Colonel Barre Adnan Shire Hiraale) for control of the city. KDF forces in Somalia were later absorbed into the African Union Mission in Somalia (AMISOM) on February 22, 2013. AMISOM has waged an often brutal war against al-Shabaab using mostly Ugandan and Burundian troops since 2007.
The eventual victor in the struggle for control of Kismayo was Ras Kamboni militia leader Ahmed Muhammad Islam Madobe, who appears to have agreed to rule Kismayo and its hinterland as a "semi-autonomous" unofficial buffer state separating Kenya from the rest of Somalia. Nevertheless, KDF commander General Karangi has repeatedly denied any involvement on the part of Kenyan forces in the region in the election of Ahmed Madobe as the new leader of Jubaland by 500 local leader s on May 15, while Brigadier Ngere maintains that Kenya has "a very long border with Somalia, which we have to protect. But we are not creating any buffer state" (BBC, September 22).
An August 28 agreement backed by the UN, Kenya, Ethiopia and the Inter-Governmental Authority on Development (IGAD – a regional grouping) was intended to resolve the differences between the autonomy-seeking Jubaland administration and the federal government in Mogadishu. In reality, the agreement failed to resolve many of the contradictions in the Kismayo/Mogadishu relationship, but did grant Jubaland a semi-autonomous status analogous to that enjoyed by Puntland, a territory in northern Somalia (Puntland severed ties with Mogadishu in August over a political dispute). The newly recognized Jubaland has an area of roughly 33,000 square miles and a population of roughly one million people. The agreement calls for the transfer of Madobe's Ras Kamboni Brigade to the federal Somali army, but there is a possibility Brigade members might transfer to the local police, which will remain under Madobe's control in Jubabland (Garowe Online, September 1). In effect, the agreement gives Nairobi the buffer zone it is believed to have been seeking in southern Somalia, together with a pliant local militia beholden to the Kenyan military for its rule of the region. A long-term Kenyan presence in the region essentially means that al-Shabaab will not have the opportunity it desires to force its way back into Kismayo's charcoal export trade (a business involving a number of prominent Kenyan businessmen). [3] With revenue sources steadily drying up across Somalia, Godane has decided the time is right for drastic measures to drive out the Kenyan presence.
Ethiopian Foreign Ministry officials, who played a large role in crafting the agreement, said it was based on three main principles; respecting the legitimate constitution of Somalia, respecting the unity and sovereignty of Somalia and furthering the fight against al-Shabaab (Garowe Online, September 7).
Somalia's federal government asked the African Union in June to replace Kenyan troops in southern Somalia with a "multinational force" without local ambitions in the region. (Nairobi Standard, July 6). The request, which was intended to remain private, contained strong criticism of the KDF commander in Somalia, Brigadier General Anthony Ngere, who was accused of "incompetence" and "poor judgment," particularly in regards to his arrest of Colonel Abbas Ibrahim Gurey, a Somali National Army commander who was sent to Kismayo to organize locally-based federal military forces (Kismaayo/Standard Media, July 1). [4]
Madobe's rule in the hotly-disputed region promises to be eventful – shortly after landing in Kismayo on September 12 following an official visit to Mogadishu, a convoy of vehicles carrying the new Jubaland leader was hit by an al-Shabaab suicide bomber who drove his vehicle straight into the convoy.  Ten of Madobe's guards were killed, though Madobe, who was traveling in a bullet-proof car, was unhurt by the blast (Somaliland Sun, September 12).
Conclusion
Kenya's official response to the Westgate attack so far has been to pledge operations to find and destroy those responsible for the Westgate attack. What will matter in the coming days is whether an aggressive response will have the support of other Kenyan politicians and the Kenyan public, some of whom might feel the price of military intervention in Somalia is too high, both in security terms and in the resultant reluctance of international investors to view Kenya as a desirable place to do business. Kenya is also planning to build a new rail and pipeline corridor carrying oil from South Sudanese and Ugandan sources to the port of Lamu, less than 95 miles from the Somali border, a development that will require new security initiatives in this poorly secured region. 
Al-Shabaab's reclusive Amir, Abdi Godane, has now made himself and the rest of the Shabaab leadership the targets of an international man-hunt that may well result in the ultimate death of the Amir and other movement leaders. Military pressure on the movement could foster further internal disputes over Godane's controversial choice to take the movement in the direction of a globally-focused jihad closer to al-Qaeda Central's concerns than those of more locally-focused Somali jihadists.
The federal government in Mogadishu that once welcomed Kenyan intervention in southern Somalia now finds itself in the unlikely position of sharing al-Shabaab's desire to end the Kenyan presence and influence in the region, though the two parties differ greatly on what they see replacing the Kenyans and the new Jubaland administration. Encouraging the development of new, autonomy-seeking administrations in a nation struggling to recover some sense of national unity that would enable it to tackle its serious economic and security challenges would seem to be a step backward in the international effort to restore stability to Somalia. Al-Shabaab's attack on the Westgate Mall is a searing reminder that the creation of a buffer-state alone will not protect Kenya from the Islamist extremists who are determined to risk all in their struggle to expel foreign forces from Somalia on their way to creating a unified Islamic state. However, unless Kenya has enough confidence in the Somali national government's ability to provide security in the border regions, it is likely to maintain political influence and a military presence in newly-created Jubaland regardless of the cost.
Notes
1. See http://ansar1.info/showthread.php?t=47003. Al-Shabaab's Twitter account is currently https://twitter.com/HSM_Press.
2. For Israeli-Kenyan security cooperation, see Andrew McGregor, "Israel to Assist Kenya in Battle against al-Shabaab," Terrorism Monitor, November 24, 2011.
3. See Muhyadin Ahmed Roble: "Al-Shabaab Razes Forests to Finance Jihad," Terrorism Monitor, November 18, 2010.
4. See the whole document here: http://www.raxanreeb.com/2013/07/somalia-prime-minister-office-ridiculously-accused-brigadier-general-anthony-ngere-sector-two-amisom-commander-abuse-of-power/