Andrew McGregor
AIS Special Report, August 7, 2019
"Field Marshal" Khalifa Haftar's three-month old offensive to take Libya's capital of Tripoli has bogged down, forcing Libya's would-be ruler to look to air operations to break the impasse. Haftar's Libyan National Army (LNA, nominally representing the House of Representatives rival government in Tobruk) and the forces of the UN-recognized Presidency Council/Government of National Accord (PC/GNA) have both turned to foreign-made and operated drones to advance their struggle for dominance. The fact that these drones violate a UN arms embargo and their operators are probably foreign nationals highlights the increasing proxy nature of the conflict in Libya.
Bloodbath in Murzuq
On August 4, drones likely operated by the United Arab Emirates (UAE) on behalf of the LNA targeted a meeting of some 200 local dignitaries gathered in Murzuq's al-Qala district to discuss intercommunal violence. The result was 43 dead and more than 60 injured. The LNA confirmed the strike on Murzuq, but claimed it had targeted "Chadian opposition fighters," a euphemism used by the LNA to refer to the indigenous Libyan Tubu, a non-Arab ethnic group found in southern Libya, northern Chad and eastern Niger. [1] The massacre followed an LNA airstrike in June that struck a migrant detention center in Tripoli, killing 44 migrants.
Chinese Drones over Misrata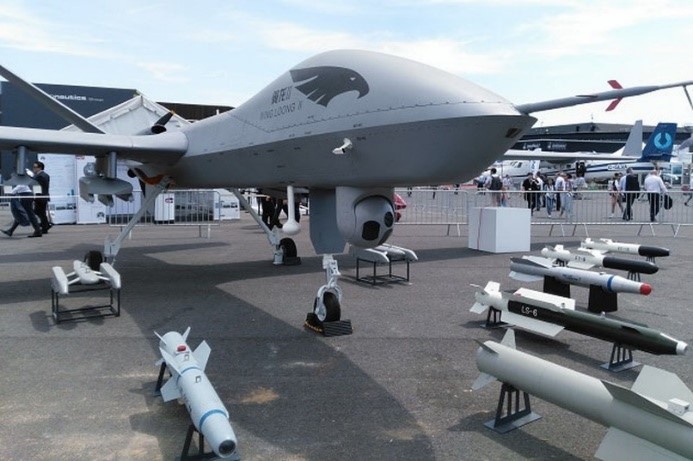 Chinese Wing Loong II Drone (Dafz.org)
GNA forces in Misrata (north-west coast) announced the downing of one of the UAE's Wing Loong II drones on August 3, adding that LNA warplanes unsuccessfully tried to destroy the drone before it could be retrieved by the GNA (Libya Observer, August 3, 2019). The drone was equipped with Chinese Blue Arrow 7 laser guided missiles, some of which were recovered by the GNA. The UAE has used the Chinese-built drones in Yemen and in last year's LNA siege of Derna in eastern Libya. Misrata is a stronghold of anti-Haftar forces.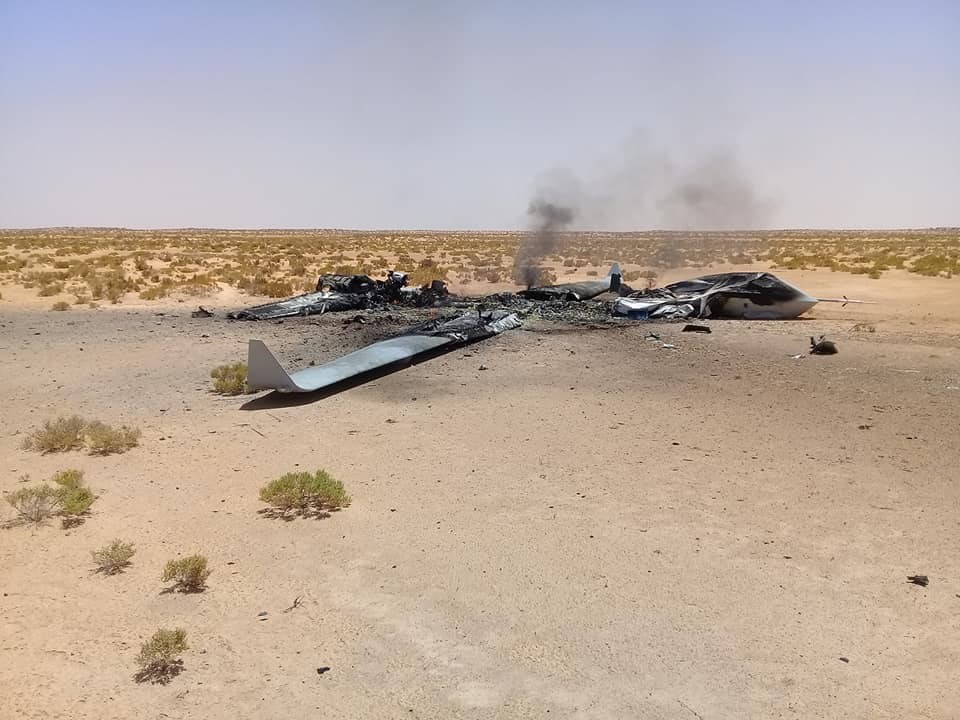 Wreckage of the UAE Wing Loong II Drone Downed Near Misrata (SouthFront.org)
The UAE was the first export customer for the Wing Loong II, which is comparable to the US General Atomics MQ-1 Predator, but sells for a fraction of the price ($1 to 2 million vs $30 million) (Dafz.org, November 10, 2018). The UAE's drones deploy out of al-Khadim airbase in eastern Libya, which was expanded in 2016 to accommodate UAE air operations.
New Turkish Drones
On July 25, the LNA declared it had brought down a Turkish Bayraktar TB2 drone during an attack on al-Jufra Airbase, held by the LNA since June 2017. There was speculation that the craft may have been downed by one of the UAE's Russian-made Pantsir S1 air-defense systems that have been spotted alongside LNA forces in Libya (SouthFront.org, July 25, 2019; Jane's 360, June 19, 2019). The Bayraktar TB2, with a flight endurance of 24 hours and a payload of 150 kilograms, can carry out reconnaissance, surveillance and attack functions day or night. Twelve Bayraktar drones have been sold to Ukraine with another six purchased by Qatar (Daily Sabah [Istanbul], June 24, 2019). The GNA is believed to have obtained the drones in June or early July.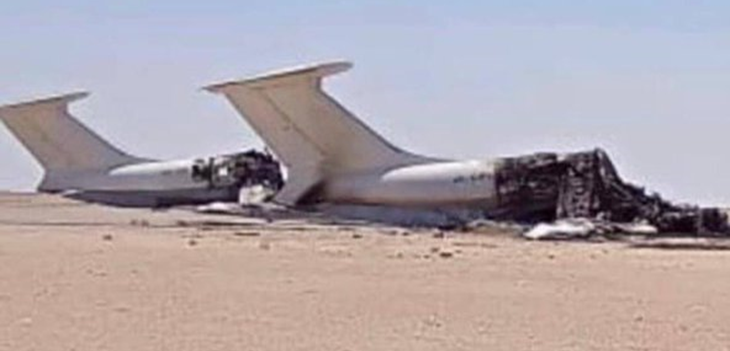 Destroyed Ilyushin Transports in al-Jufra (Avia.pro)
Two Ukrainian Ilyushin IL-76TD transports were destroyed in the drone strike on al-Jufra. The planes were two of five such transports belonging to Kiev's Alfa Air and were produced between 1990 and 1992 (Libya Observer, July 28, 2019). The GNA also claimed to have destroyed ammunition depots and a hanger containing drones, though the LNA issued an unlikely claim that the aircraft were not delivering weapons, but were solely allocated to carry pilgrims to Mecca (Anadolu Agency [Ankara], July 26, 2019; Libya Herald, July 28, 2019).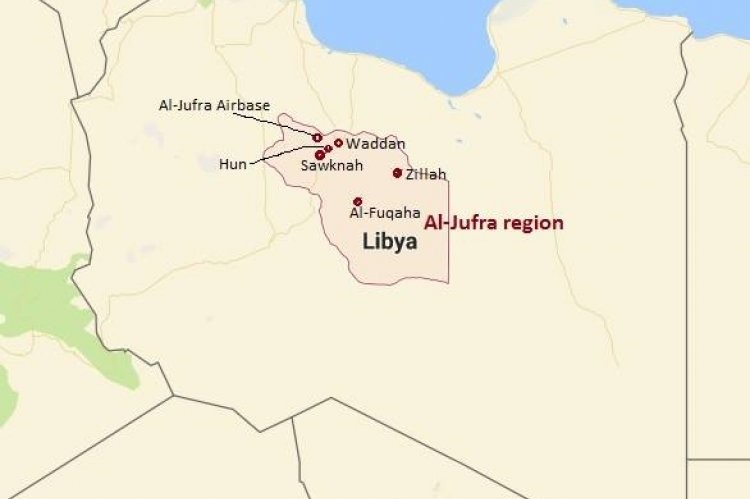 Al-Jufra Region and Airbase (Libya Observer)
PC/GNA authorities claim al-Jufra Airbase is a gathering and provisioning point for mercenaries from Sudan and other nations involved in the assault on Tripoli as well as a launch point for foreign military aircraft (Libya Observer, July 30, 2019).  A spokesman for the PC/GNA's military deployment (Operation Volcano of Rage) claimed the attack had killed 42 LNA members, adding that their artillery now had the Jufra airbase in range (Libya Observer, July 28, 2019).
Italian Commandos in al-Jufra
In retaliation for the strike on Jufra, Haftar's forces struck Misrata airport with missiles the next day, the fifth such attack in 15 days (Libyan Express, July 27, 2019). After the strikes, the LNA declared that the raid had revealed the existence of an Italian military base, but the presence of Italian military personnel in Misrata has been known for several years.
Italy sent Special Forces units to Libya in August 2016 to support Tripoli's efforts against Islamic State terrorists. The Italian deployment included members of the 9th Parachute Assault Regiment, the Italian Air Force, counter-terrorist specialists from the Carabinieri and commandos from the Comando Raggruppamento Subacquei e Incursori Teseo Tesei, a unit of Special Forces frogmen named for Major Teseo Tesei, who died in a 1941 human torpedo attack on Malta (Italian Insider, August 11, 2016).
Italy announced in April that its forces would remain in Tripoli and Misrata despite the launch of the LNA offensive to take Tripoli and, eventually, Misrata. The current deployment is believed to consist of 100 personnel in Tripoli and another 300 in Misrata (Arab News, April 9, 2019).
A LNA drone struck Misrata's Air Academy on August 6. The LNA claimed to have struck a military cargo plane carrying ammunition, but local GNA-affiliated forces insisted the plane was a civilian cargo plane that had landed only minutes earlier (Libya Observer, August 6, 2019).
UAE Russian-Made Pantsir S1 Air Defense System in Yemen – Now in Use by the LNA?  (Defense-Blog.com)
GNA-aligned General Osama Juwaili warned that that the airport at Bani Walid (southeast of Tripoli) could be targeted next if it continued to be used by "Haftar's gangs" as a military base for LNA fighters and mercenaries after the LNA lost Gharyan to GNA forces (Libya Observer, July 30, 2019).
Outlook
It is unlikely that local Libyan forces are capable of operating the drones, suggesting an active military presence by both Turkish and Emirati air force personnel. Libya's drone warfare illustrates the increasing internationalization of the Libyan conflict and its use as a proxy battleground. Perhaps most disturbing is the likelihood that Libya is also being used as a testing ground for new weapons technologies at the expense of its civilian population. The cynicism of the international community in its approach to Libyan bloodshed eight years into a seemingly interminable civil conflict hardly suggests that compromise and reconciliation will carry the day anytime soon. In the meantime, extremists and terrorists will make the most of the ongoing chaos to entrench themselves in Libya's ungoverned regions.
Note:
For more on the LNA's conflict with the Murzuq Tubu, see: "Is Khalifa Haftar's Libyan National Army Carrying out Ethnic Cleansing in Murzuq?" AIS Special Report, July 20, 2019, https://www.aberfoylesecurity.com/?p=4476 .