Andrew McGregor
AIS Special Report, August 4, 2019
With their barely literate leader General Muhammad Hamdan Daglo "Hemetti" in full control of Sudan (though nominally only number two in the ruling military council), Sudan's Rapid Support Forces (RSF) paramilitary has attracted international attention through its brutal repression of civilian demonstrators seeking civilian rule. [1] Now an estimated 30,000 strong, the RSF is deployed in the cities of Sudan, the goldfields of Darfur, the northern borders with Libya and Egypt, the battlefields of South Kordofan and Blue Nile State and even in Yemen, where they serve as part of the Saudi-led coalition battling Houthi rebels.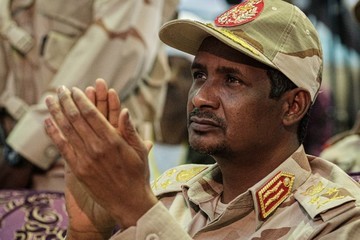 Good Days for African Warlords: General Muhammad Hamdan Daglo "Hemetti"
Though Sudan has little interest in the internal struggle for control of Yemen, the RSF's deployment of as many as 10,000 men since 2015 was clearly made in return for Saudi and Emirati cash badly needed to prop up the flailing regime of ex-president Omar al-Bashir. Following the coup that overthrew al-Bashir, Sudan's ruling Transitional Military Council (TMC) has accessed $500 million from the Saudis and the United Arab Emirates (UAE) with pledges of another $2.5 billion in commodities to follow. Both nations see military rule as an effective way of keeping Muslim Brotherhood members (known as "Ikhwan" in Sudan) out of the Sudanese government.
Mercenaries for Sale
The TMC and its new civilian partners are in need of Saudi funds to keep new waves of economic protests from breaking out. Thus, the deployment to Yemen continues, but with the precedent of soldiers-for-dollars already set, the TMC is looking for new revenue streams as well as ways to keep Darfur's Arabs of military age busy abroad rather than pursuing grievances against Khartoum at home.
The answer? A May 17 $6 million contract between the TMC and Dickens & Madson, a Montreal-based firm run by former Israeli intelligence agent Ari Ben-Menashe. Among other things, the contract stated Dickens & Madson would counter unfavorable media coverage of the TMC and (presumably) the RSF, arrange a meeting between President Trump and TMC leaders, and, most ambitiously, create a union with South Sudan and a joint oil project "within three months."  With only days to go before three months are over, no such union or joint project has emerged.
Dickens & Madson also pledged to obtain financing for the TMC from the United States, the Russian Federation and other countries, including "funding and equipment for the Sudanese military." Most importantly for the cash-strapped TMC, was the intent to "obtain funding for your Council [TMC] from the Eastern Libyan Military Command in exchange for your military help to the Libyan National Army (LNA)." [2]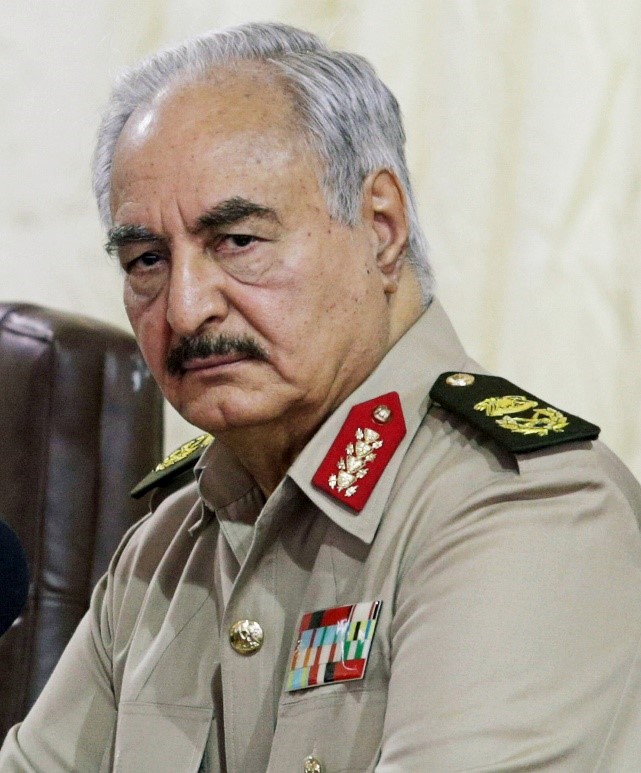 The New Qaddafi? Field Marshal Khalifa Haftar (Reuters)
One thousand RSF members began arriving in eastern Libya in the last days of July, the beginning of a Libyan deployment that might eventually reach as many as 4,000 fighters. Their new employer is Libyan warlord "Field Marshal" Khalifa Haftar, whose self-styled "Libyan National Army" (a loosely disciplined collection of militias) has spent the last few months in a so-far frustrated attempt to seize the Libyan capital of Tripoli from the UN-recognized Presidency Council/Government of National Accord (PC/GNA).
According to al-Jazeera, leaked documents revealed that the UAE began picking up Sudanese military personnel in military aircraft from Khartoum in May. The agency further claimed that Hemetti had recruited 450 additional Arab mercenaries from Darfur, Chad and Niger. According to a source, Hemetti specified they should be "light-skinned and speak Arabic" (al-Jazeera, July 24, 2019). Hemetti would have had connections with the Arab tribes in these lands from his days in the Janjaweed, when Khartoum invited regional Arabs to fill areas where indigenous African Muslims had been displaced by state-sponsored violence. The UAE is one of Haftar's major backers, providing military air support from their eastern Libyan base in al-Khadim.
The RSF is expected to provide security for the Libyan oil facilities that are expected to provide the funds needed to buy the RSF's services, enabling Haftar to concentrate his forces for a final push to take Tripoli from the collection of militias that have aligned themselves with the PC/GNA.
The Montreal Connection
Ari Ben-Menashe, who arranged the rental of the RSF, is an arms dealer with a checkered business career and a controversial claim to have played a central role in the Iran-Contra affair. Ben-Menashe served a year in an American prison for his role in supplying arms to Iran before being acquitted on the grounds that he was working under orders from Israel. After failing to obtain refugee status in Australia, Ben-Menashe moved to Montreal in 1993, where he obtained Canadian citizenship and set up the Dickens & Madson consulting agency, though his American partner was deported in 2008 to the United States, where he was wanted on multiple racketeering and fraud charges in two states.
While secretly working for Zimbabwean despot Robert Mugabe in 2002, Ben-Menashe helped implicate Mugabe's main political rival in charges of treason. There are allegations that Ben-Menashe was paid for his services by a Zimbabwean drug lord who wished to maintain his cozy relationship with Mugabe. In 2014, Ben-Menashe signed a $2 million deal with Libyan warlord Ibrahim Jadhran to promote the latter's attempt to create an autonomous Cyrenaïcan state in eastern Libya. As in other deals Ben-Menashe had with Sierra Leone and the Central African Republic, the former intelligence agent pledged to work towards obtaining economic and military support from Russia. The fixer thus encouraged an existing trend to greater Sudanese-Russian cooperation that began with a January 2019 draft military agreement between the two countries that could lead to "a Russian naval base on the Red Sea" (Sputnik, January 12, 2019; Sudan Tribune, January 13, 2019). [3]
Ben-Menashe moved on to another Libyan warlord in 2015, signing a $6 million contract with Khalifa Haftar. Besides promising to improve Western media coverage of Haftar's campaign against Libya's UN-recognized government, Ben-Menashe again agreed to seek grants from the Russian Federation "for security equipment and technical support." Haftar's campaign received a huge boost in April when Haftar discussed "ongoing counterterrorism efforts" with President Trump by phone. The White House followed up with a statement recognizing "Field Marshal Haftar's significant role in fighting terrorism and securing Libya's oil resources" (Reuters, April 19, 2019). Despite multiple accusations of war crimes and human rights violations including summary executions of opponents and the indiscriminate bombing of civilian targets such as hospitals, refugee centers and residential housing, Haftar has already received covert military and open diplomatic support from Russia, Egypt, France, Saudi Arabia and the UAE. [4]
Hemetti's Revenue Streams
Renting out young Darfuri fighters is a proven revenue source for Hemetti. Musa Hilal, Hemetti's former mentor and Janjaweed commander, opposed the deployment to Yemen and encouraged Arab tribesmen in Darfur not to volunteer. Hilal also accused Hemetti and his patron, former Second Vice President Hasabo Muhammad 'Abd al-Rahman (like Hemetti, a member of the Mahariya Branch of the Rizayqat Arabs), of siphoning off millions of dollars donated to Sudan by Saudi Arabia and the UAE in exchange for the use of the RSF in Yemen (al-Jazeera, September 10, 2017).  Hemetti was reported to have been paid directly, and told a press conference he deposited $350 million in Sudan's Central Bank, but was not clear on how much he may have kept for personal or political uses (African Arguments, August 1, 2019).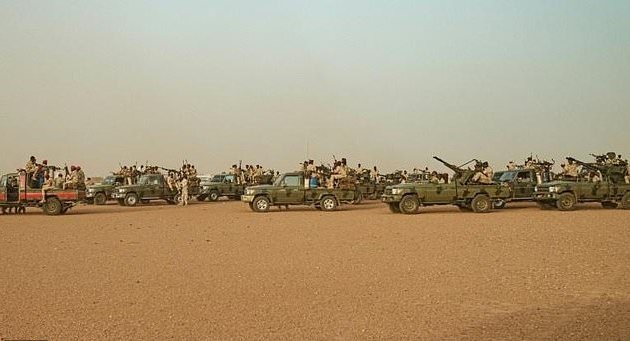 An RSF Column in the Desert (AFP)
An April 2018 New York Times investigation of the traffic in migrants through Sudan, based on separate and confidential interviews with known smugglers, suggested that the RSF was, according to the smugglers' testimony, the main organizer of the cross-border trade, supplying vehicles and sharing in ransom revenues obtained from the detention of the migrants in Libya (NYT, April 22, 2019).
Hemetti's control of much of Sudan's newly discovered gold reserves (some of it wrested from Musa Hilal by force) provides him with the financial clout needed to make the former camel trader a candidate for Sudan's presidency. Darfur, Sudan's "Wild West," is already producing enough gold to make it Africa's third-largest producer, though a remarkable 70% is believed to be smuggled of the country via remote air strips.
Notes: