Andrew McGregor
March 8, 2018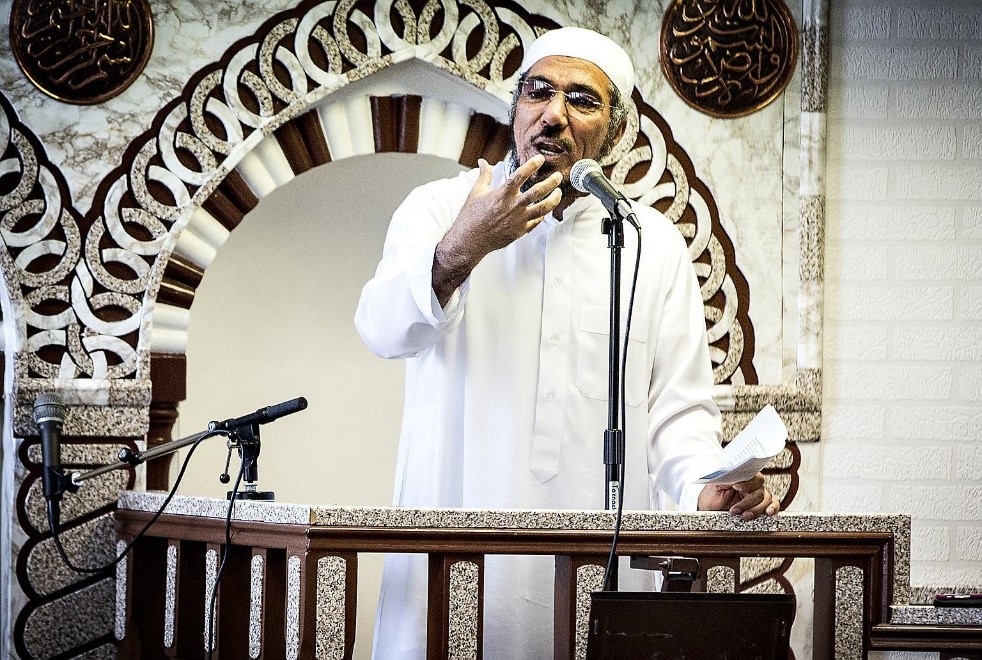 Shaykh Salman bin Fahd al-Ouda (Sydsvanskan/Lars Brundin)
One of Saudi Arabia's leading Salafist religious scholars, Shaykh Salman bin Fahd al-Ouda, is currently hospitalized under guard after spending nearly five months in isolation without charges in a Saudi prison. [1] Once a strong opponent of the American military presence in the Arabian peninsula and often described as an inspiration to leading jihadists such as Osama bin Laden, al-Ouda's failure to endorse the Saudi rivalry with Qatar has brought a bitter end to years of cooperation with the Saudi regime. With millions of followers in the Saudi Kingdom and abroad, the shaykh's death in custody would have a direct impact on Saudi stability and the long-term plans of Crown Prince Muhammad bin Salman al-Sa'ud to reform the nation according to his own vision and succeed his father as king.
Early Career
Shaykh al-Ouda is today a leading scholar of Salafist Islam, one of the most influential preachers in Saudi Arabia and a member of the influential International Union of Muslim Scholars (IUMS), a movement often associated with the Muslim Brotherhood.
Al-Ouda was born in 1955 in the village of al-Basr near the Saudi city of Burayda in Saudi Arabia's al-Qassim Province, a relatively poor agricultural region in the center of the Kingdom known for its religious conservatism. The region is considered the heartland of Wahhabism, the 18th century Islamic reform movement that united with the al-Sa'ud royal family to form the Kingdom's enduring power base. [2] By 2001, it was estimated that 80% of the Kingdom's judges (experts in Shari'a, the nation's sole system of jurisprudence) hailed from al-Qassim (Economist, June 16, 2001).
Al-Ouda  is a scholar of the Hanbali madhab, one of the four Sunni schools of Islamic jurisprudence (madahib), Hanbali is the dominant school in Saudi Arabia and is the one most commonly followed by Saudi Arabia's conservative Salafis ("followers of the pious predecessors," i.e. the first three generations of Islam). The shaykh carries a Ph.D. in Islamic jurisprudence from the prestigious Imam Muhammad bin Sa'ud. After completing his Islamic education, al-Ouda returned home to become a professor at the al-Qassim campus of the Imam Muhammad ibn Saud Islamic University in Burayda. In those years, al-Ouda operated under the shadow of well-known Burayda-based Salafist scholar Shaykh Muhammad bin Salih al-Uthaymin, who was frequently critical of the young al-Ouda.
Osama Bin Laden and the Gulf War
The internal controversy over the Kingdom's participation in the First Gulf War (1990-1991) provided al-Ouda with the opportunity to become internationally known in the Islamic world through a series of audiotapes critical of a fatwa (religious ruling) issued by Saudi Grand Mufti Abd al-Aziz bin Baz that permitted non-Muslim allies led by the United States to use Saudi Arabia as a base for the war against Saddam Hussein's Iraq. Al-Ouda questioned why the Kingdom was still reliant on U.S. protection after billions of dollars of American arms purchases. The presence of kaffir (infidel) U.S. troops on the Kingdom's sacred soil during the campaign was also used to propel the career of a supporter of the Islamic jihad in Afghanistan, Osama bin Laden.
Al-Ouda was not alone in using cassette tapes to address Islamic issues; indeed, Shi'a Iran had been prepared for the return of Ayatollah Khomeini in 1979 by a series of audiotapes recorded by the Ayatollah in his Paris exile. With such tapes being collected like books by Saudi citizens, al-Ouda even addressed the importance of the phenomenon in a sermon entitled Al-sharit al-Islami ma lahu wa ma 'alih (The Islamic Tape: An Assessment).
During the next three years, al-Ouda became a leading opposition figure and a signatory of the Khitab al-Matalib (Letter of Demands), a 1991 document requesting the king to open the political system to reforms and greater consultation (shura). It is al-Ouda's belief that shura rather than democracy is the core of a successful Islamic state; those that relied on shura, such as the Ummayads, Abbasids and Ayubids survived, while those that rejected shura, such as the Ottoman Empire, ultimately disintegrated. [3] In September 1994 the regime asked him for a pledge to desist from preaching on politics. His refusal led to his arrest two days later. [4]
Imprisonment
Al-Ouda was arrested in September 1994 along with fellow Sahwa movement leader Shaykh Safar bin Abd al-Rahman al-Hawali. Bin Laden spoke approvingly of al-Ouda shortly after the latter's arrest in his "Open Letter to Shaykh Bin Baz on the Invalidity of his Fatwa on Peace with the Jews." [5] Two years later, Osama bin Laden would insist the arrests were made on the orders of the United States in his "Declaration of jihad on the Americans." [6] The claim was repeated by al-Gama'a al-Islamiya leader Omar Abd al-Rahman while he was serving a life sentence in the U.S. for various terrorist activities, including the 1993 bombing of New York's World Trade Center. [7] While awaiting trial in 1995 for his role in the World Trade Center, imprisoned terrorist Ramzi Yusuf claimed his "Liberation Army" was preparing strikes in Saudi Arabia in retaliation for the arrests of al-Ouda and al-Hawali (al-Hayat, April 12, 1995).
Bin Laden's biographer, Hamid Mir, recalled that Bin Laden had described al-Ouda as his "ideal personality, a savior who was the first to demand the withdrawal of U.S. troops from Saudi." According to Mir, Bin Laden claimed al-Ouda had written several pamphlets on jihad for al-Qaeda, though these had not been issued under his name. [8]
In 1998, former Bin Laden bodyguard Abu Jandal (a.k.a. Nassir al-Bahri) told an interviewer that Bin Laden had told him that he would never have entered into opposition to the Saudi government had al-Ouda and al-Hawali not been detained. [9] In his pre-9/11 communications, bin Laden frequently addressed themes contained in al-Ouda's written works and taped messages. [10] Al-Ouda's five-year imprisonment failed to silence the preacher, as he continued to record audiotapes smuggled out of prison and released for public consumption.
The Sahwa Movement
After his release, al-Ouda became an important member of the Saudi al–Sahwa al-Islamiya (Islamic Awakening) movement.  The group emerged when Muslim Brotherhood members fleeing repression in Egypt began to interact with normally hostile Saudi Salafists in the 1960s. A shared conservative approach to Islam was the foundation for greater cooperation, particularly in urging a greater political role for religious scholars in the state. The Sahwa movement was strongly opposed by the Kingdom's Madkhalis, another Salafist faction that advocates an almost extreme form of loyalty to the state and its rulers. [11]
Letter to Bin Laden
Bin Laden's admiration of al-Ouda does not appear to have been reciprocal; six years after the 9/11 attack, al-Ouda released an open letter to the al-Qaeda leader. [12] In the letter, al-Ouda accuses Bin Laden of tarnishing the image of Islam: "People around the world are saying how Islam teaches that those who do not accept it must be killed. They are also saying that the adherents of Salafi teachings kill Muslims who do not share their views." Al-Ouda asks who benefits from turning Muslim nations into battlefields "where no one feels safe" and questions whether obstructing governments is a solution for anything: 'Is this the plan – even if it is achieved by marching over the corpses of hundreds of thousands of people – police, soldiers, and civilians, even the common Muslims? Are their deaths to be shrugged off, saying: "They will be resurrected in the hereafter based on the state of their hearts?"
The shaykh also asked what violent extremists could contribute should they succeed in taking power: "What can people who have no life experience hope to achieve in the sphere of good governance? People who have no knowledge of Islamic law to support them and no understanding of domestic and foreign relations? Is Islam only about guns and ammunition? Have your means become the ends themselves?" Al-Ouda concluded with one last question for the al-Qaeda leader: "What have all these long years of suffering, tragedy, tears, and sacrifice actually achieved?" (Muslim Matters, September 18, 2007).
Overall, the letter falls short of being a clear denunciation of Bin Laden or his terrorist tactics. Instead, al-Ouda treats Bin Laden as a Muslim believer who has strayed from the path of Islam but still has the opportunity to review his approach much like the imprisoned jihadists occupied with compiling "revisions" of their past activities. The fact that it took six years for al-Ouda to compose his critique suggests a long period of either indecision or fear that such criticisms might alienate the shaykh's following.
Becoming a Voice for Moderation?
Moving on from production of audiotapes, al-Ouda embraced the internet, becoming in 2001 a director of IslamToday.net, which carries content in Arabic, English and Chinese. Islam Today has become the shaykh's most significant avenue for influence, supplemented by numerous YouTube videos and the publication of over 50 books on Islamic theology. Al-Ouda also realized the potential of Twitter and has today something between 11 to 14 million Twitter followers (The Peninsula [Doha]. January 26, 2017).  14.3 million (Al-Bawaba, October 7, 2017).
Shaykh al-Ouda was generally supportive of the Arab Spring uprisings as a much-needed corrective to Arab authoritarianism, but this did not play well with the Saudi regime. Al-Ouda's relationship with the regime was further aggravated when he denounced the military overthrow of Egypt's Muslim Brotherhood government in 2011 as a "coup." Nonetheless, al-Ouda rejected the absolutism that runs as a common thread through Islamist politics:
We have to remember that the Islamists' program in any country should not be mistaken for Islam itself, nor that anyone who disagrees with it is a loser. It is the Islamists' right, like anyone else, to practise what the others practise [i.e. politics], as long as it respects the limits of moderation, justice, and distance from the assumption that they have the absolute truth or that what they are calling for is sacred. [13]
In March 2013, al-Ouda took the bold step of issuing an open letter to the Kingdom's rulers, warning of the danger posed by censorship and political repression: "[The people] will not remain silent forever if some or all of these things are constantly denied to them. When revolutions are suppressed, they turn into armed conflicts. If they are ignored, they grow in reach and breadth" (IBTimes, March 18, 2013).
No Place in the Crown Prince's Reforms
Saudi Arabia's political climate began to undergo major changes with the accession of King Salman to the throne in January 2015. Foreign policy in particular took on a much more aggressive edge as Crown Prince Muhammad assumed the defense, economic and foreign affairs portfolios in the Saudi government while the eighty-one-year-old King, possibly suffering from pre-dementia, began to prepare for an expected abdication in favor of the Crown Prince.
Crown Prince Muhammad is well aware of the tenuous nature of his status – his two predecessors as Crown Prince since King Salman took the throne in 2015 were both removed. In this tense atmosphere it can be risky just to withhold public approval of the regime's activities (including the feud with Qatar), most of which are already controlled by the ambitious Crown Prince.
For al-Ouda, 2017 began with tragedy when his wife Haya al-Sayari and his son Hisham were killed when their car collided with a truck (The Peninsula [Doha], January 26, 2017). Accusations of extremism came next, as al-Ouda appeared on a list of six "hate preachers" who were banned from Denmark in 2017, with the Danish government describing the six (five Muslims plus evangelical American preacher Terry Jones) as "travelling fanatical preachers" who "indoctrinate listeners to commit violence against women and children, spread ideas of a caliphate and undermine founding values" (Jyllands Posten [Copenhagen], May 2, 2017).
Crown Prince Muhammad moved to consolidate his personal power in September 2017, when he ordered the arrest of over a score of religious scholars, businessmen, politicians, poets, academics and writers, including al-Ouda (Middle East Monitor, September 14, 2017).
After news spread of a U.S.-brokered phone call between the Saudi Crown Prince and Qatari amir Shaykh Tamim bin Hamad al-Thani on September 9, 2017, al-Ouda tweeted "May God bring their hearts together for the good of their people." [14] Al-Ouda's arrest followed only hours later. Even the suggestion of support for a Saudi reconciliation with a Qatari regime the Saudi leaders describe as supporters of terrorism was evidently enough to remove al-Ouda from the public sphere. According to the shaykh's family, al-Ouda had resisted previous pressure from the regime to support its feud with Qatar and his brother Khalid was imprisoned just for announcing news of Salman's arrest (AFP, January 18).
Al-Ouda and fellow Sahwa leader Shaykh Awad al-Qarni (reputed to have close ties to the Muslim Brotherhood) were among those accused by the Saudi Security Directorate of engaging in intelligence activities "for the benefit of foreign parties against the security of the Kingdom and its interests, methodology, capabilities and social peace in order to stir up sedition and prejudice national unity" (Saudi Press Agency, September 12, 2017).
Al-Ouda's actual Twitter message may not have been as offensive as its demonstration of defiance of regime instructions to scholars to attack the role of the Qatari government in the Middle East-North Africa (MENA) region. Al-Ouda's international reach only helped make his recalcitrance impossible to ignore.
Al-Ouda's greatest offense seems to have been his continued association with the IUMS and its leader, Egyptian-born Shaykh Yusuf al-Qaradawi, now living in exile in Qatar and viewed as the spiritual leader of the Muslim Brotherhood. This association appears to be at the core of Saudi contentions al-Ouda, al-Qarni and other religious figures were acting as agents of the Qatari regime, which has sheltered leading members of the Brotherhood (Arab Weekly, September 17, 2017; Gulf Digital News [Manama], September 11, 2017).
Return to Prison
Al-Ouda was sent to solitary confinement in the Dahaban Prison, north of Jeddah on the Red Sea coast, where he quickly entered into a hunger strike to protest his detention, isolation and inability to secure legal assistance.
When rumors of al-Ouda's death began to circulate after five months of solitary confinement, the shaykh's son Abdullah demanded information on his condition. In frail health, al-Ouda was transferred to a hospital in Jeddah, but remained incommunicado until he was allowed to make a phone call to his son on February 6 of this year (Middle East Monitor, February 8).
Conclusion
Al-Ouda's world-view is based on a kind of religious nationalism, in which Saudi Arabia remains the spiritual and physical homeland of an Islamic practise untainted by innovations or foreign influences (other than the Western experts who should be expelled and replaced by Islamic scholars). The shaykh melds this religious nationalism with a type of Arab supremacism in which Arabs are both intellectually and physically superior to other races and even non-Arab Muslims. [15] This sentiment is common in the Arab leadership of extremist movements such as al-Qaeda and the Islamic State.
Though some of his views (especially those presented in Western rather than domestic forums) appear to suggest a moderate approach to Islam, al-Ouda remains adamantly anti-Western and anti-Shi'a, including the Arab Shi'a in Saudi Arabia's oil-rich al-Sharqiyah Province, where they form as much as one-third of the population. [16]
Despite al-Ouda's popularity in many quarters, he remains a polarizing figure in Saudi society, where some view him as a progressive voice while others remain convinced he is a conservative extremist. Unlike many Saudi imams, al-Ouda does not rely on a government salary and this makes him dangerously independent in the eyes of the regime. For now, the shaykh's millions of followers await his fate, which depends largely on the political mood of the determined Crown Prince.
Notes
Other common transliterations of the shaykh's nisba include al-Awda, al-Odah, al-Udah and al-Auda.
Founded by Muhammad ibn Abd al-Wahhab (1703-1792), the movement rejects the term "Wahhabism" as implying worship of its founder rather than God. Its followers prefer the terms "Salafi" or "al-Muwahidin" (Monotheists).
Salman al-Ouda, Audiotape "Asbab Soqut al-Diwal," (Why Do States Disintegrate), as cited in Mamoun Fandy, Saudi Arabia and the Politics of Dissent, Palgrave, New York, 1999, p.97.
Mamoun Fandy, Ibid, p.92.
Osama bin Laden: "Open Letter to Shaykh Bin Baz on the Invalidity of his Fatwa on Peace with the Jews" (September 29, 1994), https://en.wikisource.org/wiki/Open_Letter_to_Shaykh_Bin_Baz_on_the_Invalidity_of_his_Fatwa_on_Peace_with_the_Jews
"Declaration of jihad against the Americans occupying the land of the two holiest sites: A message from Osama bin Muhammad bin Laden," August 23, 1996, https://ctc.usma.edu/app/uploads/2013/10/Declaration-of-Jihad-against-the-Americans-Occupying-the-Land-of-the-Two-Holiest-Sites-Translation.pdf
"Fatwa of the prisoner Shaykh Doctor Omar Abd al-Rahman," May 26, 1998, cited in Peter L. Bergen, The Osama bin Laden I Know: An Oral History of al Qaeda's Leader, Free Press, New York, 2006, p. 204.
Peter Bergen interview of Hamid Mir, March 2005, in: Peter L. Bergen, op cit, p.149.
Khalid al-Hammadi interview with Abu Jandal, al-Quds al-Arabi, August 1998, as cited in Peter L. Bergen, op cit, p. 149.
Mamoun Fandy, op cit, pp. 186-192.
For Madkhalism, see: "Radical Loyalty and the Libyan Crisis: A Profile of Salafist Shaykh Rabi' Hadi al-Madkhali," Militant Leadership Monitor, January 19, 2017.
"A Ramadan Letter to Osama bin Laden from Salman al-Ouda," delivered on Saudi Middle East Broadcasting Center (MBC), September 14, 2007, (Muslim Matters, September 18, 2007).
Salman al-Ouda, "Al-Siyasa," Middle East Broadcasting Center (MBC), April 6, 2011, https://www.youtube.com/watch?v=FfKpSoccw5s
Salman al-Ouda, Audiotape "Jazirat al-Islam," (The Island of Islam), as cited in Mamoun Fandy, op cit, p. 101.
Graham E. Fuller and Rend Rahim Francke, "The Arab Shi'a: The Forgotten Muslims," St. Martin's Press, New York, 1999, p. 180.
This article first appeared in the March 8, 2018 issue of the Jamestown Foundation's Militant Leadership Monitor.