Andrew McGregor
October 28, 2010
The Armed Forces of the Philippines (AFP) are restructuring their campaign against Abu Sayyaf Islamist militants in Western Mindanao by adopting the fleet marine concept as a replacement for the Sulu Archipelago-based Joint Task Force Comet (Sun Star Network, September 15). The make-up of the Philippine Republic presents a special challenge to internal security forces, as it is composed of 7,000 islands and islets spanning 60,000 square miles of sea.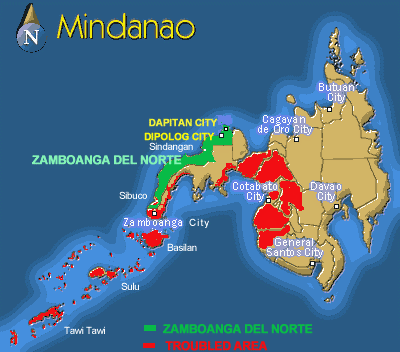 The commander of the Western Mindanao Command (Wesmincom), Lieutenant General Benjamin Muhammad Dolorfino, described the fleet marine concept as an opportunity to use the sea as a maneuvering space rather than an obstacle. The transfer of assault operations to amphibious units will help level the intelligence-gathering battle, which the AFP has been losing to the militants' intelligence network. According to Dolorfino, "We are so easy to detect with our ground operations. The whole island instantly knows [we are coming] just by the sound of a six-by-six truck revving up" (Sun Star Network, September 15). Landings from the sea will help restore the element of surprise to AFP operations.
The seas and waterways of the southwestern Philippines were once plagued with Muslim pirates – now these are part of the operational zone of Abu Sayyaf, a notorious composite Islamist terrorist group/criminal gang with deep roots in Western Mindanao, specifically the Zamboanga Peninsula and the islands of the Sulu Archipelago (most notably the island province of Basilan). Abu Sayyaf is light on ideology but capable of striking with brutal effectiveness and a callous disregard for civilian lives, as seen in the February 2004 bombing of Superferry 14 in Manila harbor, killing 116 people.
Though Abu Sayyaf has been pressured by U.S.-supported Filipino troops for several years, they still have the ability to lash back, as was seen in a September 16 ambush in which militants under the command of Nur Hassan Jamiri and Long Malat Sulayman killed three soldiers of the 32nd Infantry Battalion. Later in the day, however, a government mortar team zeroed in on the militants, killing two, including Commander Sulayman (Manila Times, September 17; Philippine Star, September 18). Police and Air Force intelligence agents have also recently captured long-wanted militants Bidung Ismael (a.k.a. Ben Ismael) and Jul Ahmad Ahaadi (a.k.a. Jul Puti) (Philippine News Agency, October 15; Philippine Daily Inquirer, September 8). Three days earlier, the Special Action Force of the Philippine National Police and the Directorate for Integrated Police Operations killed Sulu provincial leader Gafur Jumdail (a.k.a. Doc Abu) and two associates (Philippine Daily Inquirer, September 5).
October witnessed a pair of important training exercises conducted in the Philippines with U.S. military forces – the joint naval Cooperation Afloat Readiness and Training (CARAT – which included the first participation of U.S. and Philippine riverine forces) and PHIBLEX 11 (amPHIbious Landing EXercises), which rehearsed amphibious assaults (SunStar Network, October 13; Philippine Star, October 13; Manila Bulletin, October 10).
Created in 1950 for use against communist guerrillas, the 9,500 man Philippine Marine Corps (PMC) has already been active alongside the Philippines Army and police units in fighting against Abu Sayyaf terrorists in the southern province of Basilan, though they have been operating largely as infantry units (Manila Bulletin, March 21; ABS-CBN [Manila], December 19, 2008). The Marines are organized into three active-service brigades, a fourth reserve brigade, and a support and services brigade.
According to Rear Admiral Ernesto Marayag, current Marine amphibious assault operations are executed by small units carrying out "surgical strikes." Marayag stated, "This is not the same as in the Saving Private Ryan film. We put in one or two teams or one company during the right time, under cover of darkness, because surprise is vital in any special operations" (ABS-CBN [Manila], December 19, 2008). Marine commander Brigadier Rustico Guerrero announced that 60 dogs of the military K-9 unit will also be deployed in hunting down ASG members (Pilipino Star Ngayon, September 8).
However, amphibious operations will be hampered by the absence of the surveillance and attack capabilities offered by helicopters – the Navy's last helicopter crashed off Zamboanga nearly two months ago and the bidding for two new helicopters has been suspended due to suspected collusion between suppliers and defense officials (Philippine Daily Inquirer, October 5; Manila Standard, October 5). The Philippine Navy (Hukbong Dagat ng Pilipinas), to which the Marines belong, is in desperate need of modernization. Its 31 Second World War-era ships are generally conceded to be incapable of patrolling and securing the Philippines' territorial waters (Manila Bulletin, July 27).
This article first appeared in the October 28, 2010 issue of the Jamestown Foundation's Terrorism Monitor.