Andrew McGregor
October 21, 2010
In a recent interview with a pan-Arab daily, a leading Sudanese politician claimed a vote for secession by the oil-rich South Sudan in the upcoming January referendum will not be accepted by the Khartoum government, leading to a third round in the North-South civil war that has already killed over two million Sudanese since 1955 (Asharq al-Awsat, October 8).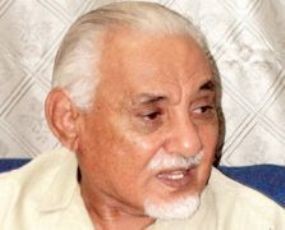 Ali Mahmoud Hassanein (Sudan Tribune)
Ali Mahmoud Hassanein, Deputy Chairman of al-Hizb al-Ittihadi al-Dimuqrati (Democratic Unionist Party – DUP), now lives in self-imposed exile in London, where he is organizing a broad coalition "whose primary objective is to topple the government of Omar al-Bashir." Hassanein was recently in the United States, where he was seeking support for his new front. He rejects suggestions that he is participating in "hotel activism," noting he had little choice but to flee Sudan after security officials warned him that he would be killed if he continued his political activities after being released from prison last year. In 2008 Hassanein was imprisoned on charges of attempting to overthrow the government after advocating al-Bashir's trial by the ICC (Sudan Tribune, August 30). Prior to that, Hassanein was arrested along with 30 other opposition figures in July 2007 on similar charges (Reuters, December 29, 2008).
Hassanein is convinced that a vote for independence in South Sudan will soon be followed by al-Bashir's military crossing into the South to occupy the oil fields:
There are two possibilities: either the Southerners will choose secession, or, if the referendum is cancelled or if its results are questioned, they will declare unilateral independence. In both cases, al-Bashir will declare, on TV in a national address to the nation, that the oil fields are in danger and that Sudan's national security is at stake. He will then declare that he has ordered the armed forces to take control of the oil fields.
The veteran 76-year-old politician is a notable opponent of the Sudanese president, whom he describes as "a dictator and a criminal." Hassanein's hard-line approach to the Sudanese president and his insistence that the president be tried by the International Criminal Court (which indicted al-Bashir in July 2008) has put him at odds with the DUP leader, Sayed Mohammad Osman al-Mirghani, who is also the leader of Sudan's Khatmiyya Sufi Order. Sayed al-Mirghani has favored cooperation with al-Bashir since 2005 after having led the National Democratic Alliance (NDA), an umbrella group of armed opposition wings. This political reversal has led the DUP's deputy leader to criticize the role of Sudan's traditional political parties in supporting the military/Islamist regime in Khartoum:
One of the reasons for establishing our movement was our belief that the traditional Sudanese political parties have failed to reflect the aspirations of the Sudanese people. They have been afflicted by inept leadership and have been dominated by certain families. This doesn't just apply to the DUP, but all other traditional political parties as well.
Here Hassanein was certainly criticizing the DUP's traditional rival, Sudan's Umma Party, which is dominated by the descendants of the 19th century Mahdi. The DUP has always been the private preserve of the Mirghani family, leading to calls for Hassanein's resignation from the party over his opposition to Sayed al-Mirghani. Hassanein, however, rejects such calls, saying, "I am a Unionist, I always have been, and I will die a Unionist."
Hassanein believes Washington's apparent improvement of relations with Khartoum is a temporary measure:
After the Comprehensive Peace Agreement (CPA) in 2005, which was sponsored by the U.S., it became clear that the U.S. wanted Southern Sudan to secede. So, now as the referendum in the South is getting closer and closer, the U.S., as expected, is appeasing al-Bashir so that he will not endanger the new state in the South.
The DUP deputy also pointed out that the Southern administration will not relinquish the Southern oil fields without defending them and has been purchasing tanks, planes and weapons with the knowledge that al-Bashir will never let them go. He claimed, "Not only will there be renewed war in the South, but also in Darfur, the east and other parts of Sudan."
President al-Bashir told Sudan's parliament last week that he would "not accept" any alternative to Sudanese unity, though his remarks were later downplayed by the Foreign Minister (AFP, October 15). According to Hassanein, with 90% of Sudan's export revenues coming from oil, al-Bashir and his followers have changed their priorities "from ideology to business and from Shari'a to oil. They have become largely preoccupied with oil companies, pipelines, refineries, explorations, exports and revenues." Hassanein suggests that without oil revenues the government will go bankrupt, with an economic collapse leading to the political collapse of the regime.
This article first appeared in the October 21, 2010 issue of the Jamestown Foundation's Terrorism Monitor