Andrew McGregor
April 16, 2008
A late afternoon suicide attack on the Burundi Army base in Mogadishu claimed the life of one Burundian peacekeeper and five civilians on April 8 (Shabelle Media Network, April 8). Two other Burundian soldiers were injured in the first strike by Islamist insurgents on the Burundian peacekeepers. A pickup truck loaded with explosives targeted the recently arrived Burundian contingent of AMISOM, the African Union peacekeeping mission in Somalia. Responsibility for the attack was claimed by Shaykh Mukhtar Robow, the leader of al-Shabaab, a military wing of the Islamic Courts Union (Radio Shabelle, April 9).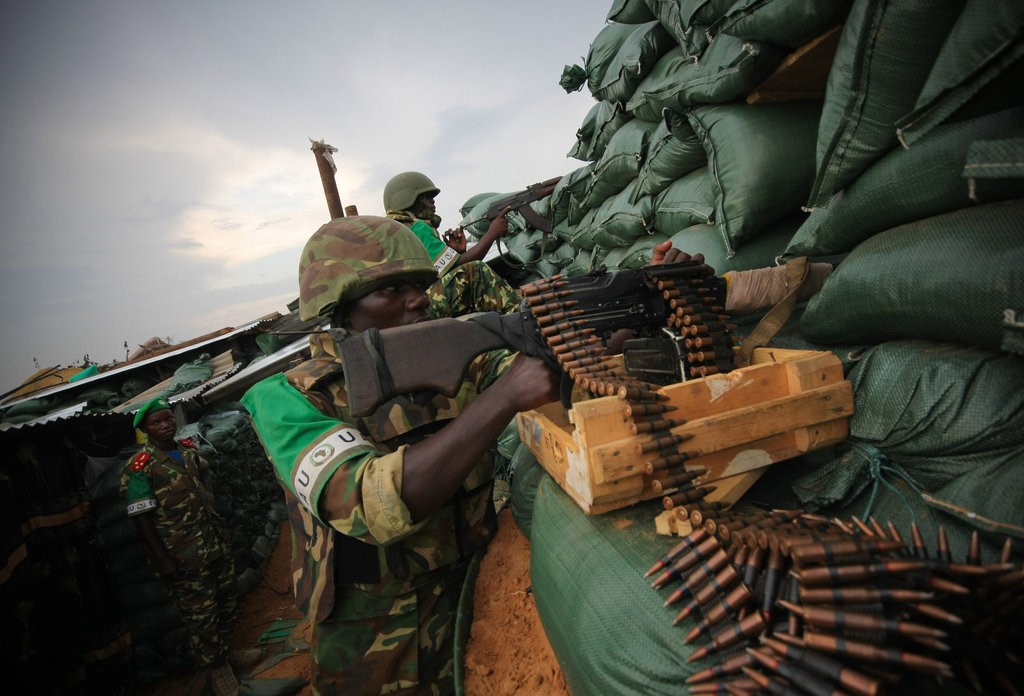 Burundian Troops Man Defensive Line in Mogadishu (AP/Stuart Price)
The powerful explosion at the base on the grounds of the now-closed Banaadir University was heard throughout Mogadishu and shrapnel that spread 100 meters injured scores of people (HornAfrik, April 8; Radio Simba, April 9). A roadside bomb targeting a Burundian military convoy the next day failed to cause any casualties (AFP, April 9).
Muhammad "Dheere" Umar Habeb, a former Jowhar-based warlord who now acts as governor of Banaadir Region and mayor of Mogadishu, claimed that the perpetrator was "brainwashed" and acting under the orders of al-Qaeda (Somaaljecel, April 10). It is customary for officials of Somalia's Transitional Federal Government (TFG) to attribute all terrorist attacks in Somalia to al-Qaeda in order to secure military and financial support from the United States.
1,500 Ugandan troops arrived in Somalia in March 2007. They were expected to be the vanguard of an 8,000-strong African Union peacekeeping mission intended to support the TFG, establish stability, facilitate the provision of humanitarian aid and create conditions for long-term reconstruction and reconciliation. Since then, however, only 850 troops from Burundi have arrived to assist the hard-pressed Ugandans, who have been targeted several times for lethal attacks by the Islamist insurgents. Contingents from Nigeria, Ghana and Malawi have all failed to appear.
The attack on the Burundians seemed to fulfill a promise made last year by notorious ICU militant Aden Hashi Ayro: "We will fight and assassinate [Ugandan] officers. All other African troops sent to Somalia will face the same fate" (Qaadisiya, November 14, 2007). With its diminished numbers, the AU mission has had little impact and many Somalis view the peacekeepers' mission to be one of support to the Ethiopian occupation force and the U.S.-backed TFG warlord government. Force de défence nationale (FDN) spokesman Lt. Col. Adolphe Manirakiza stated that the sole objective of the Burundian troops was to "help the Somali brothers reconcile," noting that "every trade has its risks…" (Panapress, April 9). The FDN initially claimed it was unable to fulfill its commitment to AMISOM due to equipment shortages and transportation difficulties but has since received assistance from France and the United States (burundirealite.org, April 9).
This article first appeared in the April 16, 2008 issue of the Jamestown Foundation's Terrorism Focus