Andrew McGregor
From Tips and Trends: The AIS African Security Report
Aberfoyle International Security, April 2015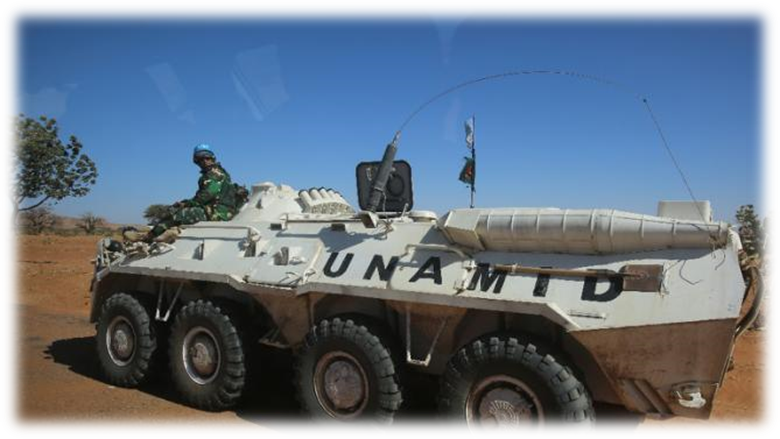 With plans to boost production in its hard-pressed oil sector, Sudan is looking to establish full control over northern Darfur, where new exploration and drilling projects are planned to help replace the oil production lost in the 2010 separation of oil-rich South Sudan, which represented nearly 75% of Sudan's pre-separation output. There are hopes for new development in northern Darfur's Block 12A concession, worked by Saudi Arabia's al-Qahtani company, and Block 14, where South Africa's PetroSA has engaged in exploration work in the desolate regions near Sudan's northern borders with Libya and Egypt (Middle East Eye, March 20, 2015). The Sudanese Ministry of Oil also expects to bring new wells in eastern Darfur's Abu Karinka region into production later this year (Radio Dabanga, February 17, 2015). As continued rebel activity in Darfur threatens new government revenue streams, Khartoum is eager to consolidate full control over the unsettled region and eliminate international meddling in what the regime considers an internal matter. To this end, Khartoum is seeking the withdrawal of the United Nations–African Union Mission in Darfur (UNAMID), a large, expensive and relatively ineffectual peacekeeping mission that the regime nonetheless regards as an irritant in its efforts to reshape Darfur's ethnic composition.
A working group of Sudanese, United Nations and African Union representatives met on March 17 to begin drawing up a strategy for UNAMID's eventual withdrawal from Darfur. [1]The group, acting under pressure from Khartoum for a speedy withdrawal, will present a report to the UN Security Council by the end of May.
UNAMID, self-described as a "joint hybrid" operation involving UN and African Union forces, conducts its affairs under a UN Charter Chapter VII mandate which allows for armed measures to protect civilians as well as "such action by air, sea or land forces as may be necessary to maintain or restore international peace and security." [2]
Impetus for the withdrawal was provided by a late 2014 dispute between Khartoum and UNAMID over the latter's demands for a transparent investigation into reports of mass-rape by Sudanese security forces in the town of Tabit. The UN claimed its own initial investigation was hampered by a massive military and police presence in the town focused on intimidating witnesses. In yet another display of the acrobatic approach to logic his regime has become famous for, President Omar Bashir claimed that the mass rapes proved "UNAMID has failed to protect civilians and [has] instead become protector to the rebels" (Sudan Tribune, December 1, 2014).  By February, Khartoum was demanding the complete withdrawal of UNAMID (Sudan Tribune, February 19, 2015).
After the Congo-based MONUSCO (see Congo article in this issue), UNAMID is the world's second largest peacekeeping force with an annual budget in excess of $1.3 billion. The UN is not against at least making the forcer leaner and more effective – a recent internal review of UNAMID activities concluded that many of the units serving in the peacekeeping force were incompetent and should be sent home (Reuters, March 11, 2015).
The Rebellion Twelve Years On
Though the pace is slower, the rebellion in Darfur against the central government continues. The Sudan Liberation Movement faction led by Abd al-Wahid al-Nur (SLM-AW) claimed to have taken the SAF garrison at Rokoro in central Darfur on March 13, seizing large quantities of arms and war materiel after killing 58 militiamen and SAF personnel (Radio Dabanga, March 13, 2015). While raids of this type continue, the leadership of an ever-proliferating number of new rebel movements continue to flirt with the regime, accepting integration into government security forces at one moment, and deserting to resume rebellion in the next. Many of these acronym movements seek nothing more than favorable concessions and/or salaries from the central government in exchange for laying down arms. A long string of government settlements with these minor movements has done little to restore security in Darfur so long as the major non-signatory movements (such as the Zaghawa-led Justice and Equality Movement [JEM], the Sudan Liberation Army- Minni Minawi [SLA-MM – largely Zaghawa] and the SLA-AW [largely Fur]) cannot be enticed to reach an agreement with the regime in Khartoum, which is deeply distrusted by the major movements.
Three reports presented to the UN Security Council on March 18 by Hervé Ladsous, the UN under-secretary-general for peacekeeping operations, suggested that the security situation in Darfur is actually deteriorating due to "the ongoing Government of Sudan and the Rapid Support Forces' military offensive." [3]  Noting that government forces had weakened the rebel formations in Darfur, Ladsous also noted that this success had come at the cost of a rate of displacement that was now higher than at any previous time since the rebellion began in 2003 (Radio Dabanga, March 18, 2015). Meanwhile, security issues remain unaddressed, with government troops and militiamen continuing to commit gang-rapes of "non-Arab" women and girls across Darfur. While senior officers routinely maintain they are searching for the culprits, these searches apparently do not extend to government barracks.
An Epidemic of Tribal Warfare
Beyond the ongoing conflict between various rebel movements and government troops and/or allied militias (now in its 12th year), Darfur now finds itself caught up in a plague of tribal conflicts, often encouraged by local and central government authorities.
Arab Rizeigat and Fellata clashed in southern Darfur last year after Rizeigat tribesmen prevented Fellata (the Kanuri term by which members of the Fulani/Peul ethnic group are known in Darfur) livestock traders from crossing their lands (Radio Dabanga, October 1, 2014).
In recent weeks, dozens have been killed or wounded in clashes between the Fellata and the Salamat, a nomadic group claiming Arab heritage, many of whom were encouraged by Khartoum to migrate into Darfur from their homes in Chad and northeast Niger to occupy lands from which Black Africans had been expelled by the paramilitary Janjawid and elements of the Sudanese Army. As is often the case, the spark behind the conflict was relatively trivial (the theft of some cows, not an unknown occurrence in Darfur), but the proliferation of modern firearms in the highly racialized atmosphere promoted by the regime of President Omar al-Bashir now tends to turn every minor conflict into a series of massacres and counter-massacres. Matters are complicated by a government-encouraged turn away from elders' councils and other traditional and moderating forms of influence in the so-called "Arab" tribes of Darfur in favor of younger leaders eager to nourish more direct ties to Khartoum in return for arms, cash and the influence these commodities wield in their communities.
On March 26, the Darfur Bar Association summed up the dangers of this policy in a statement calling on authorities to cease the distribution of arms and its politicization of the tribal system:
By arming certain tribesmen, distributing military uniforms and four-wheel drive vehicles among them, and letting them assault, rob, and terrorize innocent civilians with impunity, the regime affirms that it has withdrawn its responsibility, and pushes the people to take up arms themselves in response (Radio Dabanga, March 26, 2015).
A recent conflict in East Darfur between the Ma'alia and the Rizeigat (both "Arab" groups – it is often difficult to visually distinguish between Darfur "Arabs" and "Black Africans") that killed over 500 people and displaced another 55,0000 brought criticism of the inability of the tribes' traditional leadership to end the conflict from President Bashir (Sudan Tribune, March 19, 2014), who conveniently overlooked his own government's role in undermining the influence of the region's traditional leaders. There are also serious clashes at the northern Darfur goldmines of Jabal Amir between the Rizeigat and the Arab Bani Hussein. Nearly 800 people were killed at the mines in early 2013 alone.
Escalating attacks by the "Arab" Ziyadiya against the indigenous Black African Berti in March began to look more like an attempt to eliminate the Berti rather than merely punish them for an alleged breach of a truce between the two groups earlier this year. Local and largely Ziyadiya units of the paramilitary Border Guards and the Central Reserve Force (popularly known as "Abu Tira") have joined Ziyadiya tribesmen in large-scale attacks on Berti in the Melllit region, north of the Darfur capital of al-Fashir. A string of assaults by gunmen and paramilitary forces equipped with Russian-made 108mm DShK "Dushka" machine guns and mortars culminated with the massacre of over 40 civilians in villages near Mellit on March 28 (Radio Dabanga, March 22, 2015; March 29, 2015). The raids, which killed over 80 Berti in March alone, have been accompanied by widespread looting, rustling and destruction of property.
North Darfur governor Osman Muhammad Yusuf Kibir, a Berti member of the ruling National Congress Party (NCP), has been accused by his rivals of using his office to strengthen the position of his own tribe and forming a Berti militia (Sudan Tribune, September 17, 2013).
Former Janjawid leader and arch-rival to Kibir, Shaykh Musa Hilal (an Umjallul/ Mahamid Arab and a member of parliament for the ruling National Congress Party [NCP – al-Mu'tamar al-Watani]), incited an Arab militia in-training with a 2013 speech describing the Berti as led by "a bastard slave" (i.e. Governor Kibir) and knowing "only how to cook watermelons" (Sudan Tribune, September 15, 2013). Hilal now poses as an opponent of the "corrupt regime" in Khartoum as the leader of al-Sahwa [Awakening] Revolutionary Council, which declared in late February that it would boycott this month's elections (Radio Dabanga, January 13, 2015; February 25, 2015). It appears, however, that Musa Hilal's main differences are with Governor Kibir rather than al-Bashir, who has traditionally acted as Hilal's sponsor and guardian.
Nonetheless, a March 17 statement from al-Sahwa condemned Khartoum's tribal policy in Darfur: "The regime still indulges in reckless policies towards this crisis in the country as it still incites and scatters the seeds of discord among the Arab and non-Arab tribes in Darfur" (Sudan Vision, March 19, 2015). Al-Sahwa controls territory and communities in the western part of Northern Darfur, where it has set up its own administrations.
The regime has tried to downplay the eruption of tribal violence in Darfur as a "normal" condition. In mid-March, Hassan Hamid Hassan, the Sudanese deputy ambassador to the UN, told the UN Security Council that "tribal violence in Darfur is as old as Darfur itself. We cannot condition the withdrawal, the exit of the [UNAMID] mission, on these phenomena which are as ancient as Darfur itself" (Reuters, March 17, 2015).
Conclusion
Some 770 UNAMID staff were scheduled to be cut from the mission's strength by the end of March 2015, as part of a restructuring prior to eventual withdrawal (Radio Dabanga, March 1, 2015). General elections in Sudan on April 13 are fully expected to return the ruling NCP to power, providing it a self-confirmed mandate to restore order and expand economic development, even if it comes at the expense of the 2.5 million Darfuris who remain displaced. While UNAMID does not have much in the way of accomplishments to justify the loss of over 200 peacekeepers since it began operations, it has nevertheless provided the international community with eyes and ears in turbulent Darfur. The racialization of communities once known for cooperative and generally harmonious relations by the Arab-supremacists within the NCP government cannot be quickly undone, and with the proliferation of all types of small-arms in the region, growing ethnic and tribal conflicts now threaten to supplant the multi-headed rebellion as Darfur's greatest security threat. UNAMID may be characterized as a costly failure, but its absence will still be deeply felt by Darfur's civilian population, much of which can expect further displacement through government "pacification" campaigns led by ill-disciplined paramilitaries.