Andrew McGregor
Oxford Analytica Daily Brief, October 9, 2019
Significance
The UN Humanitarian Coordinator for Libya yesterday condemned attacks on civilian infrastructure and called an October 6 airstrike on an equestrian club in the capital, Tripoli, that injured several children "one of the lowest points" of the conflict. Warlord Khalifa Haftar's military offensive to take control of Tripoli has stalled for six months on the city's outskirts. Essential to Haftar's ambitions is full control of southwestern Libya, the Fezzan region, which has been drawn into the battle for Tripoli.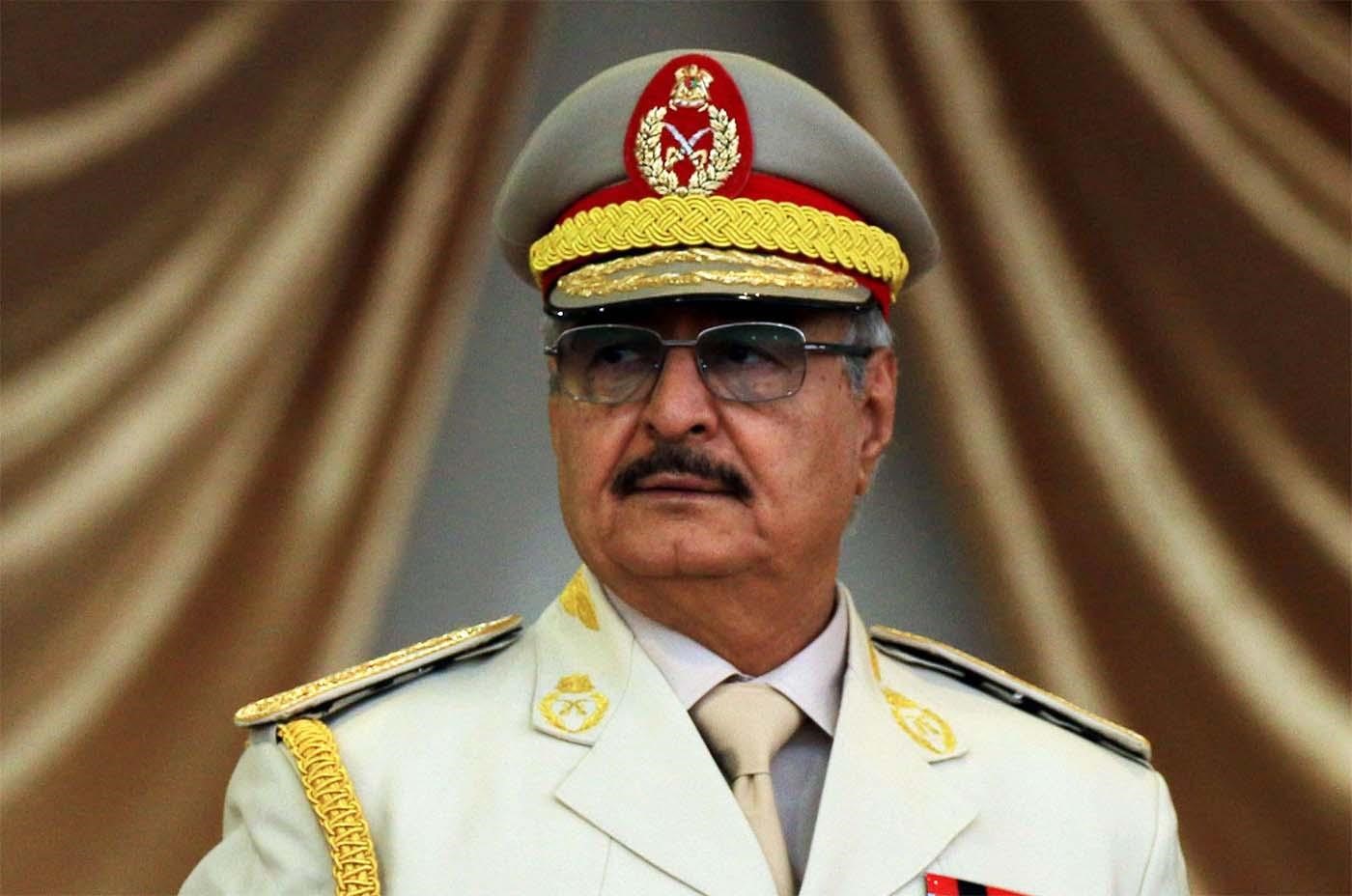 "Field Marshal" Khalifa Hafter (Middle East Online)
What Next
Neither of Libya's governments can declare victory without full control of the resource-rich south. Haftar's "control" of Fezzan consists of making deals with locals to declare allegiance to him and exploiting ethnic and racial divisions. However, this has destabilized the region, which as a result may see recurrent bouts of violence. This would potentially make it a liability to Haftar's ambitions to control the whole of Libya. Meanwhile, the internationally recognized Tripoli authorities, the Government of National Accord (GNA), are unlikely to make inroads in the south given that they have long neglected the region and do not have deep pocketed sponsors such as Haftar has in the United Arab Emirates (UAE).
Subsidiary Impacts
Lawlessness in Fezzan exposes Libya's coastal cities (hosting most of the population) to debilitating shortages of fuel and water.
Haftar risks losing the support of his foreign allies, particularly his main sponsor, the UAE, if he fails to finish the assault on Tripoli.
Further clashes in the south are probable – especially if there is external interference.
Analysis
South-western Libya, the Fezzan region, is a vast desert spotted with lucrative oil fields, oases, long-range trade routes and deep sub-desert aquifers. It is dominated by a mixture of Arab tribes, Arab/Berber groups, the non-Arab Berber Tuareg and the indigenous Black African Tubu.
Fezzan suffers from economic decline, widespread unemployment, inadequate infrastructure and soaring crime rates. Many locals are involved in migrant or oil smuggling. Beyond the oasis towns of Sebha, Murzuq and Ubari, Islamic State cells and groups of Chadian and Darfuri rebels roam the desert wilderness, with the displaced rebels offering their services to both sides of the Libyan conflict as mercenaries. Some southern Libyans have also joined the fighting in the north.
A group of experienced anti-Haftar Tubu fighters under Hassan Musa went north to Tripoli when the battle began, where they joined by other militias in the defense of Tripoli, according to the Small Arms Survey. Arab fighters from the south also joined Haftar's assault on Tripoli, including members of the Awlad Sulayman, Zuwaya and Mahamid tribes.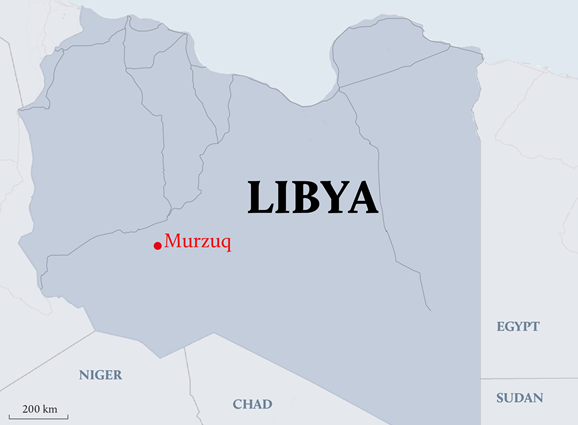 (AFP)
A key town in southern Libya is Murzuq, a desert oasis town roughly 800 kilometres south of Tripoli with a largely Tubu peacetime population of roughly 30,000. In February, Haftar's Libyan National Army (LNA), a loosely disciplined coalition of militias, mercenaries and Saudi-influenced Salafists, moved into the city to take control. Residents fled airstrikes, ethnic clashes and incursions.
Violence flared in Murzuq again in August. According to the International Organization for Migration (IOM), 26.465 people have been internally displaced from Murzuq to surrounding areas because of this round of fighting. Over 100 civilians have been killed in two months of fighting in and around Murzuq.
During this time, the city has also been struck by repeated airstrikes from UAE-supplied fighter-bombers and drones operating from al-Khadim airbase in eastern Libya. An LNA drone attack on August 5 in Murzuq killed 43 local dignitaries. Tubu officials reportedly turned down a UAE offer for a financial settlement to address their grievances over the UAE's role in the incident – an offer that included a requirement for the Tubu to recognize Haftar as the Libyan leader. On September 12, the Presidential Council declared Murzuq to be "a disaster stricken area."
Much of the internal fighting in Murzuq was the result of tensions between the anti-Haftar Tubu and LNA-aligned Alhali communities (the Alhali are Arabized black Libyans descended from slaves or economic migrants). Many homes were looted and burned during the clashes and those fleeing the fighting were subjected to robbery, abduction or sexual harassment at illegal checkpoints. Local Tubu could not fail to notice most of the LNA army attacking Murzuq was composed of traditional enemies of the Tubu, prompting claims of ethnic cleansing.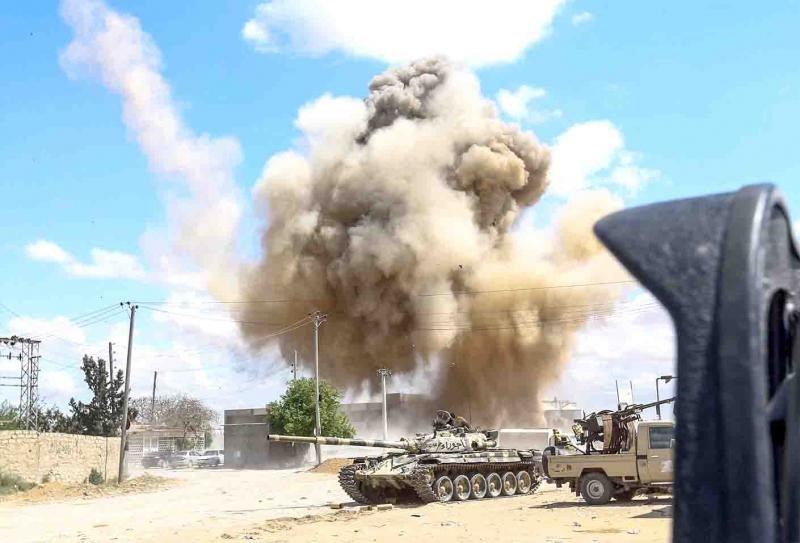 Airstrike in Southern Tripoli, December 2019 (AFP)
UN Secretary General Antonio Guterres blamed Haftar for the eruption of violence in Murzuq, citing his forceful entry into the city and his attempt to impose new authorities. When Haftar took Murzuq and other parts of the south, he drove out GNA-affiliated security forces, but, short of manpower, he did not consolidate his control of the south by installing garrisons. Instead, he withdrew nearly all his troops to the north to participate in the assault on Tripoli that started in April. This created a security vacuum that provided a fertile ground for renewed violent clashes emanating from grievances incurred during and after the February take-over.
The Islamic State
The lawlessness in the south has also allowed the Islamic State (IS) to regroup. IS fighters were driven out of their stronghold in the coastal city of Sirte in 2016 in a ground operation conducted by the Bunyan Marsous (a coalition of western militias opposed to the LNA and IS terrorists) with the assistance of nearly 500 bombing runs by US warplanes.
Since then, the IS, with an estimated strength of between 300 to 2,000 fighters, has attempted to reform in the remote regions of the Fezzan. There is speculation that the terrorists have turned to the lucrative human trafficking trade to finance their operations in Libya. According to the International Organization for Migration (IOM), there are now over 655,000 migrants in Libya, roughly 10% of the Libyan population. Over 70% of the migrants hailed from five African nations – Niger, Nigeria, Chad, Sudan and Egypt. While some have found menial work in Libya, many are determined to continue on to Europe.
While the US administration has done little to intervene in the struggle between Libya's rival governments, it has displayed a determination to prevent an IS resurrection in the southern desert. Central to this effort is a series of air attacks on IS bases by US Air Force Reaper drones based in Niamey, Niger. On September 19, the first US airstrike killed eight suspected terrorists in a compound in Murzuq. AFRICOM commander General Stephen Townsend stated afterwards that the U.S. would not permit the IS to reform under the cover of the battle for Tripoli.
Further US airstrikes on September 24, 26 and 29 killed a reported 35 more IS terrorists. AFRICOM director of intelligence Rear Admiral Heidi Berg said the attacks on Islamic State militants were carried out in coordination with the PC/GNA to destroy IS safe havens. If AFRICOM assessments of IS casualties are correct (or close), their airstrikes must have caused a significant disruption to IS efforts to regroup in southern Libya.