Andrew McGregor
September 10, 2009
With al-Shabaab extremists threatening to try a captured French security advisor in Somalia under their version of Islamic law, the radical Islamist movement appears ready to provoke a French military intervention. The man is one of two Direction Générale de la Sécurité Extérieure (DGSE) agents abducted in a July 14 raid on a Mogadishu hotel (see Terrorism Monitor, July 30). The other agent claims to have escaped his captors on August 26.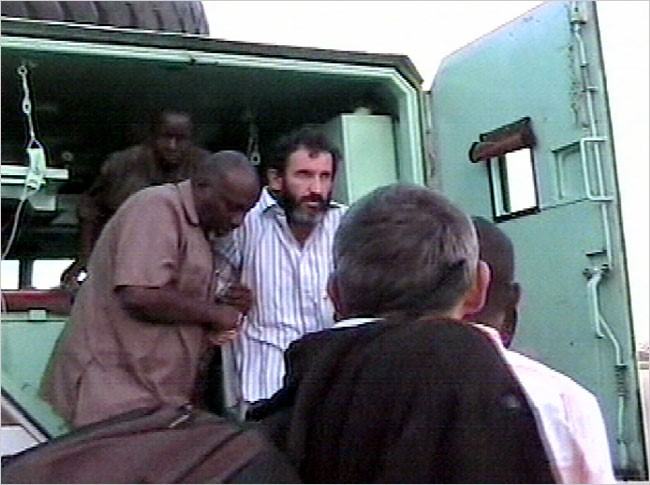 DGSE Agent Marc Aubrière after His Escape (NYT)
Shaykh Muhammad Ibrahim Bilal, chairman of the Islamic Council of Amal (Hope), a former leading member of the ICU and al-Shabaab, condemned France's military and security support for Somalia's Transitional Federal Government (TFG) on August 29, adding that any other French officials coming to Somalia will be kidnapped (Daily Nation [Kampala], August 31). On August 28, an al-Shabaab official announced that the remaining French hostage would be sentenced for spying under Islamic law.  Two days later Shaykh Bilal told Iranian TV that al-Shabaab was ready to execute their prisoner (Press TV, August 30).
The agent who escaped, identified as Marc Aubrière (probably not his real name), provided a dramatic but highly improbable account of navigating his way by the stars to Mogadishu's Presidential Palace after escaping his Hizb al-Islam captors and evading armed gunmen shooting at him for five hours in Shabaab-controlled neighborhoods (Shabelle Media Network, August 26; Somaliland Times, August 29). More likely are reports circulating in Mogadishu that Aubrière was released after the French government agreed to a ransom. The second DGSE agent is being held by al-Shabaab, which has assured reporters that the man is heavily guarded and unlikely to escape (AFP, August 28).
A senior al-Shabaab official described the agent's tale as absurd and accused the movement's Hizb al-Islam allies of accepting money for the agent's release. "Even if he escaped, how was it possible for him to walk all the way to the presidential palace without being noticed by the mujahideen?" (Hillaac, August 26). Al-Shabaab may feel it necessary to deal harshly with the French prisoner to preserve its image in light of their Islamist ally's alleged perfidy in releasing their prisoner in exchange for a ransom (as is widely believed in Mogadishu).
5e Régiment Interarmes d'Outre-Mer Training in Djibouti (Ministére de la Défense)
150 of an expected 500 TFG soldiers are now in Djibouti receiving military training from the 5e Régiment Interarmes d'Outre-Mer (5e RIAOM), a mixed-arms Marine regiment permanently stationed in Africa. There are reports that some of the TFG recruits were returned to Somalia for being too young (Libération, August 28). The government of Djibouti has also announced its readiness to send an estimated 500 soldiers with French assistance to Somalia to join the badly undermanned African Union Mission in Somalia (AMISOM) peacekeeping force (Garowe Online, September 2).
French President Nicolas Sarkozy has indicated France will not be deterred by hostage-takings. "We will mobilize to support Africa faced with the growing threat from al-Qaeda, whether in the Sahel or in Somalia… France will not let al-Qaeda set up a sanctuary on our doorstep in Africa. That message, too, must be clearly heard" (AFP, August 27).
This article first appeared in the September 10, 2009 issue of the Jamestown Foundation's Terrorism Monitor