Andrew McGregor
November 26, 2008
In an effort to prop up Somalia's Transitional Federal Government (TFG), Kenya has decided to send a battalion of troops to join the undermanned African Union Mission in Somalia (AMISOM), which has only 3,000 of its authorized strength of 8,000 troops (Afrique en Ligne, November 18). Kenya has so far tried to avoid becoming embroiled militarily in the Somali conflict, though it has provided military training for TFG troops.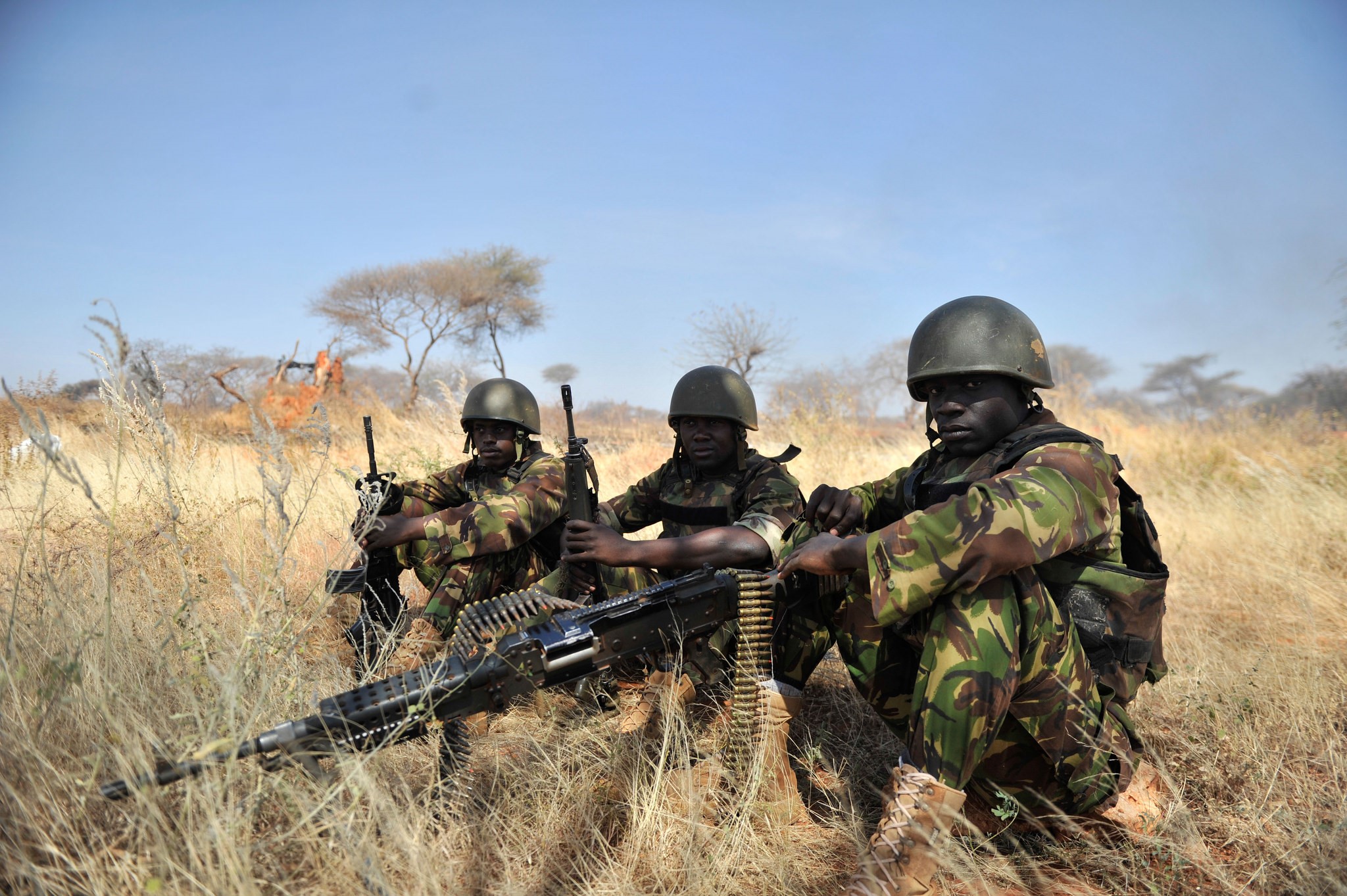 Kenyan Troops in South-Western Somalia
With a mandate calling for support of the unpopular Transitional Federal Government (TFG), Somalia's insurgents regard the AU peacekeepers as being little better than the Ethiopian occupation force. There have been frequent and sometimes fatal attacks on Ugandan and Burundian troops, the only countries so far to actually send soldiers to Somalia as part of their commitment to the AMISOM peacekeeping force. TFG forces appear unlikely to be able to pick up the slack once Ethiopian troops have fully withdrawn – they are sporadically paid, have little commitment to the TFG and devote much of their effort to looting merchant warehouses in Mogadishu. Under pressure, most of these forces can be counted on to go home or defect to Islamist formations.
Shaykh Hassan Dahir Aweys, leader of the Eritrean-based faction of the Alliance for the Re-liberation of Somalia (ARS), warned last week that efforts to replace Ethiopian occupation troops with Kenyan peacekeepers would "meet with nothing but failure… We will fight them like we fought the Ethiopians" (Radio Shabelle, November 20). Aweys has spoken in the past of forming a "greater Somalia," incorporating the Somali minorities living in eastern Ethiopia and northeastern Kenya. As Islamic Courts Union (ICU) chairman, Aweys once declared, "We will leave no stone unturned to integrate our Somali brothers in Kenya and Ethiopia and restore their freedom to live with their ancestors in Somalia" (AP, November 19, 2006).
Responding to reports that Kenyan troops would attempt to occupy south Somalia as far north as the port of Kismayo (currently occupied by Somali Islamist forces), the Shaykh said, "I'm specifically warning Kenya. I was told that Kenya said that it will send troops [to Somalia]… I warn Kenya that it should not pay any interest to this matter, because Ethiopia has already failed. I understand that Kenya is planning to deploy up to Kismayo town. Kenya should not burn the thatched house that it is living in" (Radio Shabelle, November 20).
Rejecting the position taken by rival Djibouti-based ARS leader Shaykh Sharif Ahmad, who has entered into an agreement with the TFG, Shaykh Aweys asserted that his faction would continue the campaign against foreign occupation: "We still stick to our position, we stick to fighting, we stick to holy war, we stick to liberation" (Radio Shabelle, November 20).
A spokesman from the Shabaab administration of Kismayo, Abdigani Shaykh Muhammad, announced, "If Kenya sends soldiers into Somalia, then we will recognize Kenya as an invader like Ethiopia, Uganda and Burundi" (Radio Garowe, November 20). Al-Shabaab is the most radical of the Islamist factions fighting the TFG and the Ethiopian troops supporting it. Its leader, Shaykh Mukhtar Robow "Abu Mansur," has pledged his allegiance to al-Qaeda, but there is little evidence of operational ties as of yet. Abu Mansur threatened to bring a "jihadi war" to Kenya in October, over Kenya's provision of military training to 10,000 TFG recruits (see Terrorism Focus, November 5). Al-Shabaab is also angered by Kenya's practice of extraditing Somali nationals to Ethiopia, where they are detained and questioned by U.S. intelligence. The Shabaab spokesman warned that the Islamists will "wage attacks inside Kenya" if the deployment to Somalia goes ahead.
With the TFG now exerting control over only parts of Mogadishu and Baidoa (and in daylight hours only), the gradual withdrawal of Ethiopian forces threatens to spell the end for the TFG, many of whose members already prefer the safety of Nairobi to a precarious existence in the Somali capital. The urgency of the situation was reflected in a three-day visit last week to Addis Ababa by the U.S. AFRICOM Commander, General William "Kip" Ward. The General held meetings with Ethiopian Prime Minister Meles Zenawi and numerous Ethiopian military commanders (AllPuntland.com, November 20; Ethiopolitics.com, November 21).
TFG President Abdullahi Yusuf admits that his government is "on the verge of a total collapse." The government has failed to name a new cabinet, and the President is unable to work with the Prime Minister. Referring to the rapid fall of town after town to advancing Islamist forces, Yusuf warned, "It is every man for himself if the government collapses… The Islamists kill city cleaners, they will not spare legislators" (al-Jazeera, November 16).
This article first appeared in the November 26, 2008 issue of the Jamestown Foundation's Terrorism Focus