Andrew McGregor
June 23, 2011
A continuing wave of extremist violence sweeping northern Nigeria arrived in the Nigerian capital of Abuja on June 16, when a massive car bomb was only narrowly prevented from destroying the national police headquarters and most of the service's senior leadership. The attack was the most shocking of an almost daily series of bombings, random murders and targeted assassinations being carried out by the largely Borno State-based Boko Haram movement.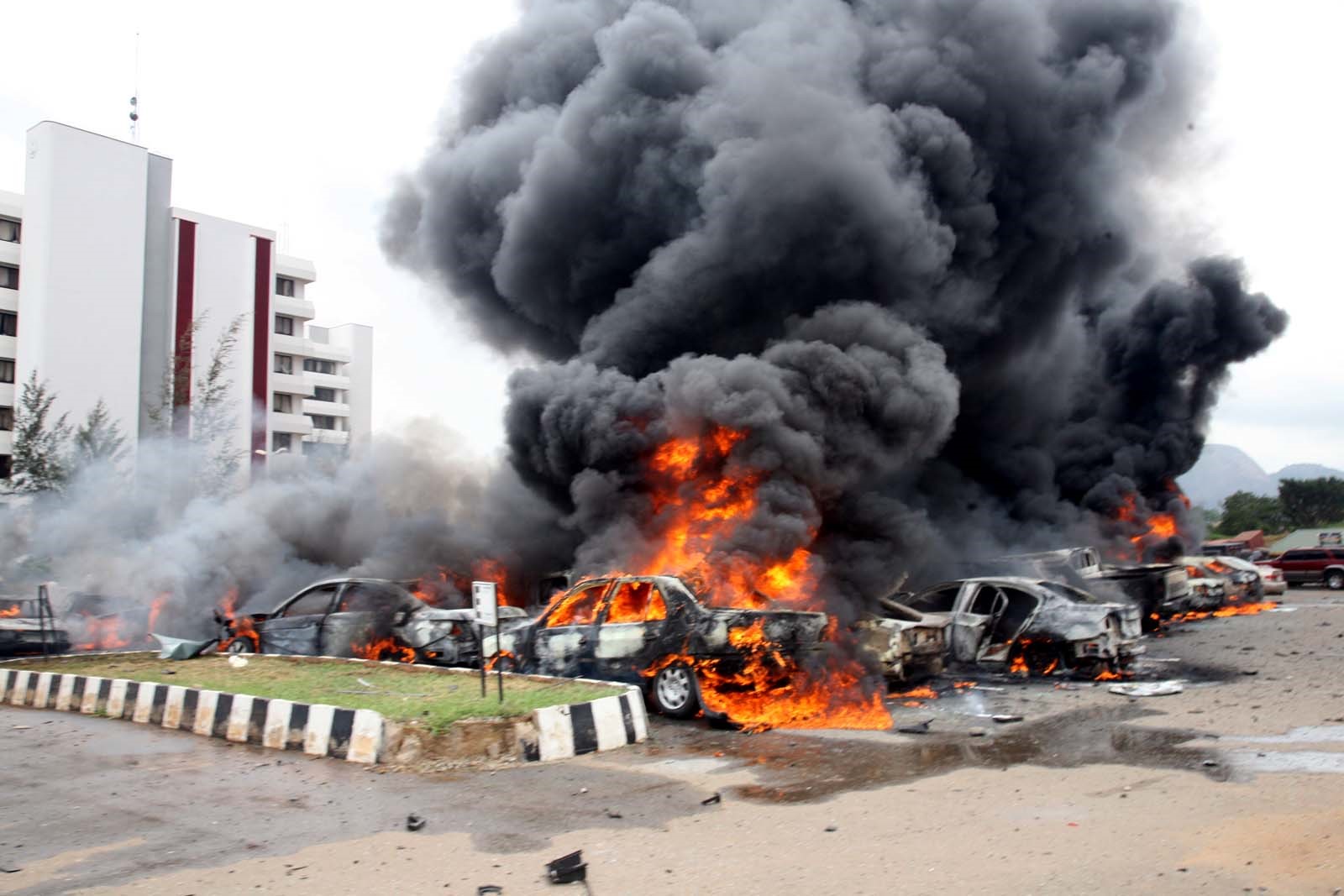 Bombing at Abuja Police Headquarters
The incident occurred when a Honda Civic began to follow closely behind a police convoy bringing the Inspector General of Police, Hafiz Abubakr Ringim, and a number of other important police officials to the Abjuja police headquarters. Thinking the vehicle was part of the convoy, guards allowed the Honda Civic into the compound. The two occupants of the car were allegedly carrying fake police identity cards. A quick-thinking traffic officer inside the compound diverted the car into a secondary lot, preventing it from exploding beside the building and likely preventing an enormous loss of life. As it was, the blast killed the attackers, the traffic policeman, three other men and destroyed some 40 cars immediately, with over 50 more incurring severe damage. The powerful blast broke windows and upended equipment throughout the seven-story police headquarters (Vanguard [Lagos], June 19). Examination of CCTV footage suggested that the car bomb may have been detonated by a timer or by remote control rather than being a suicide bombing (This Day [Lagos], June 20).
U.S. experts were called in to examine and identify the type of explosive used. A team of Abuja-based detectives raided a Boko Haram headquarters in the Borno capital of Maiduguri on June 20, arresting 58 suspects who were alleged to be celebrating the attack on the police headquarters. Among those arrested were a number of Somalis, Sudanese and Nigeriens. Some of the suspects claimed to have been coerced into Boko Haram membership (Nigerian Tribune, June 20).
Though the attackers failed to kill the police Inspector General, Ringim faced new problems after the bombing as many began to call for his resignation given his failure in preventing Boko Haram strikes (Nigerian Tribune, June 19). Nigerian president Goodluck Jonathan is under pressure from some quarters to implement sweeping changes in the police leadership.
The report of foreign nationals being arrested in Maiduguri fueled growing suspicions in some quarters that the Abuja bombing was made possible by the infiltration of foreign militants and organizations such as al-Qaeda. Sudan, Somalia and Iran have all been mentioned as possible sources of funding for Boko Haram, though no evidence of such funding has emerged as yet (Business Day [Lagos], June 20). Security services have been asked to monitor Sudanese and Somali nationals throughout Nigeria (Vanguard, June 20). Others suspect local politicians are sponsoring the militants as a means of disrupting security after losing in the April elections (This Day, June 20).
Boko Haram extremism is even becoming a danger to Wahhabist clerics, such as Ibrahim Birkuti, who was killed by motorcycle-riding gunmen outside his home in Biu (200 km south of Maiduguri) on June 7. Imam Birkuti had been critical of Boko Haram's violence (BBC, June 7). A sect spokesman recently said the group was also responsible for last month's murder of the brother of the Shehu (ruler) of Borno, Alhaji Abubakar Ibn Garbai, one of Nigeria's most important Islamic leaders. Boko Haram has accused the Shehu of playing a role in the extrajudicial killing of sect members following the July 2009 Boko Haram uprising. The Shehu has denied any role in the killings (BBC, June 7; Vanguard, June 17).
Other targets have been more predictable. On June 10, Boko Haram gunmen killed the pastor of the Church of Christ in Nigeria and the church's assistant secretary in Maiduguri (Vanguard, June 10). Four people were killed in a Boko Haram raid on an unregistered drinking place in a suburb of Maiduguri on June 12 (Next, June 14). The attack on the Maiduguri beer drinkers came only a few hours after Boko Haram released a list of conditions that must be met before the group will enter into a dialogue with the government. The Hausa language demands included:
•    Unconditional release of all imprisoned members of Boko Haram.
•    The immediate prosecution of all those involved in the killing of Boko Haram leader Malam Muhammad Yusuf after he was taken into police custody in July 2009.
•    An investigation into the alleged poisoning of Boko Haram suspects awaiting trial.
•    Implementation of Shari'a in the twelve northern states of Nigeria. These states adopted Shari'a codes in 1999, but their current application is not strict enough to meet Boko Haram's standards (Next, June 14).
More attacks followed the demands. Assailants on motorcycles sprayed a relaxation center in the Gomari district of Maiduguri with gunfire on June 19, killing five people (Next, June 20). On June 20, simultaneous attacks on a bank and a police station in Katsina by gunmen on motorcycles resulted in the deaths of five policemen and one private security guard. Boko Haram was a leading suspect in the attack, though their participation could not be confirmed (Daily Sun [Lagos], June 23). Unexploded bombs have also been found at a number of locations in the north (The Nation, June 14).
Boko Haram has clearly expanded its list of targets to now include Christians, traders from southern Nigeria, politicians, security officials, traditional leaders and Islamic clerics who dare to criticize the movement (This Day, June 17).
Nigerian president Goodluck Jonathan has described a "carrot and stick approach" as the government's policy in dealing with Boko Haram militants, saying he was open to dialogue with the group. Others have called for a general amnesty, as was applied to militants operating in the Niger River Delta (Next, June 19; Vanguard, June 20). Meanwhile, the government has begun to deploy a new Special Joint Military Task Force in Maiduguri. The task force will draw on security personnel from the military, police and state security services (Vanguard, June 19).
This article first appeared in the June 23, 2011 issue of the Jamestown Foundation's Terrorism Monitor.