Andrew McGregor
July 1, 2010
At a meeting in Oran attended by the Algerian military's top commanders and leaders of Algeria's National Gendarmerie, Armed Forces chief-of-staff Major-General Ahmad Gaid Salah explained the next phase of Operation Ennasr ("Victory"), a nation-wide counterterrorist offensive.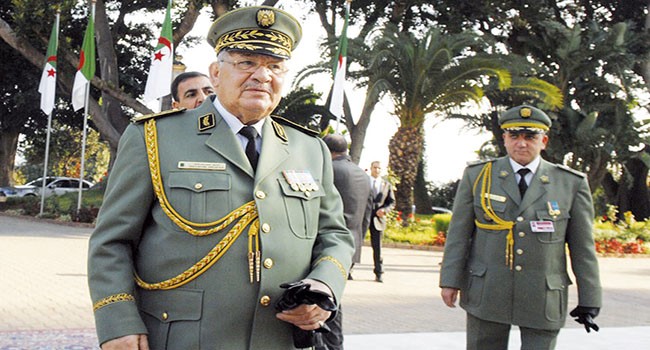 Major-General Ahmad Gaid Salah
Commanders of various military sectors were ordered to pursue terrorists belonging to al-Qaeda in the Islamic Maghreb (AQIM) directly into their well-concealed camps. Saying, "We are determined to put an end to the terrorist groups via the mobilization of all legal means," the General demanded greater cooperation between the various geographically-based military commands of Algeria's Armée Nationale Populaire (ANP) and improved coordination with national intelligence services (La Liberté [Algiers], June 24). Since Operation Ennasr began, a large number of AQIM commanders have been captured or surrendered, with Algerian intelligence already benefitting from information gleaned from interrogations.
Though AQIM has experienced difficulty recruiting suicide bombers, Algeria's security forces are determined to prevent a repeat of the devastating suicide bombings that struck Algiers in 2007. One of the AQIM commanders seized in Boumerdès revealed the existence of a plot to carry out a suicide bombing in Algiers on June 17 or 18, but was unable to name the would-be bomber or the exact site of the bombing – under AQIM protocol, these details would be known only to the bomber and his handler. Drivers entering Algiers were subjected to extensive searches and examinations of papers at two separate roadblocks on roads entering the city – the first run by the Gendarmerie and the second run by the local police. Surveillance cameras, sniffer dogs and explosives detectors were all deployed at the checkpoints, which subjected commuters to hours-long traffic jams (El Watan [Algiers], June 21).
The Ministry of Defense has also announced a significant expansion of the National Gendarmerie (al-Dark al-Watani), which plays an important role in finding and eliminating terrorist cells in rural areas. Before the end of the year, 9,000 new gendarmes of various ranks and academic backgrounds will be added to the present 60,000 man paramilitary. A new security communications network called Ronital is being introduced to Algiers, Blida Province and the Tizi Ouzou region of the Kabyle Mountains, areas where counterterrorism efforts are most active. The unified network will ensure effective transfers of sound, images and electronic messages with the central command even in difficult conditions and terrain (El-Khabar [Algiers], June 24).
This article first appeared in the July 1, 2010 issue of the Jamestown Foundation's Terrorism Monitor