Andrew McGregor
July 30, 2009
France's growing involvement in Somalia suddenly drew attention when two French intelligence agents were kidnapped from a supposedly secure hotel in Mogadishu on July 14. The men, posing as journalists, were eating breakfast at Mogadishu's Sahafi Hotel when gunmen wearing Somali government uniforms burst into the restaurant and seized them. The success of the operation and the absence of any resistance from security personnel led some to speculate it was an inside job.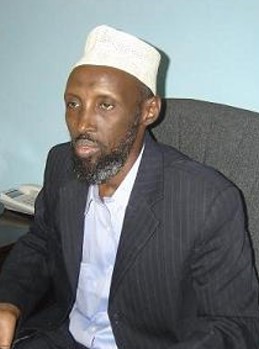 Somali Interior Minister Shaykh Abdulkadir Ali Omar
Among those arrested were a number of hotel staff and bodyguards belonging to the Minister of the Interior, Shaykh Abdulkadir Ali Omar. A former deputy chairman of the Islamic Courts Union (ICU) before the Ethiopian invasion of December 2006, and still a leader of his own militia, Abdulkadir's appointment as Somalia's new interior minister was controversial. Abdulkadir, however, is loyal to President and former ICU chairman Shaykh Sharif Shaykh Ahmad and served as the ICU's operations commander during the Ethiopian invasion (Reuters, February 21). Shaykh Abdulkadir was wounded and his personal secretary was killed in a targeted IED explosion near Mogadishu's Bakara market in March (Garowe Online, March 27). No one claimed responsibility for the assassination attempt.
Abdulkadir's bodyguards were accused of snatching the French agents before turning them over to Somali insurgents, but a government commission of inquiry said a few days later that they had found no evidence for the involvement of government officials (Horseed Media, July 21). The hotel, favored by Transitional Federal Government (TFG) officials, is located in an area tightly controlled by government troops and Ugandan and Burundian peacekeepers belonging to the African Union Mission in Somalia (AMISOM).
Whether the abducted men were then turned over (or sold) to the Islamist Hizb al-Islam militia of Shaykh Hassan Dahir Aweys remains uncertain. Prime Minister Omar Abdirashid Ali Sharmarke maintains the two were abducted by Hizb al-Islam operatives (Shabelle Media Network, July 16). At some point during their transportation to a safe location, Hizb al-Islam's al-Shabaab allies turned up and demanded custody of both prisoners. Hours of heated argument followed, with al-Shabaab eventually being persuaded to take only one of the pair (Shabelle Media Network, July 16; AFP, July 16).
A Somali news site reported receiving information that the two men had been transported to Lower Shabelle in a convoy of battle wagons (armored pick-up trucks) where they were turned over to the forces of Shaykh Hassan Abdullah Hirsi al-Turki for concealment under heavy guard in the forests of the Juba region (AllPuntland, July 20). Al-Turki is an Islamist warlord who has close ties to al-Shabaab.
By some accounts, the agents will be tried for spying under Islamic law, though senior commanders have said the penalty may be a "fine," suggesting the insurgents are badly in need of funds as American military equipment continues to flow to the TFG (Midnimo.com, July 19).
Eventually French officials admitted the two men were not journalists; the secretary-general of the Elysée Palace (office of the French president) declared that the men were provided by the Defense Ministry "under international authority, in the preparation of a security unit for the Somali president… They were the precursors of a training unit for the praetorian guard" (AFP, July 19).
Earlier this month, France's U.N. representative told the Security Council: "The training of Somali security forces is key to building the country's military capacity." [1] France started training an initial force of 150 TFG soldiers at the French military base in Djibouti this month, two months ahead of schedule (AFP, July 21). They are the first of a battalion of 500 men scheduled to receive military training. France has sought the participation of other European nations in training as part of a full-fledged mission under the European Security and Defense Policy (ESDP), but other European parties have expressed concern about whether the trained troops would remain loyal to the TFG after returning to Somalia (EuropeanVoice.com, May 20).
Besides training TFG troops in Djibouti, the French military has made its presence felt in Somalia in other ways. A joint French-Spanish naval mission, "Atalante," has been providing security against piracy in the Gulf of Aden since December 2008 and France has also provided military training to the Ugandan and Burundian troops of AMISOM, who are now battling al-Shabaab and Hizb al-Islam fighters in Mogadishu.
The choice of the intelligence agents to disguise themselves as journalists has drawn condemnation from Somalia's much-threatened journalist community. Eight Somali journalists have been murdered in the last two years and scores beaten or imprisoned. The Somalis fear such impersonations will only fuel the popular conception of journalists as agents of foreign powers.
Note
[1] Security Council: Somalia – Statement made by Mr. Jean-Maurice Ripert, Permanent Representative of France to the United Nations, July 9, 2009
www.franceonu.org/spip.php
This article first appeared in the July 30, 2009 issue of the Jamestown Foundation's Terrorism Monitor