Andrew McGregor
May 26, 2009
Afghan Taliban spokesman Qari Yusuf Ahmadi has delivered the movement's reaction to Washington's decision to make changes in the command of the U.S. military effort in Afghanistan (Sawt al-Jihad, May 12). Responding to President Obama's May 11 replacement of General David McKiernan with former Joint Special Operations Command Chief Lieutenant General Stanley McChrystal and the appointment of a former general, Karl Eikenberry, as the new U.S. ambassador in Kabul, the Taliban spokesman suggested the changes were a sign "the Americans and their allies have totally lost their way as far as how to win the war in Afghanistan and are increasingly losing patience and focus."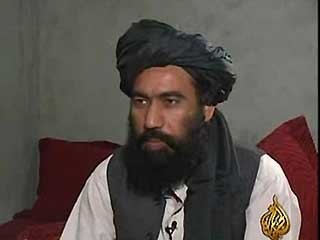 Taliban Spokesman Qari Yusuf Ahmadi
Qari Yusuf claimed that seven years of warfare had only resulted in "an increase in [the occupiers'] economic burden and total failure on the battlefield." He went on to suggest the Taliban's assessment was one shared by "international media and experts," who were predicting total American defeat in the military and political fields. "At present, the enemy is in a state of panic throughout the country, rural areas have come under the control of the mujahideen and the enemy supply routes are under our watchful eyes. It seems that the latest urgent measures and leadership changes by the enemy are the result of this pressure."
According to Qari Yusuf, it was only some months ago that there was steady discussion by American officials and the Western media of the failures and corruption of the Hamid Karzai government in Kabul, yet as elections approach, the U.S. has realized there is "no worthy political leadership in Afghanistan," with the result that they are preparing Karzai and his corrupt team for another term in office. This political failure has led to changes in the political and military leadership of the American presence in Afghanistan.
With regard to the change in military command, Qari Yusuf pointed out, "In the past four years [the Americans] have repeatedly changed their military commanders – with every new commander boasting about new strategy and military experience. However, with the passing of time, it has been made clear to them that this war could not be won… Just like the former Soviet Union, they will be forced to admit to the realities, but it will be too late by then and many of their generals would have lost their lives and careers."
This article was first published in the May 26, 2009 issue of the Jamestown Foundation's Terrorism Monitor.