Andrew McGregor
November 19, 2009
The Tehrik-e-Taliban Pakistan (TTP) have filled the post of Taliban chief in the strategically important Khyber Agency following a meeting in Orakzai Agency (The News [Islamabad], November 10). The new leader is Tariq Afridi, the notorious Taliban commander based in Darra Adam Khel.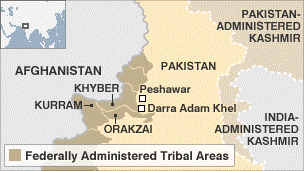 (BBC)
Afridi will replace former Khyber Agency Taliban commander Kamran Mustafa Hijrat (a.k.a. Muhammad Yahya Hijrat; a.ka.a Mustafa Kamal Kamran Hijrat), who was arrested by Pakistani security forces in December 2008. Hijrat was responsible for planning numerous attacks on NATO supply convoys in Peshawar and along the dangerous highway through the Khyber Pass. It can be expected that Afridi will now take over these operations, which are intended to pressure U.S. and Coalition forces in Afghanistan by cutting off their supply lines.
From his base at Darra Adam Khel, Afridi has been responsible for attacks on security forces in Orakzai Agency as well as suicide bombings in Peshawar, Kohat and the Punjab. He is best known outside of Pakistan for his kidnapping and murder of Polish engineer Petr Stanczak in 2008. Stanczak was beheaded by his captors in February 2009 when Islamabad refused to release certain Taliban prisoners in exchange for the hostage. A cash offer was made but refused by Afridi (Dawn [Karachi], April 26).
Despite his rise through the Taliban ranks, Tariq Afridi nonetheless faces opposition from within his own tribe. Last April a lashkar [ad hoc militia] of over 300 mostly Afridi tribesmen was raised to drive the Taliban commander out of Darra Adam Khel. Most members of the lashkar had previously been under Tariq Afridi, but left his group over killings of security personnel. Despite some clashes, the lashkar did not succeed in their mission (Dawn [Karachi], April 23).
This article first appeared in the November 19, 2009 issue of the Jamestown Foundation's Terrorism Monitor