Andrew McGregor
August 12, 2008
Despite the existence of a two-month-old peace agreement between Pakistan's government and tribal militants in the North-West Frontier Province (NWFP), heavy fighting in the NWFP's Swat valley region is now in its second week. More than 200,000 people have been displaced by fighting with the Tehrik-e-Taliban Pakistan (TTP) (Dawn [Karachi], August 10). The failed peace agreement called for a withdrawal of government security forces from the NWFP and the implementation of Shari'a law. As part of the growing tensions between Pakistan and India, Pakistan's security agencies now claim that the majority of the weapons used by the militants are made in India (The Nation [Islamabad], August 6).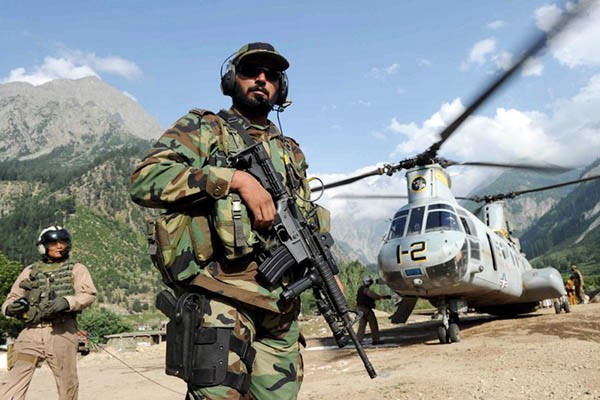 Pakistani Troops Deploy in Swat (A. Majeed/AFP)
Local militants have focused on the destruction of health clinics, girls' schools, and bridges with planted explosives. As many as 70 schools have been destroyed, leaving 17,000 students without educational facilities. Teachers have been assassinated and several people beheaded, including a Shiite bank employee (Associated Press of Pakistan, August 10; BBC, August 6). Even tourist resorts, a backbone of the local economy in the scenic Swat valley, have been destroyed.
Pakistan's military, while coming under criticism for the growing number of civilian casualties, also appears to be conducting a "hearts and minds" operation, providing residents of Swat with medicine and food free of cost, freeing prisoners, and compensating property owners for the destruction of their buildings (Associated Press of Pakistan, August 4; The News [Islamabad], August 5). Local jirgas (assemblies of elders) have appealed to both the Taliban and government forces to cease combat in populated areas (Nawa-e Waqt [Rawalpindi], August 6).
Eight policemen were killed when several busloads of militants attacked a police station in Swat's Buner District. TTP spokesman Muslim Khan stated "We will continue targeting all those police officials who are taking part in the ongoing military operation against us" (Daily Times [Lahore] August 10; Dawn, August 10).
Taliban commander Ali Bakht, a close aide to regional Taliban leader Maulana Fazlullah, was killed together with 13 other militants on August 6 during a five-hour battle after Pakistan's military blew up his house (Dawn, August 7; Daily Times, August 6). Ali Bakht was one of the chief negotiators of the peace deal reached with the NWFP's ruling Awami National Party (ANP) and is one of a number of Taliban commanders to be killed as artillery fire and helicopter gunships pound Taliban positions.
Though the Taliban insist their casualties in Swat are slight, threats to initiate a wave of suicide bombings across Pakistan's major cities unless the military offensive is called off suggest the Taliban is feeling pressure. TTP spokesman Maulvi Omar claims a squad of suicide bombers aged 15 to 20, including young women, has been assembled for this purpose: "A large number of women have been approaching us for the past few years and consistently wishing to be given an opportunity to sacrifice their lives for a noble cause" (The News, August 6).
There are indications both the provincial government and the Taliban tried to head off the offensive by offering to enter into negotiations, but Pakistan's military leadership was fed up with repeated violations of the existing agreement, in particular the murder of three military intelligence agents and the kidnapping of 30 members of the paramilitary Frontier Corps (The News, August 5). The Army has now decided driving the Taliban militants from the Swat valley is the only solution (Daily Times [Lahore], August 5).
Fighting has also erupted in numerous other parts of the NWFP and the Federally Administered Tribal Agencies (FATA), including the Bajaur Agency, where security forces claim over 100 militants have been killed in the last four days (Frontier Post [Peshawar], August 11).
This article first appeared in the August 12, 2008 issue of the Jamestown Foundation's Terrorism Focus