Andrew McGregor
AIS Special Report, July 23, 2017
The Borku region of Chad is a barren desert wilderness, inhabited today by only the hardiest of nomads. In the midst of this region is an old French colonial-era fort at a place known as Koro Toro, a reminder of the days of the early 20th century when French Legionnaires and Senegalese Tirailleurs fought bitter battles with the Tuareg and Arab warriors of Libya's Sanusi order for control of Borku.
Today that fort now serves as one of the world's most feared prisons, a place of searing heat and daily torture where inmates receive little in the way of food or water and have no expectations of health care. Many of its inhabitants are political prisoners who dared challenge the rule of Chad's President Idriss Déby Itno and his family. Those who take up arms against the regime are classed as "mercenaries" and very few of those, if any, have been through any kind of judicial process before being sent to Koro Toro for a slow death.  As President Déby once remarked, "We do not send mercenaries to Koro-Toro to feed or care for them" (Tchadhanana, November 13, 2009).
One of the most famous of Koro Toro's condemned is "General" Abdel Kader Baba Laddé, a Fulani warlord whose name means "Father of the Bush" in the Fulani language. [1] Baba Laddé faces a litany of charges related to his activities in the Chad-Central African Republic (CAR) borderlands, including war crimes, crimes against humanity, murder, rape, mutilation, arson, arms-trafficking and the kidnapping of children for use as soldiers.
On July 21, 2017, Baba Laddé's lawyers held a press conference in the Chadian capital of N'Djamena to protest their client's continued detention at Koro Toro without trial since January 2015. The advocates claimed there is never any progress made on his file, adding that Baba Laddé is now very ill (APA News, July 21, 2017).
Warlord in the Borderlands
Baba Laddé began his career modestly as an NCO in Chad's gendarmerie. After leaving the gendarmerie, he assembled a group of bandits in 1998 under the guise of a political movement opposing President Déby's Chadian regime, called the Front Populaire pour le Redressement (FPR). The former NCO declared himself a "general" and further adopted the pretension of being the leader of a unified Fulani nation stretching from the west coast of Africa to the Red Sea (Jeune Afrique, December 26, 2011). Nonetheless, he was driven from Chad in 2008 and entered the lightly governed region of the northern CAR, a traditional zone of operations for Chadian freebooters, fugitives, marauders and slavers.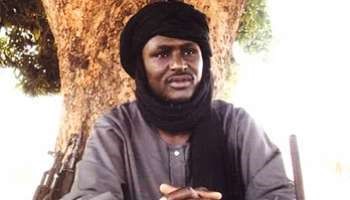 General Abdel Kader Baba Laddé (RFI)
Baba Laddé's constant clashes with Chadian forces along the border were unwanted by the CAR government, which allowed Chadian operatives working under the Chadian military attaché in Bangui to abduct and deport the warlord to Chad in October 2009. He reappeared in Cameroon in August 2010, claiming to have escaped ten months of torture in Chad. He vanished in November 2010, only to emerge once more in the CAR in January 2011. Baba Laddé then shifted between South Sudan and the CAR, proclaiming his new mission of taking down the governments of both Chad and the CAR.
In July 2012, Chadian president Idriss Déby described Baba Laddé as "a Chadian ex-gendarme who became a route-cutter [highwayman] and ivory trafficker. This is not a rebel, as certain media pretend, but a highway bandit. This type of person does not constitute a menace for Chad. For the CAR [however], it's possible" (Jeune Afrique, July 23, 2012).
Despite this, Chadian and CAR authorities negotiated a deal for the legal return of the warlord to Chad in September 2012. In January 2013, he was appointed a special advisor to Chad's prime minister, but conflict between the two led to Baba Laddé fleeing N'Djamena and making the rounds of neighboring countries.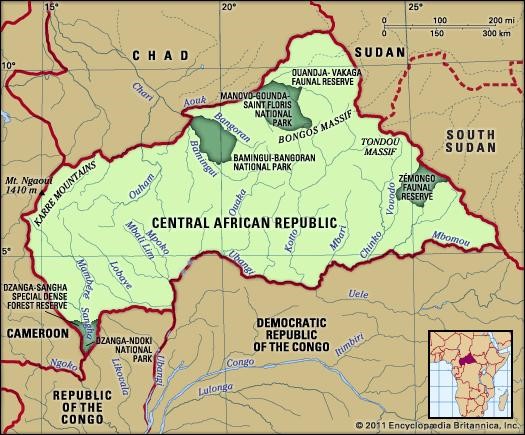 In January 2014, Baba Laddé issued a statement claiming Chadian authorities had tried to organize his arrest and extradition from his refuge in Niamey (capital of Niger), but succeeded only in the arrest of his aide-de-camp (Alwhida Info [N'Djamena], January 27, 2014).
Yet another deal saw Baba Laddé's return to N'Djamena and his appointment in July 2014 as prefect of Grande Sido, a department of Moyen-Chari province along the CAR border. After being named prefect, Baba Laddé promised to "tackle the task of developing this territory, supporting its people and helping the refugees of the CAR" (Alwhida Info [N'Djamena], July 25, 2014). However, he was dismissed in November 2014 over the opposition of locals who felt he was doing a good job and returned to the bush in the northern region of the CAR just narrowly ahead of soldiers who had been sent to arrest him. His wife and bodyguard, who had been left behind, were brutally assaulted by soldiers angry at being given the slip. A few weeks later, he was detained by the UN peacekeeping force MINUSCA and turned over to Chadian officials by the CAR on January 2, 2015. [2] Days later Baba Laddé was sent to Koro Toro prison and has not emerged since.
Baba Laddé's Successor
After September 2012, Baba Laddé's role in the CAR was much diminished and leadership of the FPR passed into the hands of his second-in-command, Fulani "General" Ali Darassa Mahamat. The FPR continued to be widely viewed in the CAR as a "foreign" group from Chad, as are the Fulani people in general.
In 2013, Darassa led the majority of the FPR into the Séléka coalition, a largely Muslim assembly of various rebel groups whose combined strength allowed them to overthrow the CAR government in March 2013. The coalition's factions made little pretense of trying to govern the country, instead running wild without restraint, directing much of their violence against Christian communities. The result was the creation of vigilante Christian "anti-Balaka" militias and the outbreak of a disorganized but vicious civil conflict that UN peacekeepers struggled to contain.  Séléka was officially dissolved in September 2013, which failed to stop the violence, but did lead to a realignment of Séléka's constituent parts as a result of ethnic rivalries and disputes over control of revenues derived from resources.
Ali Darassa regrouped Baba Laddé's FPR as the Union pour la Paix en Centrafrique (UPC) in September 2014. Officially, the UPC seeks autonomy rather than independence for the Muslim north. The UPC has a fierce rivalry with two other Muslim-majority movements in the CAR:
The Front Populaire pour la Renaissance de la Centrafrique (FPRC) – One of the main groups to emerge from the Séléka split, the FPRC is commanded by Noureddine Adam, who seeks independence for the CAR's Muslim north, believing it is impossible for Muslims and Christians to live together. The group is largely composed of members of the Gula and Runga ethnic groups. The FPRC now cooperates with Christian anti-Balaka fighters against the UPC.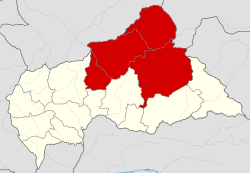 Area of the Republic of Logone/Dar al-Kuti
An FPRC spokesman declared the establishment of the independent Muslim state of Logone in the northeast CAR with Bambari as its capital in December 2015. The name was soon changed to "Dar al-Kuti," after a 19th century Muslim slave-raiding state under the influence of the Chadian Sultanate of Wadai. In its later days under Sultan Muhammad al-Sanusi, Dar al-Kuti became heavily reliant on slave-labor for agricultural and other purposes. The Sultanate quickly dissolved when the French consolidated their control of the region after al-Sanusi's death in 1911 and once profitable plantations collapsed as their slave labor fled to the bush.
The FPRC's General Ibrahim Alawa claims the movement's problem is not with Fulani civilians, but with Ali Darassa: "He has decided to be King of the Fulani and wants to make them into an army" (IRIN News, May 18, 2017).
The Mouvement Patriotique pour la Centrafrique (MPC) – Led by General Mahamat al-Khatim, the MPC split from the FPRC in July 2015, but still cooperates with the FPRC when it is to its benefit. Both the MPC and the FPRC are known for murderous attacks against civilians, including vulnerable IDPs. The groups fund themselves in part through "taxes" on Fulani herders using migration routes through territories under their control. [3]
Muslim Militias Battle for Dominance
In 2013, the UPC took control of much of the south-central Ouaka Province, a region of forest savannah. From its base around the town of Bakala, Darassa's militia has committed repeated massacres and atrocities against local civilians since November 2016. The US chargé d'affaires in the CAR demanded Darassa's arrest in August 2015 following assaults on civilians at Bambari (the CAR's second-largest town), though MINUSCA declined to take action.
Gunmen from all the ex-Séléka factions feud over control of diamond and gold-mining areas, though they don't engage in mining themselves, preferring to let others do the hard work before "taxing" them. Over 400,000 people are now displaced in the CAR, with many Muslims actually taking the risk of fleeing into Christian-controlled regions to avoid the UPC.
Clashes between the FPRC and UPC in April 2017 over control of Ouaka once more led to civilian losses as Fulani herders or suspected Gula and Runga supporters of the FPRC were attacked by gunmen. After an ultimatum from MINUSCA, Darassa led his men out of Bambari on February 21, 2017.
Conclusion
The CAR is an unfortunate victim of the warlord-ism that plagues neighboring South Sudan and other African regions. Exploitive by nature and an opponent of all efforts to establish central authority at their expense, the warlords carry on with impunity. Efforts to promote development, education or health initiatives are unwanted and threatening innovations in the regions they rule.
Even when one warlord, such as Baba Laddé, can finally be removed, there are others ready to immediately fill his place. The limited mandates provided to UN peacekeeping missions and broader international disinterest ensure the warlords' survival, even as their activities provoke communal violence against the communities they pretend to defend. The consequence, ultimately, will be a growing degradation of once self-sustaining communities and a greater outward flow of desperate, poorly educated and largely unemployable migrants to Western nations that will find it increasingly difficult to accommodate such levels of migration without dramatic changes to their social and economic structure.
Notes:  
The Fulani are also known as Peul or Fula. For a profile of Baba Laddé's career up until April 2012, see: "Central Africa's Tribal Marauder: A Profile of Fulani Insurgency Leader General Abdel Kader Baba Laddé," Militant Leadership Monitor, April 30, 2012, https://www.aberfoylesecurity.com/?p=455; For a broader view of the violent clashes between Fulani herders and other ethnic groups across the Sahel and its political implications, see: "The Fulani Crisis: Communal Violence and Radicalization in the Sahel," Combating Terrorism Center at West Point CTC Sentinel (Volume 10, Issue 2), February 22, 2017, https://www.aberfoylesecurity.com/?p=3881
Multidimensional Integrated Stabilization Mission in the Central African Republic (MINUSCA), with a strength of 13,000 men.
Human Rights Watch, "Central African Republic: Executions by Rebel Group," February 16, 2017, https://www.hrw.org/news/2017/02/16/central-african-republic-executions-rebel-group