Andrew McGregor
March 31, 2011
For the first time in his 11 years as ruler of Syria, President Bashar al-Assad has deployed elements of the Syrian military against a domestic target – the protesters that had taken to the streets of the Syrian port of Latakia to demand political and economic reforms (Reuters, March 28). The insertion of the military on March 27 came as official sources reported the death of 12 individuals in Latakia on March 26, including demonstrators and security officials (Syrian Arab News Agency [SANA], March 27).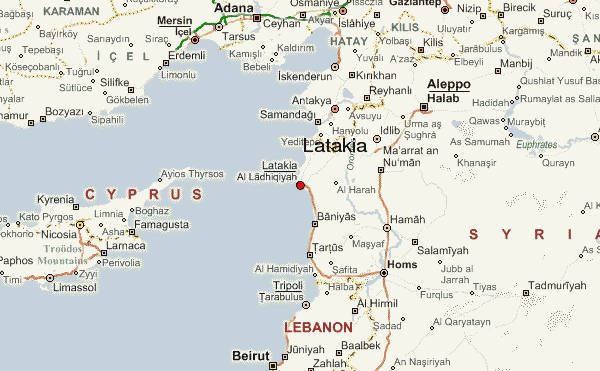 Though the region surrounding Latakia is dominated by members of the ruling Alawite faith, the city itself (350 km northwest of Damascus) is a mix of Alawites, Sunni Muslims and Christians. Since a 1966 internal coup within the Ba'ath Party, Alawites have dominated Syrian politics despite being a national minority that many orthodox Muslims believe has only superficial connections to Islam. Alawites continue to dominate the highest ranks of the Syrian military and the intelligence services.
Latakia was recently in the news as the port where two Iranian naval ships (the frigate Alvand and the supply ship Kharg) docked after passing through the Suez Canal. While in Latakia, Iranian Admiral Habibollah Sayyari and Syrian naval commander Lieutenant General Talib al-Barri signed an agreement of mutual naval cooperation (Voice of the Islamic Republic of Iran Radio 1, February 26). The small Syrian Navy consists of two frigates, at least ten missile attack craft and a host of smaller craft. Latakia is one of four ports used by the Syrian Navy.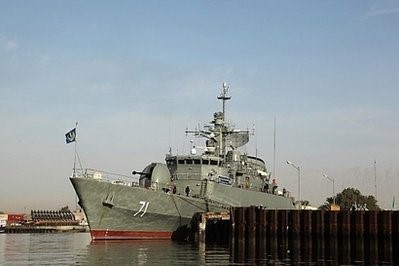 Iranian Frigate Alvand Docked at Latakia
Syrian officials were incensed by remarks from Muslim Brother and well-known Islamic scholar Shaykh Yusuf al-Qaradawi, who told a Doha mosque congregation that Arab regimes such as Syria's were failing to learn from each others' mistakes, continuing repressive policies despite the "train of the Arab revolution" having arrived in Syria. Al-Qaradawi described Assad as "a prisoner of his corrupted entourage" and predicted that the Syrian army would play "a decisive role" in determining Syria's future (Gulf Times, March 26). Assad's media advisor responded to the shaykh's charges by saying: "'According to all Koranic or faith logic, it is not up to a cleric to incite sedition; and this is not one of the tasks of men of religion at all" (al-Watan [Damascus], March 27).
The Assad regime has taken extraordinary lengths to pin responsibility for the disturbances on a host of foreign sources rather than acknowledge discontent within Syria. On March 11, Syrian security forces reported seizing a shipment of arms from Iraq that was crossing the border into Syria in a refrigerated truck (SANA, March 11). Iranian and Hezbollah sources have described an anti-Syrian conspiracy centered on the Tayyar al-Mustaqbal (Future Movement) led by former Lebanese Prime Minister Sa'ad Hariri. Syrian authorities tied the movement to the reported seizure of seven boats from Lebanon to Latakia with cargoes of weapons, money and narcotics.
Hariri was also connected to Prince Bandar bin Sultan of Saudi Arabia, who was accused of "guiding the complex American and [Saudi] Arabian plan for creating unrest in Syria" (Fars News Agency, March 29). A Lebanese MP denied the allegations, noting the Future Movement did not even have weapons to defend itself (LBC, March 29). Syria's Grand Mufti, Shaykh Ahmad Badreddin Hassoun, took to national TV on March 25 to confirm that external "instigation" is seeking to undermine the anti-Israel "resistance" (Day Press [Damascus], March 26). Israel's Foreign Ministry in turn attempted to implicate Iran and Lebanon's Hezbollah in the attacks on demonstrators by saying demonstrators heard some members of the security services speaking Farsi (Hezbollah members speak Arabic rather than Farsi) (Israeli Defense Force Radio, March 27; Jerusalem Post, March 28).
Syrian officials also blamed the violence in Latakia on Palestinians from the al-Raml refugee camp outside the city. The allegations were denied by Ahmad Jibril, the leader of the Popular Front for the Liberation of Palestine – General Command (PFLP-GC), which runs the camp and is known for its loyalty to the Syrian regime. The Syrian claims were strongly criticized in the Jordanian press, which asked why Palestinian refugees would volunteer to shoot demonstrators who are their "kin and neighbors" (al-Dustur, March 28; al-Ra'y, March 28). A Syrian spokesperson noted that among those arrested in Latakia were one Egyptian, one Algerian and five Lebanese and pointed to a foreign conspiracy: "The only side happy with what is happening in Syria is Israel, and some members of [U.S.] Congress who are mobilizing against Syria" (al-Watan, March 27). Damascus has been organizing pro-government marches in which the participants stress "their rejection and condemnation of the organized foreign campaigns targeting Syria's safety, stability and national unity" (SANA, March 26).
In his first remarks on the unrest in Syria, President Assad declined on March 30 to repeal the 1963 emergency law with its wide powers for repression, a key demand of the protesters. Having identified the source of Syria's unrest as a "foreign conspiracy," the president's speech was followed by hundreds of protesters taking to the streets of Latakia to chant "Freedom" (Reuters, March 30). The Syrian cabinet resigned en masse on March 29 as Facebook activists try to organize massive anti-government rallies for Friday, April 1.
This article first appeared in the March 31, 2011 issue of the Jamestown Foundation's Terrorism Monitor.