Andrew McGregor
July 22, 2010
As the first anniversary of a bloody five day Islamist rebellion in northern Nigeria approaches, Maiduguri, the capital city of Borno State, is awash in heavily armed riot police and intelligence officials. Their presence is in reaction to spreading rumors of an imminent rebellion to be led by a man police still insist is dead – Imam Abubakr Shekau. Formerly deputy leader of the radical Boko Haram movement, Shekau was declared dead following vicious street fighting last year between movement members and Nigeria's security forces (AFP, July 31, 2009).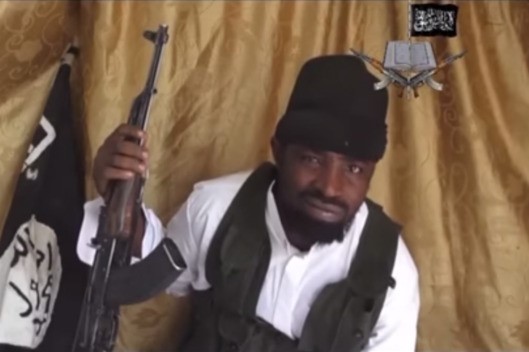 Boko Haram Leader Abubakr Shekau
Boko Haram has existed under various names since 1995. Mallam Ustaz Mohammed Yusuf took control of the group in 2002 when its founder left to pursue religious studies in Medina. Yusuf led the group in a more militant direction, and by 2004 it had begun attacks on police outposts (Vanguard [Lagos], August 4, 2009). The movement broke into open rebellion last July in fighting that spread over four states, killing nearly 800 people. Security forces dealt with the rebels ruthlessly. Mallam Yusuf was captured by the army on July 30, 2009 and turned over to the police, who later dumped his naked and mutilated body in the street, still wearing handcuffs (al-Jazeera, February 9). Police were videotaped executing suspected members of Boko Haram, leading to the March arrest of seventeen policemen identified from the footage (Daily Independent [Lagos], March 1, al-Jazeera, March 1; Guardian [Lagos], March 4; see Terrorism Monitor, March 26).
A new video was posted to jihadi websites last week in which Shekau directed the movement's wrath at a new target – the United States (Ansar al-Mujahideen, July 11). Describing Americans as "infidels, hypocrites and apostates" in his Hausa language address, Shekau warns "Do not think jihad is over. Rather, jihad has just begun… America, die with your fury." The Boko Haram leader announced he has taken the leadership of Boko Haram and used part of the video to eulogize Omar al-Baghdadi and Abu Ayyub al-Masri, the late leaders of the Islamic State of Iraq and al-Qaeda in Iraq, respectively.
Police first learned last December that videos of Shekau threatening revenge on security forces were circulating through mobile telephones, but declared the images were digitally manipulated (Daily Independent [Lagos], July 3; Nigerian Tribune, July 7). Police believed Shekau was killed in an exchange of fire at Boko Haram's Ibn Taymiyah compound, but there were no indications his body had been recovered. Shekau claims he was indeed shot in the leg, but was rescued by "fellow believers" (Daily Trust [Abuja], July 1).
A journalist provided an Abuja daily with a video he shot of Shekau in April after being driven, while blindfolded, to Shekau's hideout. Despite his movement's opposition to Western civilization and education ("boko"), Shekau rationalized Boko Haram's use of firearms in stating, "Guns are not products of boko… we also can make guns, we even made and used guns" (Daily Trust, July 1).
Rumors that Shekau will return to Maiduguri this month to take revenge on police have filled the streets with security forces. Numerous flags believed to indicate allegiance to Boko Haram are reported to have appeared throughout the city, but Borno Police Commissioner, Ibrahim Abdu, says they are of no concern, as they differ from flags flown by the movement last year (Daily Independent, July 3; Nigerian Tribune, July 7). The police, however, are reluctant to begin raids to take the flags down, as this might ignite an already volatile situation. Rumors already claim the flags are actually being raised by the Borno State government to create an atmosphere of insecurity (Daily Independent, July 3).
While radical Islamist groups in northern Nigeria such as Boko Haram and Kala Kato have traditionally focused on attacks on the Nigerian federal and state governments in their attempts to establish an Islamic caliphate, Shekau's praise of al-Qaeda and commitment to the global jihad represents a new direction for the militants.
This article first appeared in the July 22, 2010 issue of the Jamestown Foundation's Terrorism Monitor.