Andrew McGregor
January 20, 2011
A leading Yemeni jihadi and veteran of the post-Soviet struggle for power in Afghanistan has assumed the leadership of a possibly government-backed unity "committee" in the southern Yemeni port of Aden, where the Southern Mobility Movement (SMM) has been organizing a campaign to return the South to its former status as an independent state (Marib Press, January 3). In a recent interview, Ali al-Kurdi described the pro-unity plans of his new organization (al-Sharq al-Awsat, January 4).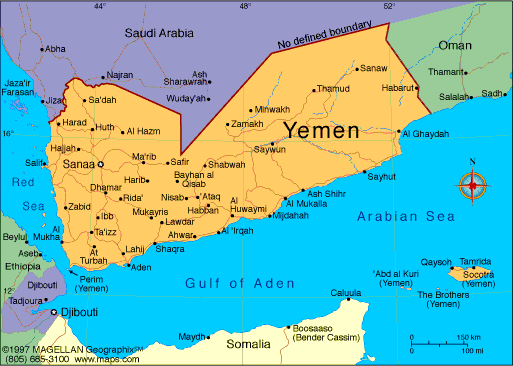 According to al-Kurdi, an electrical engineer by trade, the Popular Committee for national unity that he chairs does not receive any state funds ("the committee does not have ten riyals"), but is supported by those who suffered from the economic consequences of socialist rule in southern Yemen's People's Democratic Republic of Yemen (PDRY – 1970-1990). Al-Kurdi says socialist rule introduced "freedom of debauchery, alcohol drinking and the like" as well as enabling political persecution on the slightest of pretexts. The former mujahid is ambivalent about his relationship with the regime, on the one hand saying it would be an honor to collaborate with President Ali Abdullah Salih, while on the other recalling his numerous clashes with Yemen's Political Security Organization (PSO) and a raid on his house that caused his sister to miscarry. He also recalls that it was the entry of Salih's mixed force of tribesmen, former mujahidin and army regulars into Aden that prevented his execution by the Yemeni Socialist Party (YSP) in 1994.
Al-Kurdi has a long history as a mujahid, armed militant and suspected terrorist. After leaving the PDRY's army in 1989, al-Kurdi says he left for Sana'a and moved on to Afghanistan after rejecting PDRY claims that he had been exposed to in the army that Afghani Muslims were fighting alongside the Soviets to drive out anti-Islamic mujahideen. Al-Kurdi claims to have carried out attacks in Khost, Jalalabad, Lugar and on the periphery of Kabul during his time in Afghanistan prior to his return to Aden in 1992.
Al-Kurdi was also charged but released as a suspect in the USS Cole bombing of 2000. He later complained of "dirty treatment" and beatings by "jailers and Shiite officials" (Yemen Times, February 26, 2006; Marib Press, January 2). Al-Kurdi was also charged with being a member of al-Qaeda in a 2006 trial of 19 alleged al-Qaeda operatives accused of plotting to assassinate Westerners and blow up a hotel used by American visitors to Yemen. The defendants were freed when the judge ruled Shari'a permitted jihad against the occupiers of Iraq (AP, July 9, 2006). Salih has deployed ex-mujahideen against the Southern separatists before, most notably in the 1994 civil war, when thousands of jihadis were recruited to fight Southerners in exchange for special consideration in post-war Yemen.
The ex-mujahid claims that AQAP has "no connection" to the core al-Qaeda organization, but was rather created by Sunnis who experienced persecution at the hands of (Zaidi) Shiites in PSO prisons. He denied any current relationship with al-Qaeda and downplayed its local significance as a militant group: "Al-Qaeda exists as an organization in all countries of the world, but I rule out [this group] undertaking any operations in Yemen" (Marib Press, January 2).
Though his committee may be poorly funded by his own account, al-Kurdi and his followers are prepared to "repulse" SMM loyalists who might opt for violent resistance to the regime, even through the use of "martyrdom-seeking attacks." Al-Kurdi asserts that "Jihad for Yemen's unity takes precedence over jihad in Afghanistan and Palestine. And jihad against the SMM takes precedence over jihad against Jews and Christians."
Al-Kurdi sees the separatist troubles of southern Yemen as part of a larger effort to divide and rule the Islamic world: "There is a conspiracy to divide Yemen, Saudi Arabia, Sudan and Iraq. Iraq has already been divided and now it is Sudan's turn. The [conspirators] will then move on to Saudi Arabia and Yemen… Mecca and Medina's turn will follow because Yemen constitutes the bulwark of Saudi Arabia. Even the Turks who formerly ruled Yemen viewed Yemen as such.
There are indications that a major campaign of assassination of senior Yemeni military officials has begun inside Yemen, with numerous officers and soldiers being killed in Abyan, Shabwah, Hadramawt and elsewhere (al-Hayat, January 9). Al-Turki blamed the officers and soldiers themselves, though not without assigning some blame to the SMM:  "Frankly speaking, these officers and soldiers provide the justification for assassinations and lack of security, because some officers arrest people. When a person goes to prison, he is placed with al-Qaeda affiliated detainees. When such a person gets out of prison, he is angry and seeks revenge on the state. These are revenge acts by some citizens against security personnel. The SMM may be behind some attacks."
This article first appeared in the January 20, 2011 issue of the Jamestown Foundation's Terrorism Monitor