Andrew McGregor
July 16, 2008
The July 8 ambush of a United Nations-African Union Mission in Darfur (UNAMID) patrol came amid growing tensions in Sudan generated by the International Criminal Court's indictment of Sudanese President Omar al-Bashir for war crimes, military maneuvers around Khartoum and declarations from Darfur's strongest rebel movement that it intends to repeat its long-distance May assault on the national capital.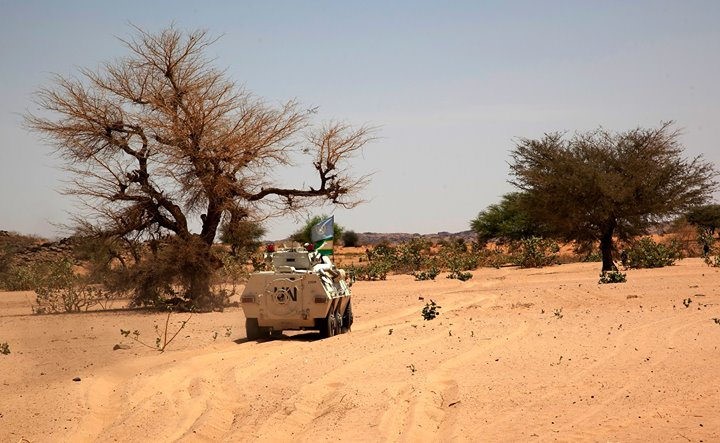 Rwandan Peacekeeping Patrol in Darfur
The deadly ambush occurred near the village of Umm Hakibah, roughly 100 km (60 miles) southeast of Darfur's provincial capital of al-Fasher. The dead included five soldiers from Rwanda (probably the most effective detachment now in UNAMID) and two policemen, one from Ghana, the other from Uganda (Sudan Tribune, July 13; New Vision [Kampala], July 13). A further 19 were wounded and three UNAMID armored cars destroyed during a two-hour gun battle. The identity of the attackers has not been confirmed, but the accounts of survivors describing men on horseback wearing Sudanese Army-style fatigues suggested the attack was the work of the Janjaweed, a largely Arab militia sponsored by Khartoum. A later UNAMID statement claimed the attackers were carried on 40 vehicles (presumably pick-up trucks) equipped with heavy machine guns, anti-aircraft weapons and recoilless rifles (Sudan Tribune, July 11). Jean-Marie Guehenno, the UN's head of peacekeeping operations, described the ambush as a "well-prepared" operation in a government-controlled area that used weapons and equipment not usually employed by rebel groups (AFP, July 11).
Darfur's Justice and Equality Movement (JEM) and the Sudan Liberation Army – Unity (SLA-Unity) condemned the ambush in a statement (Reuters, July 11). The two rebel movements dominate the Darfur resistance through a military alliance. Elements from both forces were believed to be behind the massacre of 10 African Union peacekeepers at Haskanita last September. A Sudanese foreign ministry spokesman claimed that the Umm Hakibah attack was the work of SLA-Unity, but a statement on a website believed to be close to Sudanese intelligence services described the attackers as "an armed group loyal to the Justice and Equality Movement" (Sudanese Media Center, July 10), a claim quickly denied as "government propaganda" by a JEM spokesman (Sudan Tribune, July 10).
UNAMID differs little in size, composition or capability from the 9,000-man African Union force it replaced at the beginning of the year. Only a few hundred of the projected 17,000 additional troops that were to form UNAMID have actually arrived. African Union troops have repainted their helmets in UN blue, but still lack basic transportation equipment as well as vitally needed helicopters (for the problems with UNAMID, see Terrorism Monitor, November 8, 2007). Australia suspended its UNAMID deployment of a small force of military specialists in the wake of the Umm Hakibah attack (Sydney Morning Herald, July 13). Political activists led by actress Mia Farrow are now calling for the deployment of controversial U.S. private security firm Blackwater Worldwide, notorious for their free use of weapons in Iraq, including a 2007 massacre of 17 civilians in Baghdad that led to an FBI investigation (Financial Times, June 19; BBC, October 8, 2007).
This article first appeared in the July 16, 2008 issue of the Jamestown Foundation's Terrorism Focus