Andrew McGregor
May 28, 2010
Despite their insistence that there is only one type of Islam, Gaza's Salafists continue to operate as a number of separate groups and organizations with few apparent connections. One of the most militant of these groups is the Jaysh al-Islam (Army of Islam), known for its role in the 2006 Kerem Shalom attack that resulted in the abduction of Israeli soldier Gilad Shalit and the 2007 kidnapping of BBC reporter Alan Johnston. Jaysh al-Islam is also believed to have carried out a number of bombings against targets such as internet cafés and has engaged in serious clashes with Hamas, the governing body in Gaza. Jaysh al-Islam (a.k.a. Katbiyan Tawhid wa'l-Jihad) is dominated by the powerful Dughmush clan of Gaza City.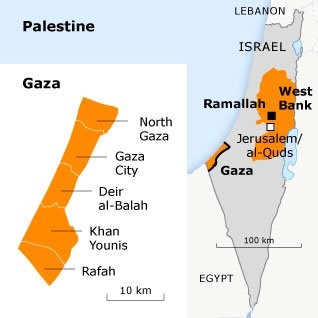 In a recent interview with the Palestinian Ma'an News Agency, Jaysh al-Islam spokesman Abu Umar al-Ansari described the ideological approach of the Salafist movement in Gaza, focusing in particular on Jaysh al-Islam's relations with al-Qaeda, Hamas and Gaza's Christian minority (Ma'an News Agency, May 19).
Abu Umar began by defining Jaysh al-Islam as an Islamic group opposed to Jews, Christians, Shiites and Sufis. The movement espouses tawhid (monotheism), opposes polytheism and practices takfir (the act of declaring a group or individual to be infidel); all these traits are typical of militant Salafist groups.
Though Jaysh al-Islam has been frequently cited by Israeli sources as an arm of al-Qaeda, Abu Umar did not acknowledge any such relationship, suggesting instead that, since the Muslim community was united in their fight against the enemies of Islam, formal alliances between Salafist groups added "little in terms of support and advice," noting, "The Army of Islam has its own path and mechanism to achieve its goals, just as the al-Qaeda organization has its own vision and policy on jihadist issues in general and the Palestinian issue in particular."
Despite commenting that "Islam does not accept division," Abu Umar addressed the proliferation of armed Salafist groups in Gaza and their apparent lack of coordination by saying each Salafist group saw reality in a different way and had their own path to follow. He rejected the division of Muslims into "moderates and radicals," claiming that those Muslims who were "obsessed with Western civilization, democracy and freedom" were "semi-infidels" and "pseudo-Muslims." According to Abu Islam, "Either [Islam] is completely correct or it is complete darkness born from the ideas and concepts of humans. Leaving Islam and joining modernity does not necessarily mean progress."
The absence of respected Islamic scholars in the Jaysh al-Islam leadership was of little consequence, as "the Salafist method does not depend on human concepts," relying instead on textual and traditional sources such as the Koran and Sunnah. In any case, most Salafist scholars have been killed or detained. "The prisons of the tyrants are full of them because they speak the truth."
Abu Omar has little respect for other Palestinian organizations, describing them as failures that "should be consigned to the garbage heap of history." He dismisses the concept of "resistance" [to Israel] as being tied to geographical locations and thus without foundation in Islam, which endorses jihad for much larger purposes. Resistance "is not Islam, but endorsement of the Sykes-Picot agreement [the 1916 secret agreement that divided the Middle East into colonial spheres of influence] and recognition of borders. Islam does not recognize borders."
Though Jaysh al-Islam has been accused of bombing internet cafes, schools and hair-dressing salons, Abu Omar suggested the blame for these attacks lies with those who seek to create a state of emergency to eliminate the Salafist movement. The bombings also serve to create the perception of "violent Salafists" pitted against "moderate and centrist" Muslims.
The Jaysh al-Islam spokesman divides Gaza's Christians into two groups: those "who are good" and cause no problems for Muslims, and those who are treasonous, hostile to Muslims and spreaders of "vice, infidelity and atheism." The latter group "serves foreign agendas" and "spoils the relationship between Christians and Muslims." Abu Omar goes on to accuse the Red Cross of killing Muslims on the orders of Christian clergymen and claims "thousands of Muslim women are raped inside Christian churches."
Abu Omar claims Hamas has done great harm to the Palestinians by falling into reliance on the established political system of international relations, Arab initiatives and U.N. resolutions. Their advocacy of democracy and modernity has created a gulf between them and the mujahideen. Hamas has prevented jihadis from "fighting the Jews," while peaceful demonstrations organized by Hamas have only "deceived the masses." In the view of Jaysh al-Islam, governments derive their authority from the Shari'a, "not from popular elections."
This article first appeared in the May 28, 2010 issue of the Jamestown Foundation's Terrorism Monitor