Andrew McGregor
January 15, 2009
Two Kenyan nationals were among those killed in a New Year's Day missile strike on a house in Pakistan's South Waziristan tribal agency. Although the strike occurred on January 1, the identities of those killed were not confirmed until January 9. Although U.S. officials do not comment officially on missile attacks in the Frontier region of Pakistan, it is believed the attack was carried out by a Hellfire missile launched from a CIA Predator unmanned aerial vehicle (UAV) (Daily Nation, Nairobi, January 9; Daily Times [Lahore], January 10; al-Jazeera, January 9).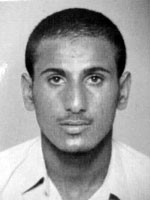 Osama al-Kini (a.k.a. Fahid Muhammad Ali Msalam)
The two Kenyans are believed to have been associated with al-Qaeda since the mid-1990s. Osama al-Kini (a.k.a. Fahid Muhammad Ali Msalam) was wanted in connection with numerous bombings in Pakistan, including the 2008 Danish Embassy suicide attack and the September 20, 2008, bombing of the Marriott Hotel in Islamabad. Al-Kini was also a suspect in a foiled attempt to assassinate former Pakistani Prime Minister Benazir Bhutto (Daily Nation, January 9).
Both Mombasa native al-Kini and his Kenyan lieutenant, Shaykh Ahmad Salim Swedan, were wanted for their roles in the deadly 1998 attacks on U.S. embassies in Nairobi and Dar-es-Salaam and had five-million dollar bounties on their heads. According to a Kenyan security official, "Kini received money from al-Qaeda to run the East African cells. He was a logistician for the terrorists in this region before he went to Pakistan" (The Standard [Nairobi], January 11). Al-Kini first trained in Afghanistan in 1994 before returning to Kenya. Following the embassy bombings he fled to Pakistan. After becoming head of al-Qaeda operations in the Zabul province of Afghanistan in late 2001, al-Kini rose to become al-Qaeda's operations chief for Pakistan.
Shaykh Ahmad Salim Swedan also fled Kenya after the embassy bombings but sneaked back to carry out the Kikamabala bombing in 2002 before fleeing again to Pakistan's North-West Frontier Province.
The strike took place in the village of Karikot, where seven suspected militants from Punjab province were killed in a pair of missile strikes on December 21, 2008. The area is dominated by Ahmadzai Wazir fighters led by Maulvi Nazir, an opponent of Pakistani Taliban chief Baitullah Mahsud (The Nation [Islamabad], December 23).
This article first appeared in the January 15, 2009 issue of the Jamestown Foundation's Terrorism Focus