Andrew McGregor
January 28, 2009
Well-pleased with the local "success" of their suicide bombing campaign, the leaders of Pakistan's Tehrik-e-Taliban Pakistan (TTP) are now threatening to send their suicide bombers against Israeli targets and Pakistan's Pashtun politicians.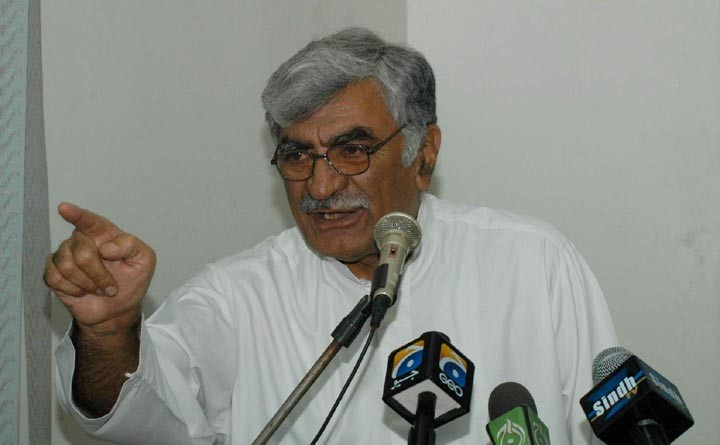 ANP Leader Asfandyar Wali Khan
In a telephone interview, TTP leader Baitullah Mahsud expressed his anger at Israel's devastating incursion into Gaza, promising to avenge the Palestinian Muslims for Israel's "atrocities" (BBC Urdu, January 18). Saying he would teach Israel an "historic lesson," Baitullah declared his suicide bombers could strike anywhere in the worlds with God's help (Daily Times [Lahore], January 18).
Baitullah's right-hand man, Hakimullah Mahsud, followed up several days later by threatening to send TTP suicide bombers against leaders of the Pashtun-based Awami National Party (ANP) in response to the government's offensive in the turbulent Swat region: "We have prepared a hit-list of ANP leaders and activists who will be the target of suicide attacks and gunfire. People must avoid meeting ANP leaders and attending their functions" (The News [Islamabad], January 22; Pak Tribune, January 24). Hakimullah, the regional TTP commander for the Khyber, Kurram, and Orakzai tribal agencies, has issued similar threats against the ANP before (The News, November 27, 2008).
Led by Asfandyar Wali Khan, the ANP is a secular/left national political party with a stronghold in the Pashtun-dominated North-West Frontier Province (NWFP) of Pakistan. The ANP was a big winner in last year's elections, forming the largest party in the NWFP's ruling coalition and playing a supporting role in the central government coalition in Islamabad (Pakistan Times, February 25, 2008; The Nation [Islamabad], January 9).
Under Asfandyar Wali Khan, the ANP has been a strong opponent of the Taliban, encouraging dialogue with moderate Islamist elements while rejecting Taliban violence. As a result, the movement has been a frequent target of the Taliban, which no doubt feels threatened by the ANP's electoral success. Press reports of Asfandyar Wali Khan visiting U.S. Central Command (CENTCOM) headquarters in Tampa Bay in 2006 and 2008 have not endeared the Awami Party leader to the Taliban (Dawn [Karachi], May 9, 2008). The militants demand that the ANP immediately implement Shari'a (Islamic law) in the NWFP, release all Taliban prisoners, and pay compensation for losses suffered during government offensives in Swat and elsewhere in the frontier region (Pak Tribune, January 24).
This article first appeared in the January 28, 2009 issue of the Jamestown Foundation's Terrorism Focus