Andrew McGregor
AIS Tips and Trends: The African Security Report
July 30, 2015
With Yemen's Shiite Houthi movement now in control of most of Yemen, a Saudi-led military coalition continues to carry out air attacks on Houthi fighters and installations. Despite the participation of a number of national air forces, the total impact has not been enough to shake Houthi resolve.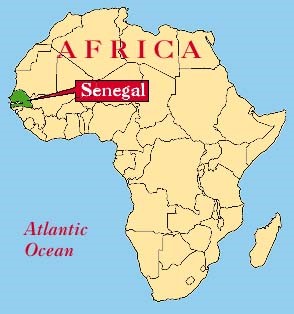 Though there is an apparent need to deploy ground forces to restore the administration of president-in-exile Abd Rabbo Mansur Hadi, most members of the coalition are reluctant to deploy ground forces in any significant number, being well aware of the difficulty of maintaining foreign forces in Yemen's mountainous and ambush-friendly terrain. It was thus intriguing when Senegal's foreign minister Mankeur Ndiaye announced on May 4 that the West African nation was sending 2,100 ground troops to Saudi Arabia in response to a request from the Saudi government. Surprisingly, the deployment marks the second time Senegalese troops will have served in Saudi Arabia; 500 Senegalese soldiers were deployed in Saudi Arabia during the 1990-1991 Gulf War. The mission was marred by a deadly plane crash in March 1991 in which 92 soldiers died.
Despite the government's claim that the jamdars (Wolof – "brave men," the popular local term for Senegalese troops) will be protecting the holy cities of Mecca and Madinah, it is expected that the Senegalese will join the coalition attempting to secure the Kingdom's southern border with the Houthi-held regions of northern Yemen. A spokesman for Senegal's leading opposition party, the Parti démocratique sénégalais (PDS), declared that government suggestions that the deployment was intended to protect the holy cities "were baseless because the geo-strategic role of the Middle East is more complex than the protection of Islamic religious sites" (Xinhua, May 11, 2015).
Social media in Senegal has questioned the deployment and some observers have noted the recent Saudi commitment to provide much of the funding for a broad government development scheme known as Programme Senegal Emergent 2035 (BBC, May 5, 2015). With an estimated cost of over $16 billion, the initiative remained badly underfunded until the Saudis stepped in. Senegalese president Macky Sall is relying on the programme's success to return him to office. Senegal is a traditional recipient of Saudi aid, which funds many important development projects, but has never signed a defense agreement with Saudi Arabia. France continues to have a military presence in Dakar, but in line with a 2010 defense agreement between France and Senegal, this deployment has been scaled back from 1,200 troops to 300 (RFI, April 18, 2012).[1]
Senegal is not the only African state to join the Saudi-led coalition – Sudan, Egypt and Morocco have also contributed troops – but Senegal is the lone member that is not part of the Arab League. Sudan, a major recipient of Saudi aid and investment, has contributed four Sukhoi SU-24M "Fencer" attack aircraft that have reportedly flown missions against Houthi forces in Yemen (DefenceNews, April 1, 2015).  Other members of the coalition include Bahrain, Kuwait, Jordan, Qatar and the United Arab Emirates (UAE). In a surprise decision, the parliament of Pakistan, a Saudi ally, voted against contributing forces to the coalition. Lacking a UN mandate, the Saudi-led coalition remains open to criticism that its intervention in Yemen lacks a legal basis.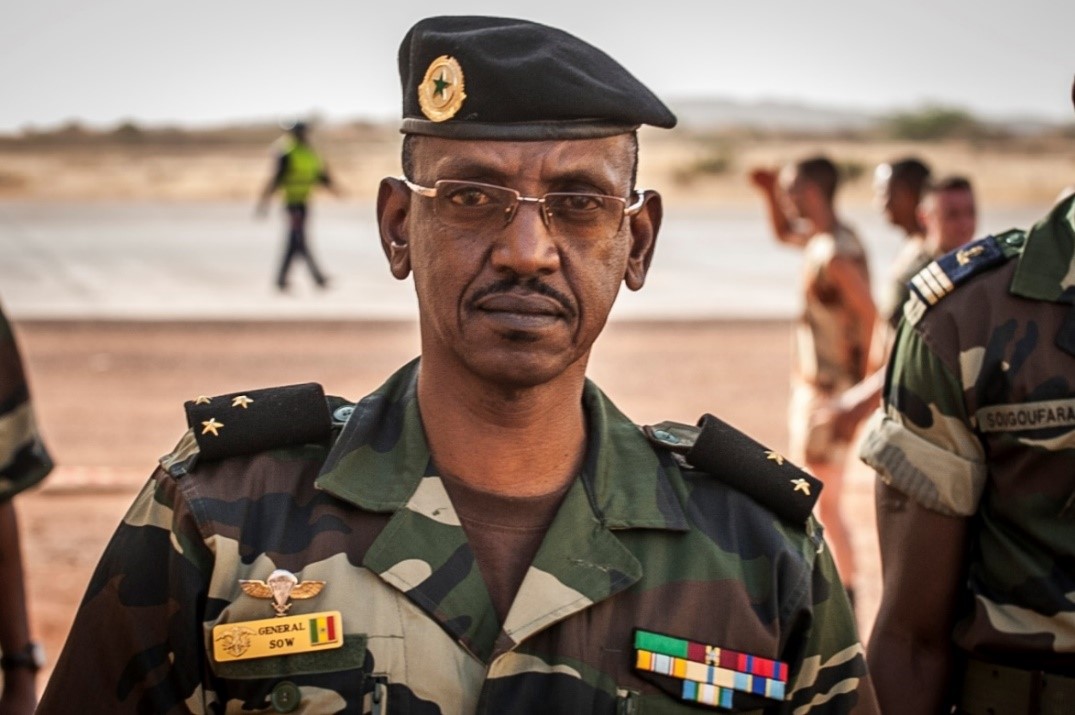 General Mamadou Sow "Nowgass" – Chief of the General Staff of Senegal
While President Sall insists the deployment is intended to "deal with the threat to the territorial integrity of Saudi Arabia and the Islamic holy sites to which the kingdom is home" (a fairly obvious effort to enlist the support of Senegal's powerful Sufi brotherhoods), opposition figures have pointed out that neither the Kingdom nor its holy cities are under threat (The Star [Johannesburg], May 22, 2015). The administration does not appear willing to dissent on this issue; a May protest planned by Bou Jambar Dem (No to Sending Soldiers), a coalition opposed to the deployment, was banned by authorities.
Further government attempts to suggest the deployment will be fighting "terrorism" did not quiet opposition criticism; Yemen's Houthis are an armed social/political/religious movement rather than a terrorist group like al-Qaeda in the Arabian Peninsula (AQAP) or the Islamic State movement, neither of which are targets of the coalition despite having a strong presence in Yemen.
Since independence, Senegal has joined military interventions in Zaire (1978), Gambia (1981) and Guinea-Bissau (1998). Senegal's military has also made significant contributions to peacekeeping missions in Côte d-Ivoire, Darfur, Rwanda and the Central African Republic. Both the United States and France provide equipment and training to the Senegalese military, which has gained a reputation for professionalism reinforced by its traditional reluctance to insert itself into the nation's political sphere.
A report from the Saudi Press Agency on May 10 claimed that Malaysia had sent military forces to join the Saudi coalition, adding that the Saudi Ministry of Defense was planning to merge the Malaysian and Senegalese forces (al-Arabiya, May 10, 2015). However, Malaysia's defense minister quickly corrected this report, noting that Malaysia was only sending humanitarian assistance and the personnel and equipment (including two Royal Malaysian Air Force C-130 "Hercules" transport aircraft) necessary to evacuate Malaysians working or studying in the Kingdom (The Star [Kuala Lumpur], May 11, 2015; The Diplomat, May 12, 2015).
Islam in Senegal
While Senegal is over 90% Muslim, its typical form of religious practice differs significantly from the Salafist Islam of Saudi Arabia. Both nations are majority Sunni, but Senegalese Islam is still largely based on membership in Sufi brotherhoods, a form of Islam generally despised by the Salafists, who claim Sufism incorporates pre-Islamic traditions, involves intermediaries in the relationship between God and man (usually in the form of deceased or living Sufi shaykhs whose spiritual power is hereditary) and encourages pilgrimage to shrines other than Mecca and Madinah, thus rendering Sufism a type of Islamic heresy in the eyes of the Salafists.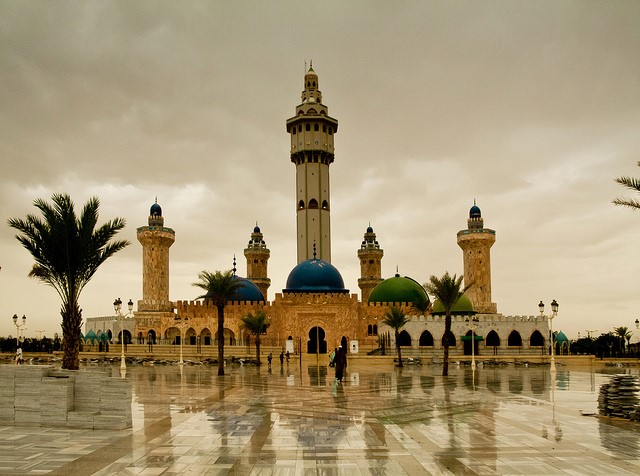 Great Mosque in Touba, Senegal
Senegal's Sufi brotherhoods include the well-known and internationally-based Tijaniya and Qadiriya brotherhoods, as well as two smaller local brotherhoods, the Muridiya (a.k.a. Mourides) and the Layenes. Both the latter orders originated in the 19th century. The Mourides are common to both Senegal and Gambia and promote pilgrimage to the Senegalese city of Toumba rather than Mecca. The Layene Brotherhood is a particularly unorthodox movement native to Senegal. The Layene's founder and his successor claimed to be reincarnations of the Prophet Muhammad and Jesus Christ respectively and the group consequently mixes elements of both Islam and Christianity in its rituals.
The Jama'atou Ibadou Rahman (Jama'at Ibad al-Rahman) movement is a Saudi-supported Islamic reformist movement founded in 1979 by Shaykh Touré in which piety is expressed through the veil, Arab-style clothing and close observance of orthodox Islamic ritual. The Ibadou are extremely critical of Sufism and the marabout[2] system in Senegal and of Shi'ism in general, but do not espouse violence in their opposition. On a more general level, the term "Ibadou" is used by Senegalese Sufis "to refer to any veiled woman or bearded man."[3]
Al-Falah is a Saudi-influenced "apolitical" Salafist movement whose Senegal branch was established in 1967.[4] Salafism and related forms of reformist Islam have a wide following in Senegal's universities. At lower educational levels, there is a parallel system of government-run French-language, Western-style schools and Arabic-language Koranic schools that have little if any government regulation.[5]
Most notable among Senegal's small Muslim extremist community is Imam Mamour Fall, leader of the Parti Islamique Sénégalais and a bitter opponent of Senegal's Sufi brotherhoods. Deported from Italy in 2003 after an 11 year residency following his public support for al-Qaeda and attacks on Italian military personnel, Fall continued to advance extremist views once back in Senegal, claiming to have fought in the Bosnian War and to have been a companion of Osama bin Laden during the latter's stay in Sudan in the 1990s. The Imam described Bin Laden as "a great man, a great strategist, a great Muslim, and that is what interests us and not the fact that he is accused of killing people" (Reuters, December 8, 2003). The Salafist/reformist view of Senegalese Sufism was summed up by Imam Mamour Fall: "Senegal is the capital of polytheism after India. If Hindus worship cows, Senegalese love the corpses of their marabouts… Here, 99% of people live on magic; they love magicians and they waste all their money to buy 'talismans'."[6]
Projections
Any foreign military deployment runs the risk of violent retribution, but in this sense Senegal is relatively fortunate in its choice of an enemy – the Houthi movement does not exist outside of Yemen and its host Zaydi Shiite community has displayed little ability or even interest in mounting attacks outside of Yemen. There is a small community of Lebanese Shiite traders in Senegal and an even smaller number of native Senegalese Shiites, none of whom are likely to have any connections with the Houthi movement, whose Zaydi "Fiver" Shi'ism has more in common with the Shafi'i form of Sunni Islam practiced in Yemen than with the "Twelver" Shi'ism of Iran and Lebanon (the "fiver" and "twelver" distinctions refer to the number of imams each movement believes succeeded the Prophet Muhammad as spiritual and political leaders of the Islamic community). However, Senegal might become a target for Sunni extremists due to its alliance with the Saudi government, which is reviled in turn as an ally and partner of the West by groups such as al-Qaeda and the Islamic State. Such groups might recall Senegal's participation in the French-led military coalition that expelled foreign jihadists from northern Mali in 2013, an earlier deployment that had far from universal approval within Senegal. Unpopular military deployments in other parts of the Islamic world could have the unwanted result of encouraging domestic extremism, particularly amongst alienated urban youth.
Renting state troops in Hessian fashion may not be necessary in the future if oil exploration work in Senegal turns out as expected. Scottish oil firm Cairn Energy is embarking on a major drilling operation it believes could result in the discovery of more than a billion barrels after promising results from initial offshore drilling (The Scotsman [Edinburgh], May 12, 2015).[7]
Notes
[1]  For Senegal's role in France's Operation Barkhane, see Andrew McGregor, "Operation Barkhane: France's New Military Approach to Counter-Terrorism in Africa," Jamestown Foundation Terrorism Monitor, July 24, 2015,  https://www.aberfoylesecurity.com/?p=909
[2] Arabic marbut or marubit; used in practice to denote an Islamic scholar of the Maghreb and Sahel regions, usually with personal followings that rely on the marabout for religious instruction, advice and the dispensation of supernatural powers through the production of amulets and talismans, a common practice in Africa, but one that is decidedly unorthodox.
[3] Cleo Cantone: Making and Remaking Mosques in Senegal, Leiden, 2012, p. 261.
[4] See http://alfalah-sn.org/spip/spip.php?page=ar
[5]  "Overview of Religious Radicalism and the Terrorist Threat in Senegal," ECOWAS Peace and Security Report 3, May 2013, p. 5, http://sahelresearch.africa.ufl.edu/files/ECOWAS-Report-3-ENG.pdf.
[6] Shaykh 'Abdul Qadir Fadlallah Mamour (Imam Mamour Fall): "Ya Asafa," February 26, 2009, http://partiislamique.blogspot.ca/.