Andrew McGregor
May 15, 2018
Sudden Russian interest in the resource-rich Central African Republic (CAR – the former French colony of Oubangui-Chari) has raised questions regarding Moscow's intentions in the violence-plagued nation.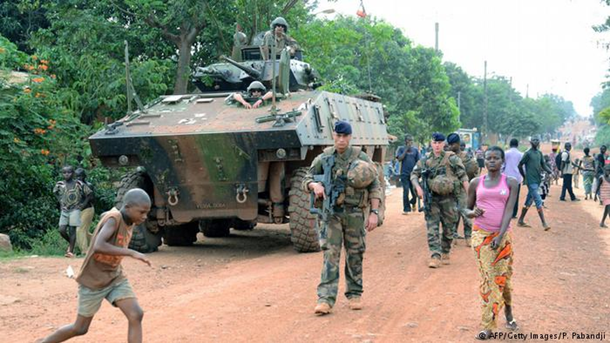 French Patrol in Bangui, CAR (AFP/Getty)
As much as 80% of the CAR is not under government control. A new burst of violence earlier this month included attacks on churches and mosques that resulted in 19 deaths and left over 100 wounded (AP, May 2). Thousands have been killed and nearly half a million people displaced since 2013.
Fighting has escalated since the French ended a three-year military mission (Operation Sangaris) in October 2016. The operation, the seventh French military intervention in the CAR, ended amidst accusations of sexual violence by French troops, though Paris pledged to keep 350 troops inside the CAR as a "tactical reserve" while remaining ready to intervene with a larger force "at very short notice" (Deutsche Welle, October 31, 2016). Responsibility for security was turned over to the Mission multidimensionnelle intégrée des Nations unies pour la stabilisation en Centrafrique (MINUSCA), a 13,000 man UN peacekeeping mission which has struggled to restore order while being accused of large-scale sexual abuse of local women.
Deeply impoverished, the CAR has endured massive exploitation by Chadian Muslims in the 19th century, French imperialists in the 19th century and neo-colonialists working with corrupt CAR politicians since independence in 1960.
Russia appears ready to join this game, exchanging arms and cash for access to oil, minerals, strategic bases and rare earths, materials vital to modern electronics but a market almost entirely dominated by China. Moscow is trying to trade on Russia's lack of colonial history in Africa (overlooking failed attempts to establish Russian colonies in the 19th century), its Cold War assistance to various bastions of Marxism in Africa and its military performance in Syria.
The CAR has been under a UN arms embargo since civil war broke out in 2013. Pleas from CAR president Faustin Archange Touadéra for arms and training to reinvigorate the shattered CAR military found a sympathetic ear in Moscow last year. An exemption to the embargo was granted only after Russia agreed to supply secure storage and serial numbers for the weapons. The US, UK and France were concerned the arms could disappear soon after delivery; in 2013 the armories were looted and weapons belonging to the Forces armées centrafricaines (FACA) have a habit of turning up on the black market. Aside from the Russian arms supplies, the UN embargo has been renewed through to February 2019. The exemption allowed CAR chief-of-staff Firmin Ngrebada and special adviser Fidèle Gouandjika to arrange an agreement for arms and training with Russian Foreign Minister Sergei Lavrov, signed in Sochi on October 9, 2017.
Ngrebada, nicknamed "Foccart," after Jacques Foccart (1913-1997), the French special advisor on African affairs in the 1960s and 70s, insists it was French president Emmanuel Macron who sent the CAR delegates to Russia after a French attempt to supply FACA with arms seized off Somalia failed following Russian objections (Jeune Afrique, May 3; CorbeauNews [Bangui], January 16).
Among the weapons delivered in this year are 900 Makarov pistols, 5,200 Kalashnikov assault rifles, 140 sniper rifles, 840 Kalashnikov PK 7.62 mm machine guns, 270 RPGs, 20 man-portable anti-air defense systems, hand grenades, mortars and millions of round of ammunition (The Nation [Nairobi), December 14, 2017). Russian arms and parts are compatible with what Soviet-era arms remain in the CAR armories.
While the Russian arms are a donation rather than a sale, the Sochi agreement contains provisions for Russian exploitation of minerals, resources and energy sources as well as the development of infrastructure and enhanced commercial relations (Defenceweb, February 19; Russia Today, April 3). Though French Ambassador to the CAR Christian Bader has stated France does not perceive a problem with the Russian military agreement, France has traditionally resented the intrusion of other nations into its African "backyard" (CorbeauNews [Bangui], April 21, 2018). One French diplomat has complained of the "shameless" bribes paid by the Russians for access to CAR governing bodies (Le Monde, April 23). Russians in civilian garb have also appeared in poor neighborhoods of Bangui, handing out various essentials (RFI, April 25). Local reports suggest that among the newly arrived Russians are disinformation experts who have started an anti-French media campaign (MondeAfrique.com, May 9).
The arms are intended for use by two battalions (1300 men) of FACA trained by the European Training Mission (EUTM RCA), beginning in mid-2016. Training was initially inhibited by a shortage of arms. EUTM's mandate is expected to be renewed in September.
The Russians are reported to have had talks with the Russian-educated former Séléka rebel leader and CAR president Michael Djotodia (2013-2014), though Ngrebada says he has no reason to doubt the sincerity of his new Russian friends (Jeune Afrique, May 3). Witnesses also described a Russian Cesna aircraft with three or four Russian soldiers visiting the compounds of Muslim rebel leaders Nourredine Adam and Abdoulaye Hissene in the northern CAR (Monde Afrique, May 4; RFI, May 1).  During Operation Sangaris, the French made similar efforts to contact rebel leaders to persuade them to refrain from attacking Bangui; Russian intentions are still unknown, but may have something to do with threats of a rebel "march on Bangui" in response to the military cooperation with Russia (L'Obs, May 5). Russian interest in the rebel-occupied goldfields of northeastern CAR may provide another reason.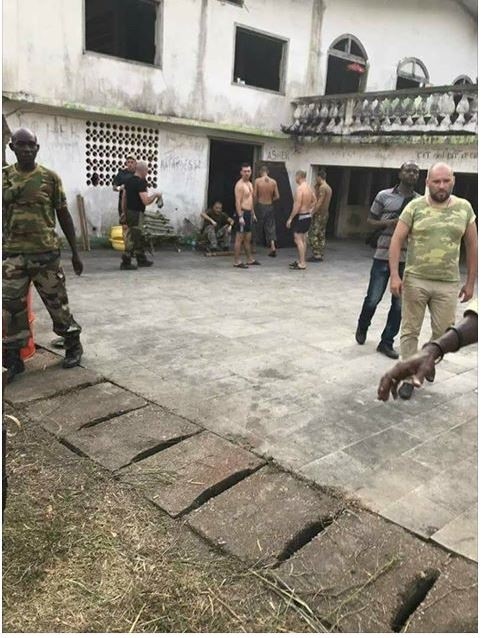 Russian Mercenaries and CAR Troops at Béréngo Palace (Le Monde)
The 175 Russian trainers have established a base at Béréngo palace, the abandoned home of psychopathic CAR "emperor" Jean-Bédel Bokassa (1966-1979). Only five of this group are members of the Russian Army; most of the others are mercenaries working for private Russian military contractors (Le Monde, April 23). The palace's 100 acres are only 35 miles from Bangui and include a firing range and airstrip that can easily be expanded and modernized to handle large Russian aircraft, enabling the Russians to avoid using the French-controlled airport in Bangui. One estimate suggests that there are now 1400 armed Russians in the CAR, most of them employees of private military contractor Sewa Security Services (Le Tchadantrhropus Tribune [N'Djamena], May 14).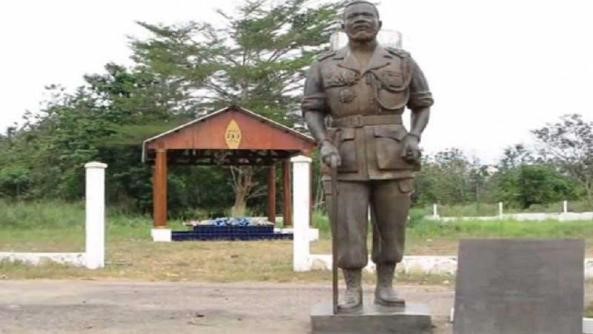 Grave of Emperor Jean-Bédel Bokassa at Béréngo Palace. Bokassa's family objects to the Russian presence there, claiming it is still family property. (AFP)
Some 40 members of the Russian Special Forces have been assigned as a security detail for President Touadéra, work that used to be done by Libyans, Chadian mercenaries or, most recently, Rwandans attached to MINUSCA. Valeri Zakarov, a Kremlin insider, is the new presidential security adviser. The CAR presidency is now concerned that the military agreement with Russia will encourage Western attempts to overthrow Touadéra, prompting even greater reliance on Russian security personnel.
This article first appeared in the May 15, 2018 issue of Eurasia Daily Monitor.