AIS Special Report on Ukraine No.2

March 10, 2022
Andrew McGregor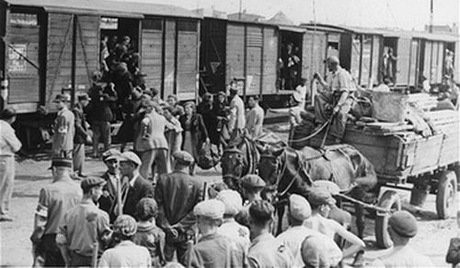 Packing Boxcars with Chechen Deportees, February 1944
The day before the Russian invasion of Ukraine began was the 78th anniversary of the Russian deportation of the Muslim Chechen and Ingush peoples of the North Caucasus. Carried out in 1944 with the utmost brutality, American trucks supplied for the Russian war effort transported the related ethnic groups to railyards where they were packed onto freight cars in scenes similar to the German transport of Jews to concentration camps. Thousands died on their way to internal exile in Central Asia, where hundreds of thousands more died of cold and starvation. Their crime? Joseph Stalin's never substantiated allegations of Chechen cooperation with invading Nazis. The most bitter irony was that the deportations were only possible since most Chechen and Ingush men of military age were serving on the front-lines of the Red Army's struggle with Nazi Germany. At war's end, these men were decorated and deported to join their dead or dying families in exile.
Today, after two ultimately unsuccessful wars for independence from Russia that killed 100 to 200 thousand Chechen civilians between 1994 and 2000, we now see the incongruous sight of thousands of armed followers of Ramzan Kadyrov, Vladimir Putin's coarse and violent appointee as Chechen leader, engaged in fighting in Ukraine to eliminate the "Nazis" Putin claims are running that country. One of Kadyrov's first steps in expressing his appreciation of Putin's sponsorship was the dismantling of the national memorial to the victims of the 1944 deportation in the Chechen capital, Grozny. The memorial was constructed from the scattered and broken tombstones of generations of Chechens; in their quest to eliminate the Chechens, Stalin's men had not ignored the dead.
Perhaps the most hardline of all Putin's acolytes, Kadyrov favors a Russian annexation of all Ukraine, achieved through extreme measures against the Ukrainian people, even suggesting the Russian army was "coddling" Ukrainians: "We need to change our tactics in order to convince them… Putin must give the appropriate order so we can finish with these Nazis" (Newlinesmag.com, March 3, 2022).
The Kadyrovtsy
Kadyrov's armed followers, known as the "Kadyrovtsy," are members of the Russian National Guard. The Rosgvardyia, as it is known, was formed in 2016 as an internal security establishment separate from the armed forces and reporting directly to the president. Viktor Zolotov, Putin's former bodyguard and martial arts sparring partner, was appointed commander-in-chief of the National Guard at its formation. Zolotov is working closely with Kadyrov on the deployment of Chechen guardsmen in Ukraine. Ten thousand Chechen guardsmen, many of whom have combat experience in the long-running Donbas and Luhansk conflict in eastern Ukraine, are believed to already be operating in Ukraine, with the possibility of further deployments.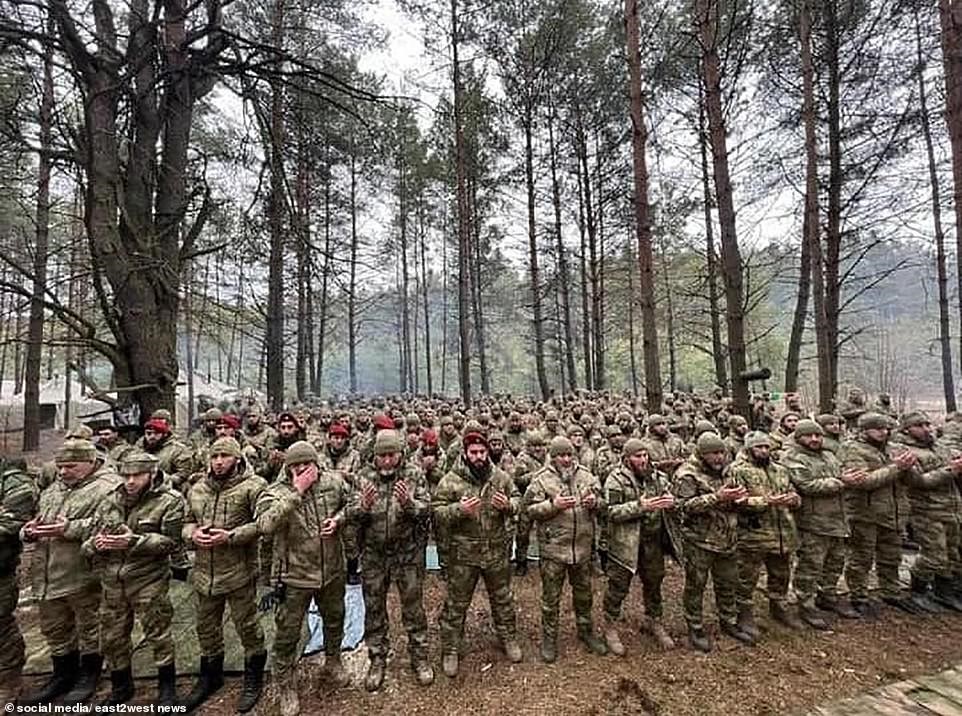 Muslim Kadyrovtsy at Prayer in the Ukrainian Forest
On March 3, a seemingly over-enthusiastic Kadyrov announced a pro-Putin "jihad" as he threatened the "shaytan-s [devils]" from Ukraine's "nationalist battalions," claiming the Chechens had their addresses and those of their families: "Nazis know this. Like jackals, they are hiding behind the backs of the military men." The Chechen leader urged Ukraine's military to turn on the nationalists or leave them to the Chechen special forces: "We won't stop. We have an order, we have jihad!" (Pravda, March 4, 2022).
By March 5th, Kadyrov was falsely claiming President Zelensky had fled Ukraine: "He ran away so fast that no one could even see his clean pair of heels." Kadyrov advised the Ukrainian president to turn the country over to former president Viktor Yanukovych, a pro-Russian politician who was deposed by a popular rising in 2014 and since sentenced in absentia to 13 years in prison for treason. Kadyrov told Zelensky: "There is still time to return to Kyiv, accept Russia's demands and ask for forgiveness… But don't push your luck too much" (Pravda, March 5, 2022).
Kadyrov also warned that Ukrainians were planning aggressive action against Russia that had only been halted by the actions of President Putin, "a far-sighted strategist." Again echoing Putin's WWII-influenced rhetoric, Kadyrov declared nine days of "special military operations" had made it "obvious that we are not just dealing with Banderites, but with ruthless killers who do not disdain any methods. They and their fanatics plunged the whole of Ukraine into complete darkness… [the special operation] must be carried out to the complete defeat of Bandera's followers" (Sputnik News, March 4, 2022). Kadyrov's characterization of the Ukrainians as "Banderites" is a reference to Stepan Bandera (1909-1959), a controversial Ukrainian nationalist leader who initially cooperated with Nazi Germany against the Russians in WWII in the belief Germany would recognize an independent Ukraine. Disabused of this notion, he spent much of the war in a German concentration camp. He returned to his violent brand of nationalism after the war, but was killed with cyanide by a KGB assassin in 1959.
Bandera's legacy is often invoked by Ukrainian nationalists as a symbol of anti-Russian resistance, while Russia's leaders invoke it as proof of Ukraine's ongoing allegiance to fascism; when Russia annexed Crimea in February-March 2014, Vladimir Putin declared he was saving Crimeans from Ukrainian leaders who were the "ideological heirs of Bandera, Hitler's accomplice during World War II" (Washington Post, March 25, 2014).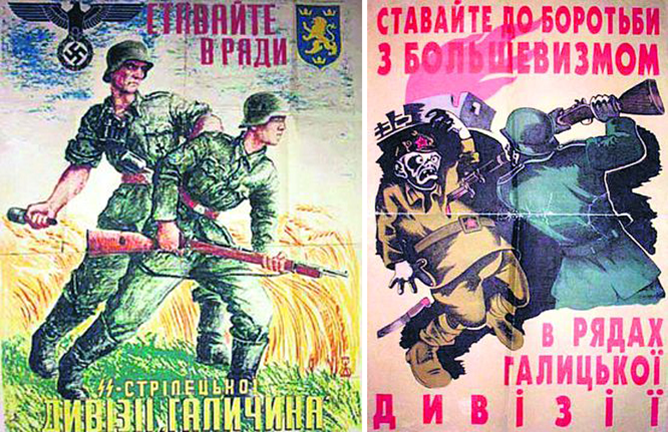 Recruiting Posters for the SS Division Galicia
Another troubling legacy of the war is the ongoing historical dispute over the activities of the SS Division Galicia (Galicia is a name for western Ukraine), a mostly volunteer Ukrainian Waffen SS unit active between 1943 and 1945. Recruiting for European Waffen SS units focused on the destruction of Russian communism and the overthrow of Joseph Stalin, which appealed strongly to many Ukrainians who had fresh memories of the Holodomor, Stalin's man-made 1932-33 famine in Ukraine that killed at least four million people, possibly many more. [1] Though small numerically in comparison with the millions of Ukrainians who served in the Red Army, the intent of the division's volunteers remains divisive, with some hailing them as anti-communist heroes, while others accuse them of anti-Semitism and war crimes.
The Kadyrovtsy at Hostomel
When the Russian airborne assault on Hostomel Airport turned into a debacle on the first day of the Russian "special military operation" in Ukraine, Russian mechanized forces were moved up to try and take the airport and rescue surviving paratroopers in the woods outside Hostomel. [2]
Ukrainian sources claimed that a Chechen National Guard column was crushed outside Hostomel Airport on February 26, with the destruction of 56 Chechen/Russian tanks and the death of hundreds of Kadyrovtsy. Though these precise claims are likely exaggerated and are impossible to confirm in current conditions, there does seem little doubt that a mechanized Chechen column was ambushed and halted outside of Hostomel. Turkish-designed TB-2 Bayraktar UAVs, now made in Ukraine under license, may have been used in the attack on the Chechens. The successful use of these attack drones has been reported against other Russian convoys in Ukraine. The office of the Ukrainian president confirmed the destruction of "a convoy of Chechen special forces" near Hostomel on February 26 (Kyiv Independent, February 27, 2022).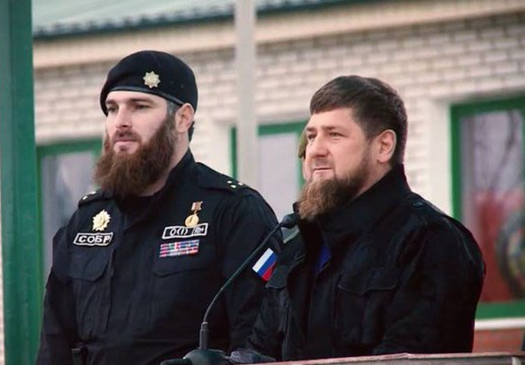 General Magomed Tushayev with Ramzan Kadyrov
Also reported was the death during the clash of the commander of the Chechen forces in Ukraine, General Magomed Tushayev of the National Guard's 141st motorized regiment (Ukrinform, February 27, 2022; Interfax-Ukraine, February 27, 2022). The claim was quickly dismissed by Kadyrov, who said he had spoken to Tushayev by phone and posted what he said were recent photos and a video of the general in the northern suburbs of Kiev.
Chechen Battalions Fighting for Ukraine
The opportunity to fight Russians continues to attract Chechen fighters who reject the rule of Kadyrov and Putin. Some have been active against pro-Russian militias in eastern Ukraine since 2014; others continue to arrive on the battlefields from Europe, the Caucasus and Syria. The leading Chechen-led formations include:
The Dzhokar Dudayev Battalion: The battalion was initially formed by Chechens in exile in Europe to join the fighting against Russians and pro-Russian militias in eastern Ukraine in 2014. The unit became less active after the death in combat of its capable leader, Isa Munayev, while fighting pro-Russian separatists at the Battle of Debaltseve in 2015. Munayev had been the military commander of Chechen forces during the 1999-2000 battle for Grozny, the Chechen capital, where he became known for his expertise in urban warfare tactics. The battalion was revived after the Russian offensive on Ukraine was launched in February, with a reported 300 volunteers, mostly from various republics of the Caucasus. Adam Osmayev, who succeeded Munayev, remains the battalion commander. His wife, fellow fighter Amina Okueva, was killed in an ambush that also wounded Osmayev in October 2017.
In 2012, Osmayev was accused of plotting to assassinate Vladimir Putin and was arrested in Odessa by special forces agents and tortured. He spent two-and-a-half years in a Ukrainian prison but successfully fought off extradition attempts and was eventually acquitted on all charges and released (BBC, October 31, 2017; The Sun [London], October 7, 2021). After Kadyrov announced the presence of his loyalists in Ukraine on February 26, Osmayev took to video to confirm "real Chechens" continued to oppose Russia: "I want to assure Ukrainians that real Chechens are defending Ukraine today… These puppets fighting for Russia are a shame to our whole nation — we consider them only traitors" (Newlinesmag.com, March 3, 2022). The battalion is named for Dzhokar Dudayev, a former Soviet Air Force general who became Chechnya's first president from 1991 until his death in 1996 when a satellite call he was making was intercepted by Russian aircraft, giving them the coordinates for a laser-guided missile strike. His six successors were all killed in action or assassinated by Russian agents, the latest in 2015.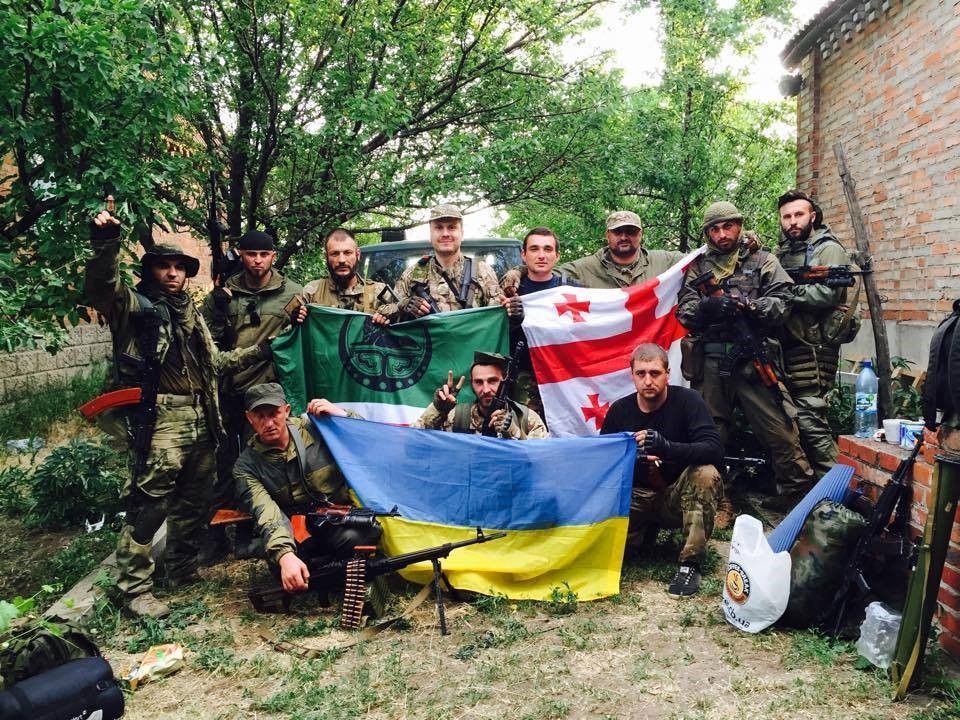 Georgian, Ukrainian and Chechen fighters in Eastern Ukraine (Adam Osmayev)
The Shaykh Mansur Battalion: Another formation of volunteers from Chechnya and other Caucasus republics heavily involved the 2015-15 fighting in eastern Ukraine, this unit has similarly been revived. While its total strength is unknown, it includes both Chechens and Crimean Tatars, another Muslim minority that has suffered significantly under Russian rule, including its wholesale deportation to Central Asia in 1944. This unit has a more Islamist orientation than the Dzhokar Dudayev Battalion. The battalion is named for Shaykh Mansur, an 18th century Chechen military commander and religious leader who battled the Russian armies of Catherine the Great in the North Caucasus.
Osmayev and the Shaytanov Affair
Among the units facing the Chechen column outside Hostomel was Ukraine's "Alpha" special forces group. Normally occupied with counter-intelligence and counter-terrorism tasks, the formation reports to the Security Service of Ukraine (Sluzhba bezpeky Ukrayiny – SBU) rather than the Ministry of Defense.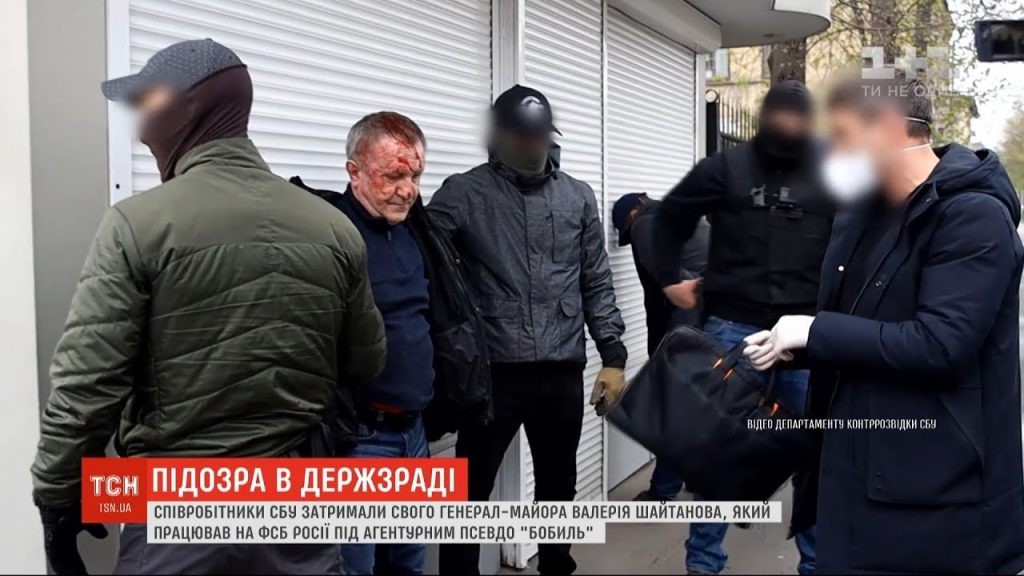 Arrest of Major-General Valeriy Shaytanov, October 2020

As part of its counter-intelligence work, the SBU arrested its own chief, Major General Valeriy Shaytanov, in 2020 on charges of high treason and terrorism related to plotting the assassinations of Ukrainian Interior Minister Arsen Avakov and Commander Adam Osmayev (Radio Svoboda, October 8, 2020; Radio Svoboda, October 19, 2020). Osmayev claimed to have been part of the operation that captured Shaytanov by allowing loyal Ukrainian SBU agents to fake his death in a scheme designed to trap the traitor (The Sun [London], October 7, 2021). The SBU general was allegedly turned by a colonel of the Russian Security Service (Federal'naya Sluzhba Bezopasnosti – FSB) in 2014 while they worked on a joint anti-terrorism project (Interfax Ukraine, April 15, 2020; RFERL, April 17, 2020).
Outlook
Coverage of the ongoing war in Ukraine tends to ignore the ghosts of the USSR and their role in the ideology behind the invasion of Ukraine. World War Two is a settled issue in most parts of the world, but less so in some of the former states of the Soviet Union, where it continues to inspire and even define certain conflicts. What can sound like crude propaganda, such as Putin calling the Zelensky government a cabal of "Nazis," may even reflect sincere convictions, regardless of their accuracy. In Ukraine, the ghost of Stepan Bandera still stalks the steppes and cities, a divisive figure from the past that inspires some and incenses others. Many Chechens continue to frame their relations with Russia through the experience of Stalin's genocidal campaign against their people. Some have made their peace with Russia and see a way forward through allegiance to the pro-Putin Kadyrov regime; others will never forget the deportations or Putin's ruthless repression of Chechen independence in 1999-2000.
Unfortunately for Moscow, the deployment of the Kadyrovtsy could lead to the resurrection of the Chechen independence struggle, especially if Russia's military offensive falters and Putin's war in Ukraine begins to work against him. Weakness is spotted quickly in the North Caucasus, and Kadyrov's early bluster may be replaced by the realization that many of his best-armed supporters are now fighting and dying far from Grozny.
Note
Remarkably, Stalin and his methods still have supporters, even in the West. In 2019, Dougal MacDonald, a University of Alberta lecturer and candidate for the Marxist-Leninist Party, used Holodomor commemoration week to claim that "in Canada, former Nazi collaborators and their spawn have long led the phony [sic] Holodomor campaign." The "educator" was supported by 43 fellow academics after many calls came for his dismissal (National Post, December 6, 2019).
See "Russian Airborne Disaster at Hostomel Airport," AIS Special Report on Ukraine, March 8, 2022, https://www.aberfoylesecurity.com/?p=4812.