Andrew McGregor
Terrorism Monitor
May 27, 2023
The ongoing conflict in Sudan pits two very different wings of the Sudanese military in a struggle to control a population that would largely prefer democratic civilian rule over domination by either force after decades of political and economic stagnation under military rule. Differences in ethnic composition, training, and weapons have compelled the Sudanese Armed Forces (SAF, led by General 'Abd al-Fatah al-Burhan) and the rival Rapid Support Forces paramilitary (RSF, led by General Muhammad Hamdan Daglo "Hemetti" ) to adopt different strategies and tactics in their search for victory (Terrorism Monitor, April 28). Although Sudan is the third-largest nation in Africa, with an area of nearly 720,000 square miles, the main battleground between SAF and RSF is the tri-city area of Khartoum, Omdurman, and industrial Khartoum North (or Bahri), which poses a problem for the combatants.
Troublesome Terrain
Neither the SAF nor the RSF have much experience in urban warfare. Sudanese warfare is combat in the desert, the bush, and the mountains. The last sieges of Sudanese cities occurred in the Mahdist campaigns of 1881-1885. Since then, the only fighting carried out in Khartoum consists of a couple of very brief mutinies during Anglo-Egyptian rule, a failed 1976 Libyan-backed coup attempt that killed 800 people, and a day of combat (mostly in northern Omdurman) when Darfuri rebels stormed the city in 2008 (Sudan Tribune, June 20, 2008).
Initially intended to operate in the great open spaces of Sudan and remote borders of strategic significance, the RSF's main operational equipment consists of so-called "technicals," which are open-bed 4x4s (the Toyota Hilux is preferred) armed with a 50-caliber machine gun. Though intended for use in the desert, the technicals are nimbler in urban warfare than the SAF's armor. The RSF began with no armor of its own, but has captured much since, including Ukrainian-made tanks, though it does not have the trained crews needed to operate this armor. [1]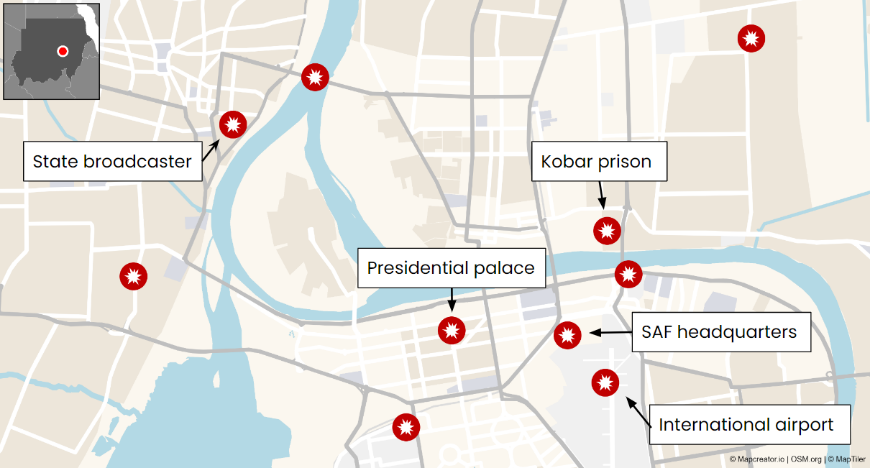 Map of important targets in the Tri-City Capital area (Torchlight.ai)
Rapid strikes on SAF bases allowed the RSF to seize large quantities of weapons and ammunition at the outset of the conflict and overcome the paramilitary's usual reliance on government supplies. The RSF has continued to depend on quick hit-and-run strikes on military and civilian infrastructure rather than holding and defending territory, tactics more familiar to the regular army. Any RSF success is immediately documented on social media, a conflict forum in which the SAF appears to be lagging behind.
RSF in Khartoum
The RSF is able to pull in most of its forces to the capital as it currently assumes no responsibility for national security. The SAF, on the other hand, continues to be responsible for the borders (previously the responsibility of the RSF) and for containing rebel movements in South Kordofan, Darfur and Blue Nile State. The RSF's strategy is to disperse its forces in civilian areas of the tri-city to negate the SAF's advantages in armor, aircraft and artillery, while applying maximum political pressure on the SAF by depriving the civilian population of basic needs and services. The RSF is using the SAF's aerial advantage against it; damage to residential areas and infrastructure from bombing alienates the SAF from the population. The RSF obtained anti-aircraft missile systems during its deployment in Yemen and may have seized more in the opening days of the conflict; it has since claimed to have downed several SAF aircraft (Arab News, October 10, 2022).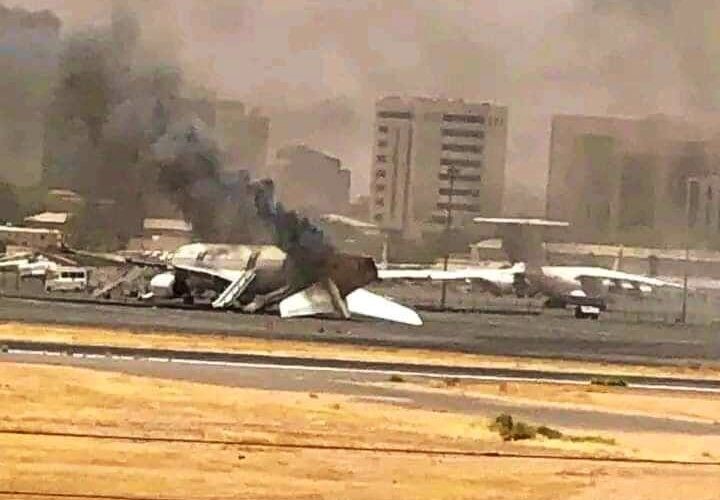 Saudi aircraft destroyed at Khartoum Airport (SamChui.com)
With no air power of its own, the RSF targeted airbases throughout Sudan in the first days of the conflict, many of which appear to have been unprepared for the RSF assault. Air facilities that have suffered heavy RSF attacks include the Geneina, Nyala and al-Fashir airbases in Darfur, Merowe airport in Northern State, Wadi Sayyidna north of Omdurman and the Jabal Awliya airbase 40 km south of Khartoum. The intention is not to hold these airbases or capture warplanes, but to damage runways and aircraft that subsequently cannot be used by the RSF. Lingering too long can invite devastating counter-attacks, such as the RSF suffered at Merowe when a fleeing convoy was struck by SAF warplanes (SAF/Facebook, April 20). Pro-Islamist media claim that hundreds of those killed at Merowe were foreign fighters recruited by the RSF (Tayba TV [Khartoum], May 1).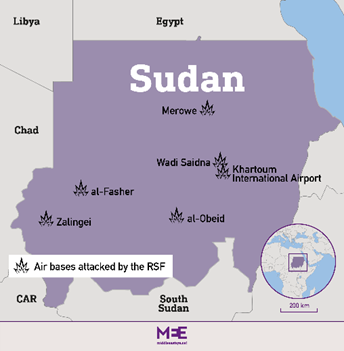 Map showing military airfields struck by the RSF (Middle East Eye)
Khartoum International Airport, which also hosts military aircraft, has been badly damaged in RSF attacks, though SAF Sukhoi and MiG aircraft continue attacks on various neighborhoods of the tri-city area believed to host concentrations of RSF fighters. SAF air superiority in Khartoum is ultimately of limited value, however, unless it chooses to obliterate large parts of the city of five million people in pursuit of mobile RSF units. With the army taking little apparent notice of gradual RSF deployments in the capital region in the weeks prior to the outbreak of fighting, the paramilitary struck fast to take the General Command headquarters and seize the SAF leadership. In this, they were only partly successful, with SAF leader, General Abdelfattah al-Burhan, escaping even though his home was occupied by RSF fighters. Many of his bodyguards were killed in the attack and the Inspector General of the SAF (number three in the command) and 130 others were captured (Al-Arabiya, May 10). Both sides have attempted to strike a decisive blow by taking out the other side's leader. Neither have succeeded, with both the RSF and SAF leaders being forced to maintain low profiles to avoid assassins.
SAF Responses to RSF
To help address RSF tactics in Khartoum, the SAF command has brought in the Central Reserve Police (CRP, popularly known as Abu Tira). Similarly armed to the RSF, the CRP is accused of committing crimes and human rights violations in Darfur and in Khartoum during the 2019 anti-'Umar al-Bashir protests (Sudan Tribune, April 29). The roughly 80,000 strong CRP is trained as a highly maneuverable paramilitary, whose main task will be to consolidate areas once the SAF has cleared them of RSF fighters. They will also assist in blocking RSF supply lines, especially in south Khartoum, where supplies by land do not have to deal with crossing the White or Blue Niles, which are controlled by the SAF.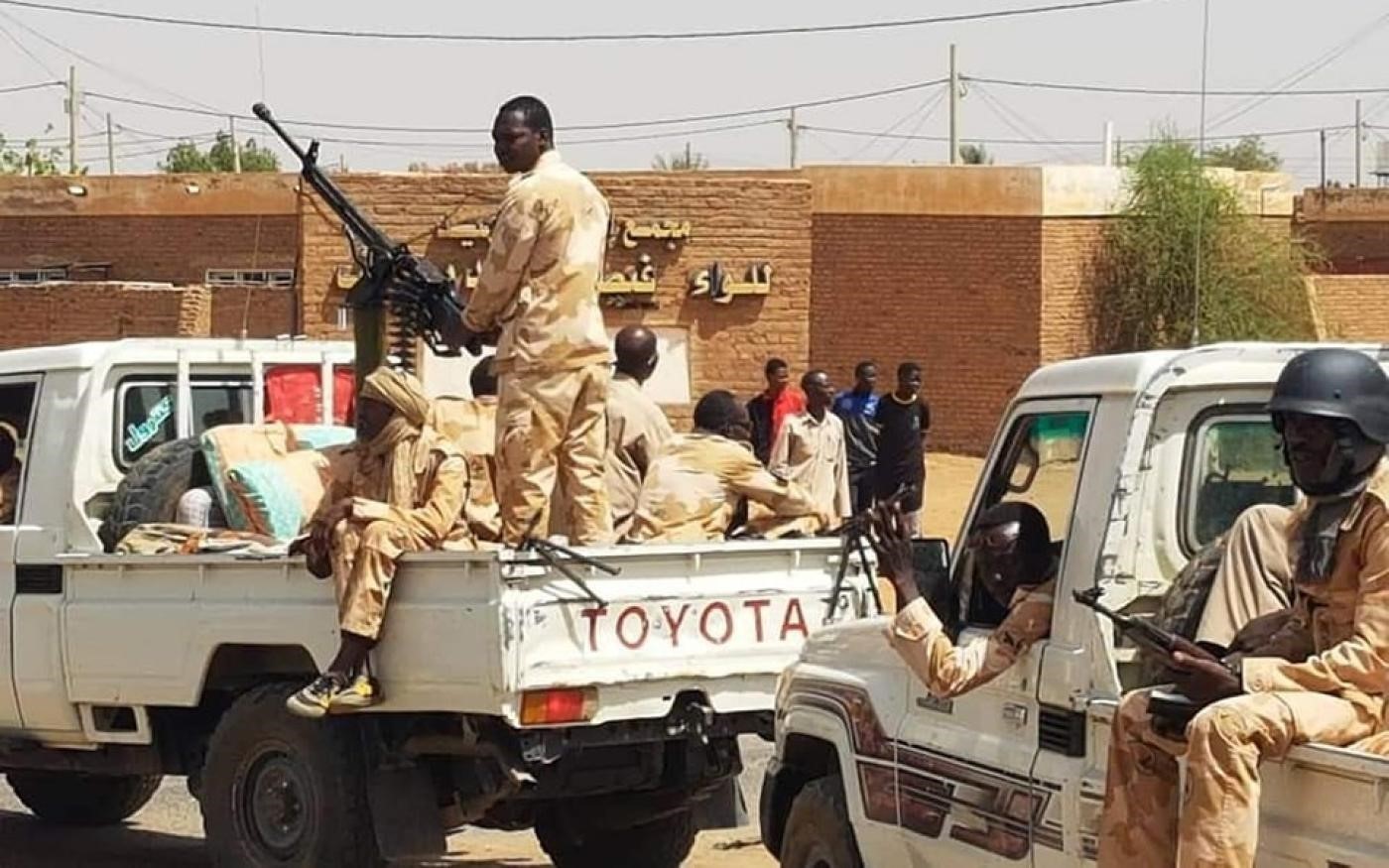 Central Reserve Police on patrol in the south of Khartoum on 29 April 2023
The RSF claims that both the CRP and SAF regulars wear RSF uniforms to commit crimes in Khartoum, attack the headquarters of opposition politicians, and mislead the public (RSF/Twitter, May 16; RSF/Twitter, May 17). The RSF's repeated accusations that their opponents commit grave crimes while wearing RSF gear predates the current struggle. For example, in January the RSF commander "Hemedti" denied reports of RSF involvement in a coup attempt in neighboring Central African Republic (CAR), claiming that "large quantities of RSF uniforms are being smuggled across the border" (Middle East Eye, January 18, 2023).
The SAF has also been accused of reviving the infamous Katayib al-Zili (Shadow Brigades), which are armed Islamist civilians associated with former president al-Bashir and the now-banned Islamist National Congress Party (NCP). During the 2019 revolution against al-Bashir, his vice-president, veteran Islamist 'Ali 'Uthman Muhammad Taha, threatened protesters with the notorious "Shadow Brigades," which are known for running illegal detention facilities called "ghost houses," where torture and murder were routine practices (Asharq al-Awsat, January 16, 2020). On May 16, the RSF claimed to have overrun SAF camps in Bahri used for training Shadow Brigades while capturing more than 700 individuals (RSF Twitter, May 16, 2023).
Conclusion
Beside troop concentrations and obvious military targets, government buildings, markets, bridges, factories, hospitals and places of worship have all been targeted in the urban fighting. Two-thirds of the nation's hospitals have ceased functioning (much of Khartoum North's East Nile Hospital was destroyed by an SAF bombing strike), with some even being converted into military bases (Asharq al-Awsat, May 19). The RSF has been accused of stealing ambulances and medical supplies while terrorizing patients (Radio Dabanga, May 15).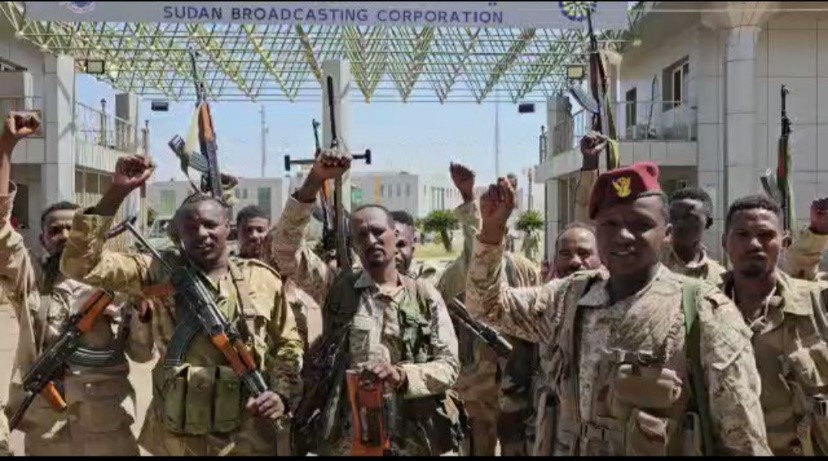 RSF Troops after Taking the State Broadcaster in Omdurman (RSF/Twitter)
Though the RSF claims to have no religious motivation and to even have Christians in its ranks, it appears to have attacked and looted Coptic, Anglican and Roman Catholic churches, turning some of the well-built structures into military bases (RSF/witter, May 14; Radio Dabanga, May 15; Religionnews.com, May 15; Radio Dabanga, May 17). Both the Azhari and Bur'i al-Dereisa mosques in Khartoum were bombed in mid-May, apparently by SAF aircraft (RSF Twitter, May 13; Radio Dabanga, May 15).  Warehouses and factories in industrial Khartoum North have also been looted with economic consequences for Sudan. There is a serious danger of important state heritage institutions, such as the National Archives or the National Museum, becoming subject to looting, aerial bombing or accidental destruction.
The RSF, with a long reputation for using mass rapes as a tactic to break resistance in Darfur, has been accused of raping women in the capital, though the paramilitary insists the culprits are impersonating RSF personnel. Rights activists have also made unverified claims of rape by SAF personnel (Radio Dabanga, May 16).
The differing capabilities of the two antagonists in the Battle of Khartoum and their shared inexperience in urban warfare make it difficult for them to come fully to grips with each other. With a decisive military decision unlikely and negotiations complicated by tribal rivalries and the re-emergence of Sudan's long-dominant Islamists, short-term prospects of a return to peace are growing ever more distant.
Note:
[1] On May 1, the RSF released a video to prove their seizure of all the armored vehicles of the Army's 1st Infantry Brigade (RSF/Twitter, May 1).
This article first appeared in the May 27, 2023 issue of the Jamestown Foundation's Terrorism Monitor.