AIS Special Report on Ukraine no. 5

May 2, 2022
"Breaking the railway supply lines of the enemy — which is the most efficient means of supply — can radically change the situation in our favor."
Ukrainian presidential adviser Oleksiy Arestovych, March 17, 2022.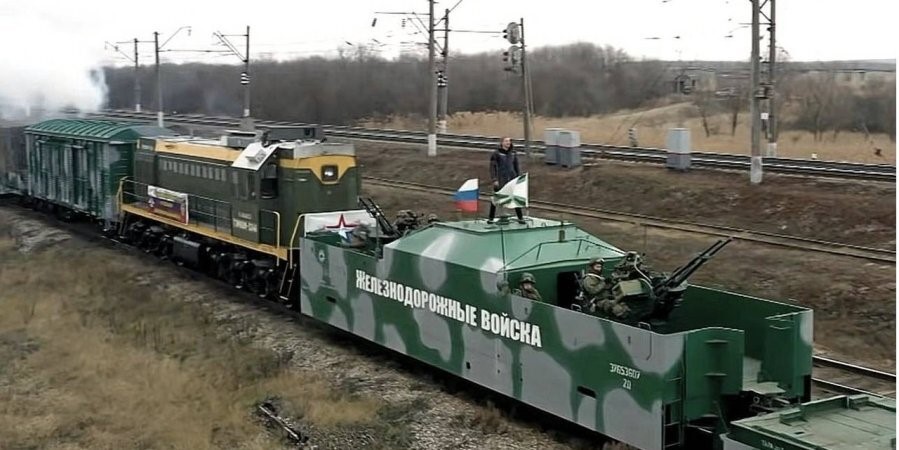 Russian Armored Train Enters Ukraine
Russian missiles struck five railway stations and rail hubs in western and central Ukraine in just one hour on April 25. The attacks were meant to inhibit the transportation by rail of European and North American arms and supplies to Ukrainian military forces. Three days later, Ukrainian Special Forces blew up a railway bridge in Yakymivka (Zaporizhzhia Region of Ukraine) used by Russian forces to deliver fuel and military supplies from Crimea to Melitopol and beyond (Pravda [Kiev], April 28, 2022; Ua.Interfax [Kiev], April 28, 2022). The rail war in Ukraine is very real and victory provides the key to success for either side.
Intensified Russian efforts in late April to destroy Ukrainian rail infrastructure marked a change in Russia's strategic approach; prior to that, Russian forces appeared intent on seizing as much of the rail system intact as possible. Russia's ground forces simply cannot operate at any significant distance from its rail-lines, having as a result of its vast distances and climatic challenges an almost hereditary attachment to rail-supply at the expense of other means of distributing war materiel and supplies.  When it became obvious a Russian drive on Kiev, dependent on a mismanaged and neglected fleet of supply trucks, was not going to work, Moscow backed away from the northern theater to concentrate on eastern Ukraine's Donbas region. Donbas is an industrial area well-covered with rail lines, allowing truck resupply of the frontline from rail-cars along short supply lines.
Purpose-built military trucks are in such short supply after nearly two months of fighting that inadequate civilian trucks incapable of off-road operations are now being pressed into service. Many truck losses appear to have simply been the result of poor maintenance, related in equal part to corrupt practices in the officer corps and a reliance on quickly-trained short-service conscripts to keep machines, goods and personnel moving (CNN, April 14, 2022).
Ukraine's Rail System
Ukrainian Railways (Ukrzaliznytsya) is a massive operation, encompassing some 13,500 miles of rail, 1450 stations and 230,000 employees. Ukraine's first railway was built by British troops in Crimea in 1855 during the war between Russia and the British, French, Ottoman and Sardinian alliance. Russian forces destroyed the line after the allied troops had left. It was an ignominious start for what eventually became a massive rail network.
Keeping Ukrainian railcars moving in the midst of a war has been a major challenge, especially after Ukrzaliznytsya was charged with the task of moving millions of refugees to Ukraine's western borders; at one point, 190,000 people were being moved each day. Damaged rail is a constant threat and, lacking anything like Russia's corps of railway troops, civilian employees have found themselves carrying out repairs under fire. By April 1, over 70 Ukrzaliznytsya employees had been killed in Russian attacks (Kyiv Independent, April 1, 2022). Schedules must be altered daily after accounting for reports of damage to rail lines or their seizure by Russian forces. One way the Ukrainian rail has adjusted has been to decentralize control of the rail lines, with regional managers assuming more autonomous roles while top executives work from mobile command posts in disguised rail cars, moving every few hours to prevent being targeted by Russian forces (CNN, March 14, 2022). Railway employees have also helped defense efforts by producing anti-tank "hedgehogs" from rails in the shops.
According to the Ukrzaliznytsia chairman, Russian forces are now continually shelling Ukrainian infrastructure, including trains, rail stations and the quarters of railway workers (Nastoyashcheye Vremya, March 19, 2022). An April 8 missile attack using cluster munitions on the Kramatorsk rail station in Donetsk region killed as many as 59 people and wounded over 100 others.
Ukraine's Defense Ministry has urged Ukrainian citizens to attack rail and other parts of the Russian military supply chain with Molotov cocktails and whatever other weapons are at hand (Eurasian Times, March 9, 2022). On March 17, Ukrainian presidential advisor Oleksiy Arestovych even urged Ukrainians to wage a "total rail war" against Russian forces, especially in the south, where Russian operations threaten to cut Ukraine from the sea (Nastoyashcheye Vremya, March 19, 2022).  
Partisans in Belarus
Most Russian supply trains in the north came through the Belarusian town of Homyel (or Gomel), just north of Ukraine. There have been reports of Belarusian "partisans" sabotaging switches and signals along lines used by the Russian military, while Ukrainian military forces attacked the lines inside northern Ukraine (Express [London], March 21, 2022).
Belarus' state railway was the target of hacking efforts during the pre-war build-up of forces on the Ukrainian border. Creating turmoil in freight operations, the hack was carried out by the "Belarussian Cyber-Partisans" to oppose the presence of Russian "occupying troops" in Belarus (Railtech.com, January 25, 2022). Cyber-attacks on Belarus Railway's outdated computer operating systems also helped foul the deployment of Russian military forces (Washington Post, April 23, 2022).
Ukrzaliznytsia chairman Oleksander Kamyshin claimed rail communications between Belarus and Ukraine stopped in mid-March after he appealed directly to Belarusian rail-workers to not carry out "criminal orders" and to instead refuse to carry Russian troops and equipment to Ukraine (Nastoyashcheye Vremya, March 19, 2022).
Reports from the Belarussian opposition in March indicated employees of the state railway company, Belaroeskaja Tsjyhoenka, were sabotaging rail lines used by Russian forces to enter Ukraine (Railtech.com, March 21, 2022). Setting fire to isolated railway signaling cabinets was a common way of disrupting rail traffic without killing Belarusian railway employees, but authorities came down hard, promising terrorism convictions with a minimum 20-year sentence for saboteurs. By mid-March, eight alleged saboteurs had been arrested, with some making televised "confessions." Their appearance suggested beatings by security forces had occurred (Voice of Belarus, March 11, 2022). Belarusian security forces have diminished the number and degree of sabotage acts by deploying drones and more patrols, but it is too late for the Russians, who have now withdrawn from the northern front.
Even on the Russian side of the border, sabotage remains a threat; on April 12, a rail bridge in Belgorod Oblast (administrative region) near the border with Ukraine was badly damaged in an explosion, forcing a diversion of military supplies (Guardian, April 12, 2022).
Russia's "Starvation Strategy"  
According to German Minister of Agriculture Cem Özdemir, Russia is not only at war with Ukraine, but with the entire international community. In what he described as Putin's "starvation strategy," Russian troops were "deliberately destroying agricultural infrastructure and supply chains" (Westdeutsche Allgemeine Zeitung, April 17, 2022). Most of Ukraine's immense agricultural output is shipped from ports on the Black Sea and the Sea of Azov. These are now blockaded by the Russian Black Sea Fleet, based in the Crimean port of Sebastopol. Ukraine's main agricultural exports include barley, sunflower oil (50% of world supply), corn (17% of global supply) and wheat (12% of global supply).
Once harvested, grains and other agricultural products must be kept moving through the system to their destinations. With Black Sea ports closed, however, Ukraine is faced with the task of shipping its harvests destined for Africa, Asia and the Middle-East northwest to Baltic Sea ports through a rail system that lacks anything near sufficient capacity (Nederlandse Omroep Stichting, April 12, 2022). Shipping by sea is far cheaper than shipping by rail, so the infrastructure for rail-transport of its agricultural production to more distant ports in northern Europe was never developed.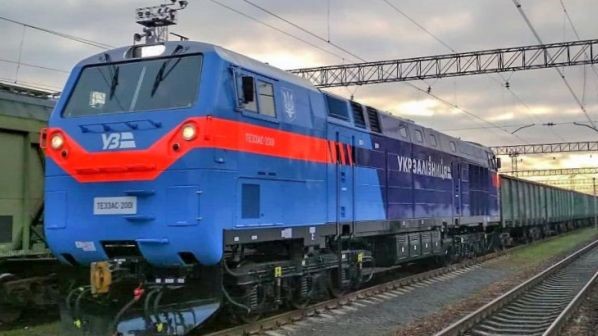 Ukrainian Freight Train (International Railway Journal)
A major complication in connecting to the EU rail network is the difference in rail gauges, up to now regarded as a nuisance that would cost more to correct than endure. Beginning in the 1840s, Russia began using a rail gauge of 1524 mm (5 feet), adjusted in Soviet times to 1520 mm. This was still out of sync with the Standard Gauge of 1435 mm in use in most of Europe, making it impossible to roll a train from one track to the other, a problem independent Ukraine inherited.  When Ukrainian rail wagons reach any of its western borders, they need to be hoisted and set down on new bogies (chassis) designed for standard gauge rail, a process known as "break of gauge transloading." Expensive and time-consuming, the process is also limited to the number of facilities capable of carrying out this procedure. Engines must also be switched, as they cannot be converted to a change of gauge. Offloading onto European narrow-gauge wagons is possible, but slower and more labor intensive. Ukrzaliznytsya is now trying to purchase additional machinery to speed things up at the border. Grain exports in March were only one-tenth of those a year prior.
To address the issue, Ukraine hopes to have an enlarged transfer station at the Polish border begin moving 50,000 tons of grain per month in July, increasing to 100,000 tons by September (Nederlandse Omroep Stichting, April 12, 2022). The Ukrainian Railway Company announced plans in 2020 to build a 1.435 mm gauge track from Lviv in western Ukraine up to the Polish border and through to the old Austro-Hungarian fortress-city of Przemyśl, now part of Poland, but construction in current conditions seems unlikely.
Even after rail-transported grain successfully reaches EU rail-lines, new problems present themselves. Most European nations ship grain by inland water-ways; consequently, they have only a small number of grain cars as part of their rolling stock. As Europe is not the end destination for most Ukrainian grain, this must be shipped to ports in northern Europe, such as Gdansk, though other ports may be needed to handle the shipments (Nederlandse Omroep Stichting, April 12, 2022). Part of the problem could be addressed by an immediate effort to build new fleets of grain cars, but it will be difficult to attract EU or Western investment for such a project. The Black Sea ports must reopen at some point – when that happens, there will be an expensive oversupply of grain cars in Europe.
Other export goods, including minerals and chemicals, are also getting caught in the border bottlenecks. By April 7, half the rail wagons in Ukraine were stuck at the Polish border, waiting for a change of chassis, wagon inspections and EU permits to proceed to the seaport of Gdansk (Reuters, April 7, 2022). Ukraine is also exploring the possibility of exporting its resources by rail through Hungary, Slovakia and Romania – a first shipment of 71,000 tons of corn was moved through the Romanian port of Constanta on April 28. Inability to move Ukraine's exports will devastate its economy – if the war stopped today, Ukraine still faces years of recovery.
On April 30, Ukraine's agricultural ministry accused Russian occupiers of stealing "several hundred thousand tons" of grain in Ukraine's southern and eastern regions, warning that farmers might decline to bring in the next crop if they think it will just be taken without compensation. Fighting in Luhansk is already preventing sowing the next crop (RFE/RL, April 30, 2022).
Ninety-five percent of Ukraine's agricultural exports are shipped from Black Sea ports, meaning the Russian blockade is strangling important hubs for global food supply. Many of the African, Arab and Asian regimes that failed to oppose Putin's invasion will find themselves battling internal unrest and insecurity due to food shortages – historically a major motivator in changes of regime.
Russia's Armored Trains and Railway Troops
As trains began to make their appearance in Imperial Russia in the 1830s, there was a growing need for a corps of railway troops with mixed construction, repair and combat capabilities to keep, maintain and protect vital rail connections. Though armored trains had been introduced by World War One and were used extensively during the war and the Civil War that followed, Russia still lost some 60% of its track and 80% of its locomotives and carriages in the two conflicts. After the launch of Operation Barbarossa in 1941, both Germans and Soviets operated armored trains in Ukrainian and Russian territory, occasionally battling head-to-head. After the war, armored trains were operated in Siberia during the Sino-Russian border clashes of the 1960s, and again during the Chechen wars and lingering insecurity in the Norther Caucasus that was threatening Russian rail connections. Russia currently has ten railroad brigades to take care of security, construction, repair and maintenance activities. Military trains and the troops that serve on them (known as Zheleznodorozhniki -ZhDK) have played such an important part in Russian history that every August 6 is celebrated as the "Day of the Railway Troops."
Even after the loss of vast territories in the Soviet collapse, Russia still operates commercial and passenger trains over 53,000 miles of track. It was a wave of attacks on trains and railway infrastructure in 2009-2010 in the Caucasus and other parts of Russia that brought the current generation of armored trains to Russian rails. [1] Prior to the pandemic, Russia's Defense Ministry had four armored trains in service to secure its vital rail infrastructure; the Amur, the Terek, the Don and the Baikal. Of these, only the Terek was designed and built to be an armored train, the rest being conversions from passenger stock and civilian locomotives. The Interior Ministry ran its own improvised armored train, the Kozma Minin, during the fighting in the North Caucasus. [2] In 2015, Russian Minister of Defense Sergei Shoigu cancelled his predecessor's order to dismantle the armored trains and remove them from service. The Defense Ministry's four armored trains were instead given an electronics overhaul in 2016, adding radar and anti-mine technology. [3]
Russian supply trains remain susceptible to attack by Ukrainian SU-27 fighters and Bayraktar TB2 drones. A February 28 video released by the Ukrainian Armed Forces purported to show a successful drone attack on a Russian military fuel convoy (Eurasian Times, March 3, 2022). The metal plate of the armored trains is sufficient to protect from small-arms fire and shell fragments, but cannot survive attacks from modern missiles and other weapons, a concern when Russian air superiority has not yet been established. Russia's armored trains are likely providing escort or reconnaissance services to supply trains coming through Crimea, fulfilling one of the trains' principal roles – the prevention of sabotage and partisan attacks on rail supply lines. The two remaining trains in the Caucasus may be used to guard military supply trains heading to the Donbas region.
Armored Trains Appear in Ukraine
Moving north from Crimea, a Russian armored train arrived at the Russian-occupied city of Melitopol on February 7 (Novoye Vremya [Kiev], March 8, 2022). [4] According to Russian sources, the train carried away five passenger carriages carrying 248 non-Ukrainian nationals from Kherson to Armyansk in northern Crimea (360tv.ru, March 8 2022).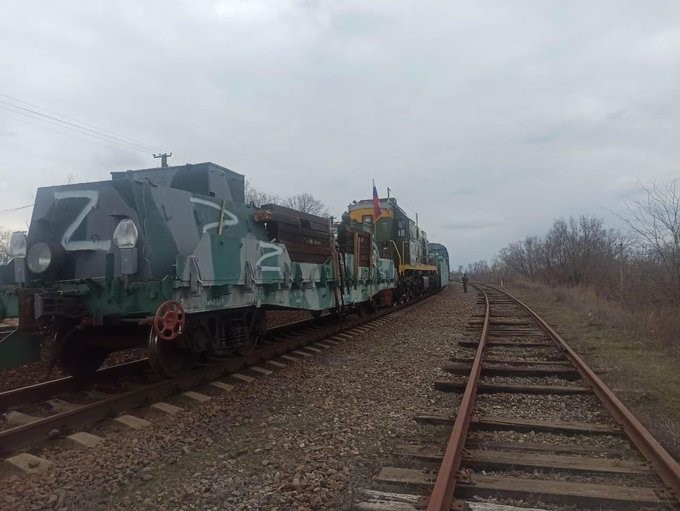 Russian Armored Train in Ukraine (Illia Pomomarenko, Twitter, March 8 2022)
A second armored train was spotted in the Kherson region of Ukraine a few days later. Also believed to have come up from Crimea, the train was operating on a track with no connection to the line on which the first Russian armored train was observed (CNN, March 10, 2022). An unverified report from Ukraine claimed the train was being used in combat near Mariupol (The National [Abu Dhabi], March 9, 2022).
The armored trains have been cited as symbols of Russian military weakness and reliance on obsolete equipment, inspiring mockery from one Ukrainian media source: "We are waiting for the appearance of military airships in the skies of Ukraine, combat wheelbarrows on the roads, and dueling pistols handed out to the plowmen" (Televiziyna Sluzhba Novyn [Kiev], March 31, 2022).
The approach of the armored trains through Crimea was made possible by the 2014 Russian annexation of the peninsula, which is separated by the narrow Kerch Strait from the Russian mainland. Access to and from the Ukrainian ports of Mariupol and Berdyans'k on the Sea of Azov can be attained only by passage through the Strait. Defying a 2003 treaty guaranteeing freedom of navigation through the Kerch Strait for both Russia and Ukraine, Moscow took sole control of the strait in 2014. Moscow ordered a bridge built across the strait that opened in 2018; the second phase, a rail bridge, was opened the following year. Perhaps acknowledging the strategic importance of this link for plans to use Crimea as a base for operations in Ukraine, Putin attended the opening, taking the first train across the strait. Prior to this, Russian trains traveling to occupied Crimea were carried across the strait on barges.
In 2021, Russia closed the strait to Ukrainian and American warships from April 24 to October 31. The closure occurred after the US decided to send two destroyers to the Black Sea as a show of strength in response to growing Russian military activity in eastern Ukraine. The Biden administration backed off from the deployment after Putin suggested the Black Sea may be an "unsafe" environment for American naval ships.
The Armored Trains – Firepower
Russian armored trains carry anti-aircraft defenses in the shape of two ZU-23-2 twin 23 mm autocannons developed in the 1950s Soviet Union (MK.RU, August 12, 2016).  The ZU-23-2 was widely used by North Vietnamese forces against American aircraft during the Vietnam War, and later found heavy use in conflicts in Afghanistan, Lebanon, Syria, Georgia, Libya, Iraq and Yemen. China reverse-engineered the weapon and made it available for export as the "Type-85" and later offered an upgraded version, "Type-87." The ZU-23-2 lacks modern range-finding and targeting equipment common to newer anti-aircraft weapons.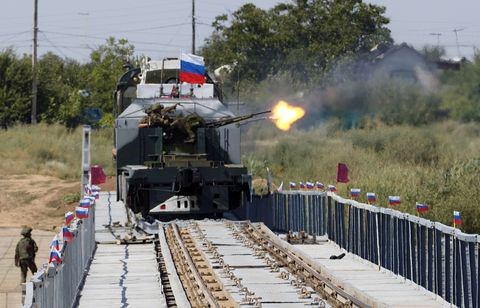 Firing the ZSU-23-2 guns of Armored Train Baikal (Dmitry Rogulin)
Though the ZU-23-2s can be used against land targets, the trains' main ground defenses are provided by outdated T-62 main battle tanks, last manufactured in the Soviet Union in 1975. However, the T-62 still provides defensive firepower with a 115 mm smoothbore tank gun, a 7.62 mm coaxial machine gun and a 12.7 mm DShK "Dushka" antiaircraft heavy machine-gun. On occasion, the more modern T-72 MBT may be carried on the train instead of the T-62.
The armored trains also carry a BPM-2 infantry fighting vehicle, armed with a 30 mm autocannon, a 7.62 mm coaxial machine gun, a grenade launcher and anti-tank guided missiles. When deployed off the train, the BPM-2 can carry seven soldiers. The tanks and BMP-2s can be taken off the trains to provide mobility and firepower to a desantniy ortryad (raiding team), ready to carry out attacks, conduct surveillance or defend the train.
Electronic jamming equipment prevents the detonation of electronically-triggered IEDs on the railway tracks and disrupts radio communications with blasts of white noise. Pressure-triggered explosive devices typically do little damage to armored trains, which typically run a flatbed car weighted-down with sandbags in front of the train to absorb the shock of such explosions. Track maintenance crews carried on the train are usually able to restore damaged tracks very quickly.
Tactical Pipelines
Russia has tried using tactical pipelines to extend its military operational zones and diminish its reliance on rail tankers and trucks. The Soviets began work on military pipelines in the 1930s as a means of supplying fuel and water to military units under combat conditions.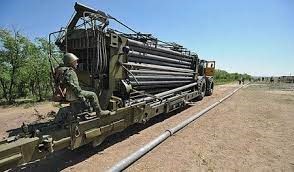 Russian Tactical Pipeline Layer
Today, portable trunk pipelines can be laid at a rate of 60 to 80 km per day using automated pipe-laying machines. Pipeline troops can install pumping stations and provide defensive and maintenance services to the pipelines, which often tap into existing civilian pipelines or offshore tankers (OE Watch, October 2018). The PMTP-100 collapsible pipelines currently in use can deliver 1200 tons of fuel per day (Ministry of Defense of the Russian Federation, August 21, 2018). Despite success in exercises, Russia's pipeline troops appeared to be unable to supply the Russian column stuck without fuel north of Kiev.
Outlook – Consequences for the Donbas Campaign
Russia never intended to take all of Ukraine by force, a fool's pursuit at best with long-ranging consequences. The Russian plan relied on a lightning strike into Kiev, followed by a change of government, the campaign being supported by a blockade of Ukraine's Black Sea ports. The failure of this plan has led to a withdrawal from northern Ukraine and a new focus on the southern coast and the eastern Donbas region.
Experienced Ukrainian defenders in the Donbas region are well emplaced after seven years of warfare against pro-Moscow separatists and their Russian advisors. This has been confirmed by the slow pace of the new Russian offensive there despite being whipped on by Russia's grim new commander in Ukraine, General Aleksander Dvornikov.
One of the main Russian supply corridors for the battle for the Donbas region is the rail route from the Russian supply base at Valuyki, established for the purpose in 2015, and the rail-hub of Kupyansk in Ukraine. Kupyansk's mayor, Hennadiy Matsehora, surrendered the city to the Russians as they approached on February 27 and was later arrested and charged with treason by Ukrainian authorities.
Rail lines from Crimea are being used to supply Russian troops moving eastwards along the northern coast of the Sea of Azov to take Berdyans'k and Mariupal as part of an effort to encircle Ukrainian forces in the Donbas region and cut their supply lines.
Despite the difficult situation, there are still paths to save Ukraine – breaking the rail bottlenecks at the north-western borders would represent a major contribution to this effort, allowing Ukrainian goods to get to market while alleviating a war-induced crush on global grain supplies.  Ukraine must keep its rail lines to the west open to permit revenue-producing exports and allow the inward bound movement of weapons and munitions from the NATO alliance.
While shortages of warplanes and missiles have prevented Ukraine from destroying stalled supply columns in detail and effectively ending the ability of Russia to invade its neighbor, it seems clear that NATO forces with air superiority could have treated the 40 km logjam on roads near Kiev much like the ten-hour "turkey shoot" of an Iraqi column in 1991 on the Kuwait to Basra highway that destroyed at least 1500 vehicles.
Russian military and political objectives are barely attainable due to poor intelligence, inept planning and a barely operational military logistics system. More than anything, Russia's invasion of Ukraine has revealed the Russian armed forces would be quickly annihilated in any conventional war against the NATO alliance. Only deploying Russia's strategic nuclear capabilities as a last defensive resort could prevent this, but in light of what we're witnessing in Ukraine, one has to wonder whether Russia's strategic nuclear forces have escaped the incompetence and corruption that permeates the rest of its military.
NOTES
1."Armored Trains Return to the Russian North Caucasus," Eurasia Daily Monitor 7(36), February 23, 2010, https://www.aberfoylesecurity.com/?p=3866.
2. For the Kozma Minin, see: "Russian Interior Ministry Revives its Armored Train in the North Caucasus," Eurasia Daily Monitor, May 14, 2013, https://www.aberfoylesecurity.com/?p=275
3. See "Russia's Counter-Insurgency Armored Trains Enter the Electronics Age," AIS Special Report, February 28, 2017, https://www.aberfoylesecurity.com/?p=3873.
4. Video of the train's arrival can be seen at https://eurasiantimes.com/russian-armored-train-automatic-cannons-ukraine-invasion/ (March 9, 2022).