Andrew McGregor
August 19, 2010
Fallout continues in North Africa from the July 22 raid on elements of al-Qaeda in the Islamic Maghreb. The joint operation by French and Mauritanian security forces on Malian territory was intended to free 78-year-old hostage Michel Germaneau. The raid failed and Germaneau was killed in retaliation, but six AQIM operatives were killed by security forces, infuriating AQIM leaders, who continue to hold two Spanish hostages in northern Mali. An AQIM statement described the six dead al-Qaeda members as being three Tuareg, an Algerian, a Mauritanian and a Moroccan (Reuters, August 16).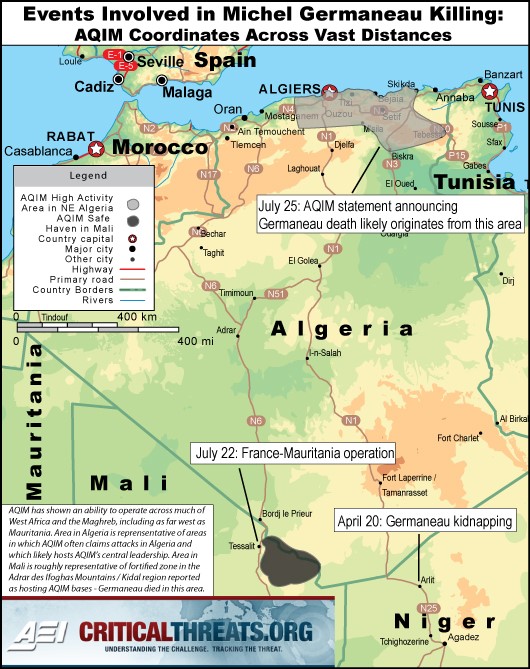 Abd al-Hamid (Hamidu) Abu Zaid, an AQIM commander responsible for a number of kidnappings and for the execution of British tourist Edwin Dyer, is reported to be suspicious that the Tuareg provided the precise information that enabled the joint commando force to locate and kill the six AQIM operatives. Abu Zaid took his revenge by abducting and murdering a Tuareg customs officer named Mirzag Ag al-Housseini, the brother of a senior Malian Army commander, Brahim Ag al-Housseini (El Khabar [Algiers], August 12). No ransom was sought for the captive, who was executed on August 12 (Radio France Internationale, August 13). A soldier abducted at the same time as Mirzag and another abducted civilian were released by AQIM on August 16 (AFP, August 16).
The leader of AQIM in Mauritania, Abu Anas al-Shanqiti, warned that AQIM would carry out reprisals against the "traitorous apostates, children and agents of Christian France" as a result of the raid (Agence Nouakchott d'Information, August 16; AFP, July 24). The French Ministry of Foreign Affairs responded to these "threats uttered by assassins" by announcing that France's security apparatus was "fully mobilized" (Le Monde, August 17; AFP, August 17).
Reports from Mali claim President Amadou Toumani Touré "is seething" over the Franco-Mauritanian commando operation in northern Mali. The President was apparently not informed of the operation in advance, nor were Malian forces called on to participate (Jeune Afrique, August 16).
Mali is still struggling with a simmering Tuareg insurgency in its vast and poorly controlled northern region. Colonel Hassan Ag Fagaga, a noted Tuareg rebel, has threatened to resume the insurgency if the government does not implement the terms of the 2008 Algiers Accord (El Khabar, July 15).  Colonel Ag Fagaga brought 400 Tuareg fighters in for integration with Mali's armed forces in 2009. He has already deserted twice to join the Tuareg rebels in the north. Al-Qaeda has tried to ingratiate itself with the disaffected Tuareg of northern Mali but has had only marginal success. Some former rebels have even offered to form Tuareg counterterrorist units to expel the mostly Arab al-Qaeda group from the region.
This article first appeared in the August 19, 2010 issue of the Jamestown Foundation's Terrorism Monitor